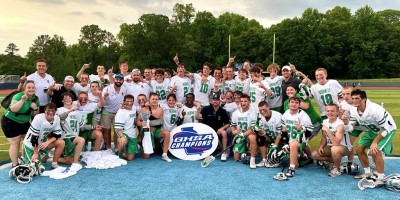 Photo Courtesy of GHSA Twitter
Boys
West Forsyth finishes atop the rankings after a thrilling 11-9 win against Lambert and winning its first state championship in program history. The Wolverines defeated the Longhorns for the first time in program history in March and followed it up by beating them twice in one season. Head Coach John Laden won 7A Boys Coach of the Year and Grayson Brockman and Will Zylstra were All-State selections. Lambert had a run of dominance in lacrosse winning the past two championships and suffered a four-loss season for the first time since 2014-2015. The Longhorns have had seven 20-win seasons in the past nine years. There could be a new rivalry brewing between West Forsyth and Lambert after the Wolverines had their number this season.
In Class 6A, Roswell captured its first title since 2015 and second overall. The Hornets had a high-powered offense all season long and scored double-digits in every game during the playoffs with 20+ goals in three of the five games. Roswell had six All-Americans including midfielder Ezra Moore, attacker Hill Plunkett, attacker Alex Lobel, face-off specialist Myles Quandt, and Stone Smith. Allatoona had one of the best turnarounds you will see in a season. After starting 0-4, the Buccaneers righted the ship and got to a .500 record. Allatoona would go on to rattle off eight-consecutive wins on its way to the state championship and upset Blessed Trinity 13-12 in the playoffs.
In Class A-4A, Westminster became the winningest program in boys lacrosse after defeating Lovett 10-4. The Wildcats outscored the Lions 7-1 after the first quarter to secure the title. Coming into the game, the Wildcats were tied with Lambert (7A) for six state titles and now standalone with seven. Lovett had a notable turnaround this season. After starting 3-6, the Lions won six-consecutive games to get three games above .500 which would help them clinch a playoff berth going undefeated in area play and finishing with a No.1 seed. The Lions defeated Oconee County, Holy Innocents, and Starr's Mill in the playoffs to get to the championship game.
Girls 
In Class 7A, Milton continued its dominant run adding another championship to the trophy case after an 11-6 win against West Forsyth. The Lady Eagles have now won six-consecutive state titles and now have 16 overall in program history. Head Coach Tim Godby was named National Lacrosse Coach of the Year and continues to add to his impressive resume that already has him inducted into the Hall of Fame. West Forsyth was looking to win its first title in program history and made the title game interesting, cutting the deficit to four goals with two minutes left, but Milton would prevail. The Lady Wolverines rattled off seven-consecutive victories to get to the title game and were led by senior Noelle Kirley who scored 64 goals along with 21 assists and freshman Bryn Birkholz who scored 46 goals this season.
In Class 5A-6A, Blessed Trinity continues its recent championship streak adding its third consecutive state title after an 11-5 victory against area foe Roswell. Junior Clark Hamilton attacked the Blessed Trinity defense and scored five goals in the championship game. The Lady Titans have completed back-to-back 20-win seasons and have won 20 games in four of the past seven seasons. After clinching a three-seed and a tougher road to the state championship game, Roswell had its best finish in program history with 17 wins and made it out of a tough area that included Johns Creek, Blessed Trinity, Centennial, and Cambridge.
In Class A-4A, Pace Academy avenged its earlier loss to Wesleyan, winning 19-12 in the state title game and winning its first state title in program history. Pace Academy trailed early 5-2 but got back in the game and led 9-7 before closing the game out on a 10-5 run. The Lady Knights had the most wins this season in program history with 19. The Lady Wolves pulled off a thrilling win in the semifinals to get to their first-ever state title appearance after defeating Westminster in overtime 11-10. Senior Lily Nydam was huge in that semifinal win playing through injury and coming up with 14 saves.
Boys
Class 7A 
1. West Forsyth
2. Lambert
3. Buford
4. North Paulding
5. South Forsyth
6. North Gwinnett
7. North Cobb
8. Mountain View
9. Carrollton
10. Walton
Class 5A-6A
1. Roswell
2. Allatoona
3. Blessed Trinity
4. Marist
5. Cambridge
6. Alpharetta
7. Pope
8. Evans
9. Lakeside-Evans
10. Marist
Class A-4A
1. Westminster
2. Wesleyan
3. Lovett
4. Fellowship Christian
5. Starr's Mill
6. North Oconee
7. Benedictine
8. Pace Academy
9. Holy Innocents
10. King's Ridge
Girls 
Class 7A 
1. Milton
2. West Forsyth
3. North Paulding
4. Walton
5. Hillgrove
6. Cherokee
7. Lambert
8. Brookwood
9. Mountain View
10. Marietta
Class 5A-6A
1. Blessed Trinity
2. Roswell
3. Creekview
4. Cambridge
5. Alpharetta
6. Johns Creek
7. River Ridge
8. St. Pius X
9. Lakeside-Evans
10. Lassiter
Class A-4A
1. Pace Academy
2. Fellowship Christian
3. Wesleyan
4. Westminster
5. Columbus
6. Starr's Mill
7. North Oconee
8. Mt. Paran Christian
9. Lovett
10. Mount Pisgah