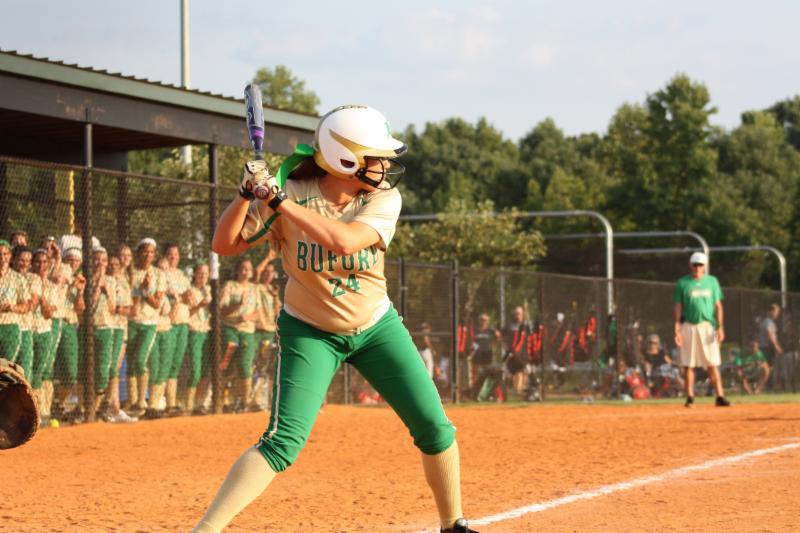 Photo by Jennifer Stravo
Three of the seven No. 1 teams heading into the state playoffs took care of business and triumphed in their respective classifications. In Class AAAA, Buford captured its eighth consecutive state championship. Greenbrier was pushed to a deciding game by Cambridge in Class AAAAA before getting the job done. In Class A-Public, Georgia Military powered its way to the title while winning all of its tournament games by at least nine runs.
Like Buford, Calhoun also made a jump in classification but managed to go back-to-back with a victory in Class AAA after having prevailed in Class AA last year. Pope, which began the season unranked in Class AAAAAA and went into the postseason at No. 6, took home the winner's trophy from Columbus. The Greyhounds ousted defending champion Collins Hill in the second playoff round, shut out previously top-ranked Lassiter in the tournament, then got the best of Hillgrove to win it all.
Heard County-previously No. 3 in Class AA-and Eagle's Landing, ranked second in Class A-Private prior to the postseason, also won state championships.
Class AAAAAA
1. Pope
2. Lassiter
3. Hillgrove
4. Brookwood
5. Collins Hill
6. Harrison
7. Archer
8. East Coweta
9. South Forsyth
10. Lambert
Class AAAAA
1. Greenbrier
2. Cambridge
3. Union Grove
4. Northgate
5. Harris County
6. Chapel Hill
7. Ola
8. Woodland-Henry
9. Effingham County
10. South Effingham
Class AAAA
1. Buford
2. Thomas County Central
3. Heritage-Catoosa
4. Carrollton
5. Walnut Grove
6. Wayne County
7. Northwest Whitfield
8. Marist
9. Madison County
10. Pike County
Class AAA
1. Calhoun
2. Ringgold
3. Central-Carrollton
4. Dodge County
5. Pierce County
6. Dawson County
7. Blessed Trinity
8. Westminster
9. Tattnall County
10. Jackson County
Class AA
1. Heard County
2. Gordon Lee
3. Bacon County
4. Vidalia
5. Harlem
6. Jeff Davis
7. Wesleyan
8. Armuchee
9. Social Circle
10. Swainsboro
Class A-Private
1. ELCA
2. Prince Avenue Christian
3. First Presbyterian Day
4. Athens Christian
5. Brookstone
6. Stratford Academy
7. Tattnall Square Academy
8. Calvary Day
9. Mount Vernon Presbyterian
10. Strong Rock Christian
Class A-Public
1. Georgia Military
2. Wilcox County
3. Schley County
4. Johnson County
5. Telfair County
6. Treutlen
7. Trion
8. Echols County
9. Mount Zion
10. Charlton County