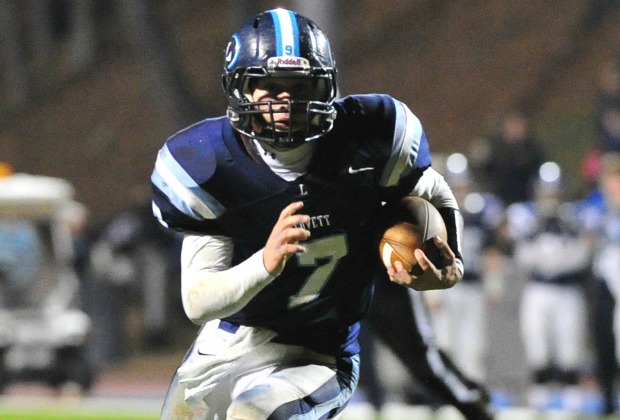 Perry McIntyre
We said before the season that Lovett had the toughest schedule in Class AA and probably at any level below Class AAAAAA. Despite facing quality opponents each week of the season from higher classifications, the Lions have stunned many by starting out 4-0 with wins over Blessed Trinity, Woodward Academy, Marist and, this past week, St. Pius X. Due to its overall resume and consistency from week-to-week, we've ranked Coach Mike Muschamp's squad No. 1 in Class AA.
Also in AA, Benedictine moved up after a win over previously-ranked Vidalia, while Rabun County, under former Flowery Branch coach Lee Shaw, makes its debut at No. 10.
In Class AAAAAA, Mill Creek dropped a couple slots after a narrow loss to No. 4 Peachtree Ridge. Valdosta and Hillgrove each moved up one place.
Class AAAAA stayed the same as no ranked team suffered defeat.
Wayne County debuted in the Class AAAA top 10 after an eye-opening 4-0 start to the season. Westside-Macon fell out of the top 10 after a loss to Veterans, while Burke County barely held on to a spot and came in at No. 10 after a loss to No. 4 Statesboro.
St. Pius X dropped to No. 7 in Class AAA after its loss to Lovett.
In Class A-Private, Mt. Paran made the top five after a convincing win over Trion while Mt. Pisgah makes an appearance for the first time this season at No. 10.
Class AAAAAA
1. North Gwinnett
2. McEachern
3. Colquitt County
4. Peachtree Ridge
5. Valdosta
6. Hillgrove
7. Mill Creek
8. Coffee
9. Norcross
10. Lovejoy
Class AAAAA
1. Northside-Warner Robins
2. Tucker
3. Kell
4. Stephenson
5. Thomas County Central
6. Gainesville
7. Warner Robins
8. Allatoona
9. Creekside
10. Ware County
Class AAAA
1. Sandy Creek
2. Carrollton
3. Griffin
4. Statesboro
5. Monroe Area
6. Stockbridge
7. Marist
8. Mary Persons
9. Wayne County
10. Burke County
Class AAA
1. Buford
2. Cartersville
3. North Hall
4. Washington County
5. Pierce County
6. Jefferson County
7. St. Pius X
8. Carver-Columbus
9. Hart County
10. North Oconee
Class AA
1. Lovett
2. GAC
3. Lamar County
4. Calhoun
5. Washington-Wilkes
6. Jefferson
7. Brooks County
8. Benedictine
9. Cook
10. Rabun County
Class A-Private
1. ELCA
2. Landmark Chr.
3. Savannah Chr.
4. Aquinas
5. Mount Paran
6. Prince Ave. Chr.
7. George Walton Aca.
8. Brookstone
9. Darlington
10. Mt. Pisgah
Class A-Public
1. Irwin County
2. Marion County
3. Seminole County
4. Lincoln County
5. Johnson County
6. Trion
7. Clinch County
8. Charlton County
9. Gordon Lee
10. Wilcox County