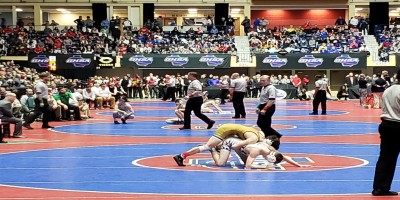 The Jefferson wrestling dynasty is over.
The biggest storyline of GHSA Traditional Wrestling State Championships Saturday was the dethroning of Jefferson as its streak of traditional state championships came to an end after 18 seasons. Sonoraville took the Class AAA title with 172 points followed by North Hall (168.5 points) and Jefferson (165.5 points).
Since 2001, the Dragons ruled each classification they have been in while winning championships in Class A (2001-2008), Class AA (2009-2014), Class AAA (2015-2016) and Class AAAA (2017-2018).
This year, after reclassifying back to Class AAA, Jefferson faced its toughest test in almost two decades as it trailed at the end of Friday's matches. Jefferson entered finals Saturday with 153.5 points, behind Sonoraville (164 points) and North Hall (156.5 points). Despite getting individual state championships from Mason Mingus (106 pounds), Ryan Hurd (160 pounds) and Gavin London (285 pounds) the Dragons could not overtake Sonoraville as it successfully defended its Class AAA title, the second for the Phoenix. Sonoraville got individual titles from Trevor Burdick (145 pounds) and John Knight (195 pounds).
In another historic moment, girls were awarded individual wrestling state championships for the first time in the history of the GHSA. The first-ever title went to Gilmer's Candalaria Velasquez, who earned her state championship in the 95-pound bracket with a victory over Hiram's Alana Washington by fall at 1:24.
"It is amazing," Velasquez said. "The coaches told us to always have faith and never quit and that's what I did out there, I never quit. It's just a sport but all girls can complete their dream. It's something big and it's always a great thing to complete something."
Last year Statesboro's Kasey Baynon made history placing fifth in the boys Class AAAAA 106-pound bracket, a memory that was not lost on North Gwinnett wrestler  Dianna Holmes after she took home the 106-pound state title with a victory over Stephens County wrestler Athena Malek by fall at 2:47.
"Me and Kasey have been friends for forever and I was really excited for her and happy for her," Holmes said. "It was good to see that the girls can do it too. There is a spot for us. I'm not 100 percent sure what this will mean to me later but we are starting to involve more girls and trying to get more and more involved in building and growing it."
Nick Krug, Camden County's 126-pound state champion, weighed in on the addition of a girls bracket following his victory over Collins Hill wrestler Clint Gilbert.
"It's pretty amazing that, before, it was hard for girls to compete with the other guys in this sport," Krug explained. "But not they can be champions together and its an amazing thing. It shows that its growing and wrestling is growing in America."
In the boy's tournament, Camden County won its fifth-straight state championship in commanding fashion. The Wildcats won titles in 2015-16 in AAAAAA and 2017-19 in AAAAAAA. Camden got individual titles from Nathan Orum (113), Krug (126), Raylan Wilder (152) and Myles Starke (195).
"It's just the collection of the hard work we do in the room," Krug said. "It's just how good our coaches are and how much they push us to be great and the results are in the individual tournament are from that. We all push each other to be better and be the best we can."
Valdosta's Noah Pettigrew took the 195-pound title to help lead the Wildcats to the Class AAAAAA team championship. Demetrius Allen finished runner up in the 285-pound bracket, Scott Antione finished fourth in the 182-pound bracket, Dominique Dale finished third in the 170-pound bracket, Aushand Evan finished fifth in the 138-pound bracket, Lamon Tyler placed fourth in the 126-pound bracket, Jordan Hampton placed third in the 120-pound bracket and Darrell Rochester was runner up in the 106-pound bracket.
Woodland-Cartersville won the Class AAAAA title with 208.5 points ahead of Buford (186.5 points).  Kyle Gollhofer (120 pounds), Caden McCrary (132 pounds) and Jaxon Smith (145 pounds) won individual titles for Woodland.
Woodward Academy got individual titles from Nick Masters (126 pounds), Michael Kilic (132 pounds), Matthew Singleton (138 pounds), McCoy Pace (145 pounds) and Malcolm Wiley on the way to its AAAA crown.
In Class AA, Social Circle took first place with 150.5 points ahead of Elbert County (122.5 points). Mitchell Thompson (160 pounds) and Josh Engstrom (170 pounds) won individual titles for Social Circle.
Commerce won the Class A title with 193 points, besting Darlington's 161.5 points. Tucker Flint (152 pounds) and Elijah Burns (195 pounds) won individual titles for Commerce.
Final Team Standings
Class AAAAAAA: 1. Camden County 223.5, 2. Collins Hill 146.5, 3. Mountain View 139, 4. Brookwood 125, 5. Rockdale County 87, 6. Hillgrove 82.5, 7. Forsyth Central 73, 8. Colquitt County 65, 9. West Forsyth 65, 10. Cherokee 62
Class AAAAAA: 1. Valdosta 177, 2. Pope 141.5, 3. Alexander 132.5, 4. Richmond Hill 131, 5. Creekview 116.5, 6. Dalton 109.5, 7. South Paulding 100.5, 8. Cambridge 83.5, 9. Coffee 78.5, 10. Brunswick 70
Class AAAAA: 1. Woodland-Cartersville 208.5, 2. Buford 208.5, 3. Veterans 130, 4. 127.5 Ola 127.5 6. Cass 87, 7. Ware County 79, 8. Locust Grove 72.5, 9. Carrollton 68, 10. Kell 61.5
Class AAAA: 1. Woodward Academy 169, 2. West Laurens 166.5, 3. Blessed Trinity 129.5, 4. Gilmer 101.5, 5. Central-Carroll 96, 6. Ridgeland 92.5, 7. Perry 90, 8. North Oconee 79.5, 9. Madison County 74, 10. Heritage-Catoosa 68.5
Class AAA: 1. Sonoraville 172, 2. North Hall 168.5, 3. Jefferson 165.5, 4. Jackson County 102, 5. Lumpkin County 87, 6. Lovett/Pike County 54.5, 8. Pierce County 54, 9. Fannin County 52, 10. Haralson County 49
Class AA: 1. Social Circle 150.5, 2. Elbert County 122.5, 3. Chattooga 112.5, 4. Toombs County 107.5, 5. Bremen/Pepperell 82, 7. Rockmart 75, 8. Vidalia 73, 9. Oglethorpe County 67, 10. Fitzgerald 66.5
Class A: 1. Commerce 193, 2. Darlington 161.5, 3. Turner County 98, 4. Trion 90, 5. George Walton 80.5, 5. George Walton 80.5, 6. Holy Innocents' 68, 7. Mount Pisgah 66, 8. Wesleyan 64, 9. Gordon Lee 62, 10. Irwin County 60
Final Individual Standings
Girls
95 pounds: 1. Candalaria Velasquez Gilmer, 2. Alana Washington Hiram, 3. Rebecca Dominguez Montgomery County, 4. Kiley Webb Walton
106 pounds: 1. Dianna Holmes North Gwinnett, 2. Athena Malek Stephens County, 3. Zoe East Temple, 3. Savannah Lackey Paulding County
116 pounds: 1. Amani Jones Ola, 2. Kennedy Shropshire Mountain View, 3. Cecily Livingston Berrien, 4. Catherine Mullis Baldwin
126 pounds: 1. Aki Choates Duluth, 2. Mia Kurashima Hiram, 3. Samantha Scarbrough Harris County, 4. Skylar Yates West Hall
136 pounds: 1. Alexa Downs Camden County, 2. Daisy Gilleylen Stone Mountain, 3. Tristen Music Pierce County, 4. Shyra LaGarde New Manchester
146 pounds: 1. Sophia Eglian North Forsyth, 2. Kiomy Morris Stephenson, 3. T'Keya Hill Jordan, 4. Glenda Veiga North Paudling
156 pounds: 1. Tiyahna Askew Collins Hill, 2. Sidney Sullens White County, 3. Taylor Price Newnan, 4. Trezha Boatwright Alexander
166 pounds: 1. Heaven Byrd Hiram, 2. Paige Nelson Cartersville, 3. Meleah Steinard Bowdon, 4. Itzel Vega Berkmar
176 pounds: 1. Stacey Pgouda Hiram, 2. Dream Santiago Alexander, 3. Bre Lumley Jackson County, 4. Emilie Rohme Veterans
225 pounds: 1. K.J. Haney Hiram, 2. Markayla Stewart Veterans, 3. Teonna Bonds Southeast Whitfield, 4. Mi'Kel Jiles Meadowcreek
Boys
Class AAAAAAA
106 pounds: 1. Connor Powell Hillgrove, 2. R.J. Aguirre Mountain View, 3. DeMarquis Hall Camden County, 4. Landon Yarbrough Woodstock
113 pounds: 1. Nathan Orum Camden County, 2. Mason Askew Mountain View, 3. Gilbert Powell Collins Hill, 4. Michael Roe-Deters Woodstock
120 pounds: 1. David Panone Lassiter, 2. Tyler Crew Camden County, 3. Joey Felix Collins Hill, 4. Abraham Perez Forsyth Central
126 pounds: 1. Nicholas Krug Camden County, 2. Clint Gilbert Collins Hill, 3. A.J. Riner South Forsyth, 4. Willy Allen North Paulding
132 pounds: 1. Ben Williams Milton, Ricky Roberto Hillgrove, 3. David Cartier Roswell, 4. Elijah Griffin Collins Hill
138 pounds: 1. Robert Weston Lassiter, 2. Ethan Willis Hillgrove, 3. Jackson Lawson Lowndes, 4. Jeremy Paradice Colquitt County
145 pounds: 1. Paul Watkins North Forsyth, 2. Rex McDaniel North Gwinnett, 3. Tyler Dahlgren Camden County, 4. Ethan Rickert West Forsyth
152 pounds: 1. Raydan Wilder Camden County, 2. Blake Smith Etowah, 3. Matthew Silka Cherokee, 4. Rodney Winston Rockdale County
160 pounds: 1. Lucas DeSilva Collins Hill, 2. Chase Hornsby Brookwood, 3. Devin Terza Hillgrove, 4. Chase Lappert Mountain View
170 pounds: 1. Garrett Spikes Mountain View, 2. JhaQuan Anderson Rockdale County, 3. Gabriel Lee Brookwood, 4. Kyle Cline North Paulding
182 pounds: 1. David Key Brookwood, 2. Cody Herrin Camden County 3. Gerald Coney Tift County, 4. Bruce Ferguson South Gwinnett
195 pounds: 1. Myles Starke Camden County, 2. Cole Hixon Walton, 3. Harrison Spikes Mountain View, 4. Eli Weatherby Cherokee
220 pounds: 1. Nic Jarvis Colquitt County, 2. Jonathan Chesser Walton, 3. Justin Oldknow Brookwood, 4. Cody Hutchinson Collins Hill
285 pounds: 1. Tomari Fox Collins Hill, 2. Edward Pollard Rockdale County, 3. Dylan Fairchild West Forsyth, 4. Seth Spillers Tift County
Class AAAAAA
106 pounds: 1. Andrew Voiles Alexander, 2. Darrell Rochester Valdosta, 3. Cole Hunt Dalton, 4. Joey Robinson Pope
113 pounds: 1. Jacob Seymour South Paulding, 2. Carson Throne Sequoyah, 3. David Jackson-Dodd Alexander, 4. Andrew Cory Creekview
120 pounds: 1. Christian Small Sequoyah, 2. Max Druhot Pope, 3. Jordan Hampton Valdosta, 4. Jarrod Pominville Harrison
126 pounds: 1. Noland Hunt Dalton, 2. Alex Hearn Pope, 3. Ethan Dooley Lee County, 4. Tyler Lamon Valdosta
132 pounds: 1. Tyler Hunt Dalton, 2. Kyle Romano Cambridge, 3. Williams Shores Richmond Hill, 4. Cade Sousa Creekview
138 pounds: 1. Jackson Eller Evans, 2. Josh Siegel Centennial, 3. Bryan Hernandez-Martinez Houston County, 4. Jaxon Wells Dalton
145 pounds: 1. Trace Insalaco Brunswick, 2. Case Merrit Coffee, 3. Troy Gable Pope, 4. Jake Piccirilli River Ridge
152 pounds: 1. Drew Eller Evans, 2. Will Evans Richmond Hill, 3. Jared Wilmarth Creekview, 4. Andrew Barner Pope
160 pounds: 1. Gavin Kane Cambridge, 2. Kamdyn Munroe Richmond Hill, 3. Wyatt Higgins Creekview, 4. Curtis Brock Brunswick
170 pounds: 1. Austin Seymour South Paulding, 2. Gabriel Santiago Alexander, 2. Dominique Dale Valdosta, 4. Marcus Stephens Chattahoochee
182 pounds: 1. Jakeem Littles Richmond Hill, 2. Robinson Ruston South Paulding, 3. Daniel Gladwell Chattahoochee, 4. Scott Antione Valdosta
195 pounds: 1. Noah Pettigrew Valdosta, 2. Jaquarius Middlebrooks Glynn Academy, 3. Christopher Sheahan Pope, 4. Michaia Green Grovetown
220 pounds: 1. Zekeil Walls Effingham County, 2. Maliik Jordan Lee County, 3. Zach Loner Alexander, 4. Avery Rocks Creekview
285 pounds: 1. Eli Daughtry Creekview, 2. Demetrius Allen Valdosta, 3. Jameel Abuzaid Dacula, 4. Jesus Riano Coffee
Class AAAAA
106 pounds: 1. Nick Corday Buford, 2. David Burgess Thomas County Central, 3. Reese Jones Ola, 4. Junior Rosati Woodland-Cartersville
113 pounds: 1. Logan Ashton Buford, 2. Colton Bishop Woodland-Cartersville, 3. Bryce Kresho Cass, 4. Gavin Hayes Ola
120 pounds: 1. Kyle Gollhofer Woodland-Cartersville, 2. Brent Parivechio Carrollton, 3. Cameron Fretwell Union Grove, 4. Daniel Hunter Ola
126 pounds: 1. Jackson DiSario Ola, 2. Caleb Henson Woodland-Cartersville, 3. Konner Alejandro Locust Grove, 4. Garrett Wood Harris County
132 pounds: 1. Caden McCrary Woodland-Cartersville, 2. Julian Farber Veterans, 3. Grant Monroe Harris County, 4. Sam Ponder Walnut Grove
138 pounds: 1. Nick Stonecheck Buford, 2. Neace Bryson Union Grove, 3. Cole Cochran Woodland-Cartersville, 4. Jake Boyd Kell
145 pounds: 1. Jaxon Smith Woodland-Cartersville, 2. Brady Massey Union Grove, 3. Kaleb Thomaston Carrollton, 4. Thomas Kooper Ware County
152 pounds: 1. Francis Morrissey Veterans, 2.Charlie Darracott Buford, 3. Kendall Arnold Cass, 4. Ethan Kasler Starr's Mill
160 pounds: 1. Blaine Bergey Buford, 2. Kevin Reynolds Veterans, 3. Clark Leddon Locust Grove, 4. Dylan Burton Dutchtown
170 pounds: 1. Meshai Coleman Clarke Central, 2. Collin Kasler Starr's Mill, 3. Torrence Dumas Union Grove, 4. Colt Schneller Veterans
182 pounds: 1. Noah Hoffmeier Cass, 2. Jamal Boyd Cedar Shoals, 3. Brice Shedd Woodland-Cartersville, 4. Hunter Tindall South Effingham
195 pounds: 1. Jack Haury Ola, 2. Chase Sippola Carrollton, 3. Demarcus Williams Woodland-Cartersville, 4. Bryan Wilkinson Rome
220 pounds: 1. Andrew Parlato Kell, 2. Evan Dimaggio Buford, 3. Amari Pettis Thomas County Central, 4. Shamar Padget South Effingham
285 pounds: 1. Ryan Smith New Hampstead, 2. Austin Blaske South Effingham, 3. Trey Bonner Jones County, 4. Jarran May Statesboro
Class AAAA
106 pounds: 1. Austin Thiel Perry, 2. Riso Webb Southeast Whitfield, 3. Luke Jarvis North Oconee 4. Tyler Earick Cartersville
113 pounds: 1. Josh Kincaid Madison County 2. Ryan Craft Heritage-Catoosa, 3. Austin Wilson Eastside, 4. Bryan Ramos Chestatee
120 pounds: 1. John Jones Northside-Columbus, 2. Beau Branand North Oconee, 3. Chris Prescott Ridgeland, 4. Kenley Chadwick Flowery Branch
126 pounds: 1. Nick Masters Woodward, 2. C.J. Murphy Pickens, 3. Pascual Velasquez Chestatee, 4. Patrick Riordan Blessed Trinity
132 pounds: 1. Michael Kilic Woodward Academy, 2. Gunner Filipowicz Blessed Trinity, 3. C.J. Shading Central-Carroll, 4. Darious Hanson Troup County
138 pounds: 1. Matthew Singleton Woodward Academy, 2. Sam Johnson North Oconee, 3. Triston Thiel Perry, 4. Jordan Hughley Ridgeland
145 pounds: 1. McCoy Pace Woodward Academy, 2. Javier Jacinto Gilmer, 3. Robert Mulvany Columbus, 3. Robert Mulvany Columbus, 4. Matt Jenkins White County
152 pounds: 1. Jacob Mariakis Ridgeland, 2. Malachi Wiley Woodward Academy, 3. Courtland Staples Northside-Columbus, 4. Garett Stephens Heritage-Catoosa
160 pounds: 1. Dre Bonner West Laurens, 2. Dylan Swanson Ridgeland, 3. Alex Repetun Gilmer, 4. Alex Poma Blessed Trinity
170 pounds: 1. Caleb Waddel Gilmer, 2. Brent Carr West Laurens, 3. Joel Faglier Cross Creek, 4. Jamarey Hull Northwest Whitfield
182 pounds: 1. Vincent Baker Blessed Trinity, 2. Sam Conerly Central-Carroll, 3. Michael Thomsen West Laurens, 4. Shashoni Williams Perry
195 pounds: 1. Malcolm Wiley Woodward Academy, 2. Zeke Taylor Perry, 3. Dalton Brunner Pickens, 4. J.C. Higgins Central-Carroll
220 pounds: 1. Chase Horne West Laurens, 2. Jackson Filipowicz Blessed Trinity, 3. Shane Bruce Central-Carroll 4. Hamilton Cooper Madison County
285 pounds: 1. Spencer Dacus West Laurens, 2. Devin Sullens White County, 3. Dean Colton Marist, 4. Colby Harry Troup County
Class AAA
106 pounds: 1. Mason Mingus Jefferson, 2. Joey Sosebee Jackson County, 3. Hector Arbos Sonoraville, 4. Dawson Thompson North Hall
113 pounds: 1. Jacob Pedraza North Hall, 2. Tyson Thurmond Jefferson, 3. Angel Banda Adairsville, 4. Kainan Henson Fannin County
120 pounds: 1. Dennis McNeal Jr. Stone Mountain, 2. Eli Knight Sonoraville, 3. Jared Blackburn, 4. Landon Galloway
126 pounds: 1. Matthew Glenn North Hall, 2. Tanner Stone Ringgold, 3. Alford Coy Lovett, 4. Luis Garcia East Hall
132 pounds: 1. Todd Carter Pierce County, 2. Ian Statia Jefferson, 3 Jeremiah Allen Lovett, 4. Logan Skeen Ringgold
138 pounds: 1. Antonio Mills Jr. Stone Mountain, 2. Allen Stone Sonoraville, 3. Matt Pressley Franklin County, 4. Alex Pulido North Murray
145 pounds: 1. Trevor Burdick Sonoraville, 2. Keller Brown Lumpkin County, 3. Reece Poe Calhoun, 4. McCay Turner Fannin County
152 pounds: 1. Nolan Wheeler Lumpkin County, 2. Devan Moore Appling County, 3. Cody Smith North Hall, 4. Nolan Sorrow Jefferson
160 pounds: 1. Ryan Hurd Jefferson, 2. Shandon Henley Cook, 3. Kaden Andreason Jackson County, 4. Hunter Adams North Hall
170 pounds: 1. Donovan McElligott Morgan County, 2. Mason Corbett Jefferson, 3. Nic Jackson Adairsville, 4. John Lovett Pike County
182 pounds: 1. Sam Irwin Lumpkin County, 2. Charlie Brown Sonoraville, 3. Finn Williams Morgan County, 4. John Brooks Lovett
195 pounds: 1. John Knight Sonoraville, 2. Nathan Williams Lakeview-Fort Oglethorpe, 3. Tyler Wester Jackson County, 4. Richard Hyatt Haralson County
220 pounds: 1. Seth Carlton North Hall, 2. Caleb Hardeman Haralson County, 3. Logan Sage Pike County, 4. Devonte Stephens Jackson County
285 pounds: 1. Gavin London Jefferson, 2. Bowie Eisenberg North Hall, 3. Elijah Pryor Greater Atlanta Christian, 4. Brandon Bristol Sonoraville
Class AA
106 pounds: 1. Griffin Jarrett Chattooga, 2. Jose Balderas Toombs, 3. Tyler Post Social Circle, 4. Tyler Hogan Oglethorpe County
113 pounds: 1. Wes Conley Armuchee, 2. Tyler Snowden Social Circle, 3. Cruz Arredondo Toombs County, 4. Malik Hardy Spencer
120 pounds: 1. Kevin Martin, Fitzgerald, 2. Peyton Morris Rockmart, 3. Cameron Epsy Armuchee, 4. Noah Tippett Vidalia
126 pounds: 1. John Webb McNair, 2. Martrez Huff Elbert County, 3. Ivan Arguello Pepperell, 4. Dan Dozier East Laurens
132 pounds: 1. Ricardo Santana Toombs County, 2. Chance Mitchell Fitzgerald, 3. Landon Camp Pepperell, 4. Markevious Mincey Vidalia
138 pounds: 1. Aaron Brock Bremen, 2. Thomas Zenga Pepperell, 3. Nick Daniels Dade County, 4. Bradley Owens Jeff Davis
145 pounds: 1. Gabriel Peryam Oglethorpe County, 2. Rico Ashley Fitzgerald, 3. Jackson Wheeler Social Circle, 4. Joe Wallace Model
152 pounds: 1. Koby Cook Bremen, 2. Gavin Brady Elbert County, 2. Dakota Johnson Dade County, 4. Hunter Muse Social Circle
160 pounds: 1. Mitchell Thompson Social Circle, 2. Cody Williams Dade County, 3. Sean Houston Harlem, 4. Laquize Gilbert Callaway
170 pounds: 1. Josh Engstrom Social Circle, 2. Zoryan Hendrick Rockmart, 3. Drake Miller Pepperell, 4. Thomas Godbee Vidalia
182 pounds: 1. Griffin Pace Rockmart, 2. B.J. Bradford Elbert County, 3. Anthony Elliott Callaway, 4. Ray Shaw
195 pounds: 1. Tahjah Watts Vidalia, 2. Ty Veatch Chattooga, 3. Terrance Walker Banks County, 4. Allen Woods Model
220 pounds: 1. Alex Mears Chattooga, 2. Jacob Stephens Bremen, 3. Javon McNeal Dodge County, 4. Gavin Hill Northeast
285 pounds: 1. Luis Mendoza Chattooga, 2. Rolando Tonoco Toombs County, 3. Rod Nunnally Social Circle, 4. Qwen Moss Elbert County
Class A
106 pounds: 1. Mark Metz Pinecrest Academy, 2. Bryce James Gordon Lee, 3. Josh Noble Mount Pisgah, 4. Art Martinez, Holy Innocents
113 pounds: 1. Trevor Borom Strong Rock, 2. Dawson Legg Commerce, 3. Hunter Burnett Gordon Lee, 4. C.G. Bertrand Mount Pisgah
120 pounds: Jake Swinks Holy Innocents', 2. Bryson Flint Commerce, 3. Brandon Shellnutt Strong Rock, 4. Perry Jake Stone George Walton Academy
126 pounds: 1. Alan Cordero Darlington, 2. Beau Mitchell George Walton Academy, 3. Carson Mullis Treutlen, 4. Nathan Hunley Gordon Lee
132 pounds: Dalton Blankenship Darlinton, 2. Nate Watson North Cobb Christian, 3. Rodney Meeks Treutlen, 4. William Priest Turner County
138 pounds: 1. Colton Woods Darlington, 2. Chris Sperin George Walton Academy, 3. Wright Walker Irwin County, 4. Jake Watson North Cobb Christian
145 pounds: 1. Tyler Ingram Darlington, 2. Harrison Dearth Wesleyan, 3. Aiden Greer Georgia Military, 4. Joe Metz Pinecrest Academy
152 pounds: 1. Tucker Flint Commerce, 2. Patrick Morris George Walton, 3. Sam Schmitt Wesleyan, 4. Caleb Williams Treutlen
160 pounds: 1. David Bertrand Mount Pisgah, 2. Nick Patrick Commerce, 3. Jacorian Prater Turner County, 4. Blaine Rogers Towns County
170 pounds: Rhett McDurmon Darlington, 2. Jake Frates Commerce, 3. Corey Morrow Turner County, 4. Tyler Swanger Towns County
182 pounds: 1. Cameo Blankenship Telfair County, 2. Josh Frates Commerce, 3. Chiagoziem Iteogu Mount de Sales, 4. Garrett Sheffield Darlington
195 pounds: 1. Elijah Burns Commerce, 2. Brayden Rush Eagle's Landing Christian, 3. Case Jiles Mount Zion, 4. Wookdong Kim Riverside Military
220 pounds: 1. D.J. Lundy Irwin County, 2. Michael Cox Holy Innocents' 3. Jonathan Hammond Mount Vernon, 4. Alex Stewart Trion
285 pounds: 1. Tanner Blevins Wesleyan, 2. Zion Blackshear Turner County, 3. Jeffrey Barnard Commerce, 4. Rodney Binns Washington-Wilkes