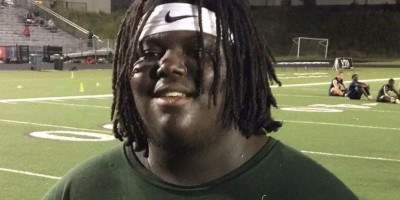 Former Duluth football player James Doby died weeks after graduation on Wednesday as confirmed by the Duluth staff.
Doby was a 5-foot-11, 330-pound offensive and defensive lineman for the Wildcats. He was studying to be a mechanic according to his coaches.
"Doby was always willing to stop and have a conversation about football or his favorite courses at Maxwell," Duluth athletic and activities director Tessa Finke told the Gwinnett Daily Post. "He loved his time with the football team. He was such a gentle giant. Loved his spirit and his big smile. He will be missed dearly by the Wildcat family."
Duluth defensive line coach Chris Fowler coached Doby for four seasons and said that he embodied the Wildcat spirit and worked hard in the weight room so he could perform better on the field.
"I just felt he gained a lot of confidence from the time he came in as a freshman to the time he left as a senior," Fowler said. "He was that guy around school that everyone knew. Everyone knew who James Doby was whether it was through football or just through his personality. He was one of those kids that he touched everybody around him."
The outpouring of support on social media was immense with Fowler tweeting 'You were one of the best persons I've ever had the privilege of knowing and I just can't believe you're gone. I couldn't wait to hug your neck and talk with you again.'
It was initially reported that Doby died from complications of COVID-19, however his family confirmed that he did not have the virus.