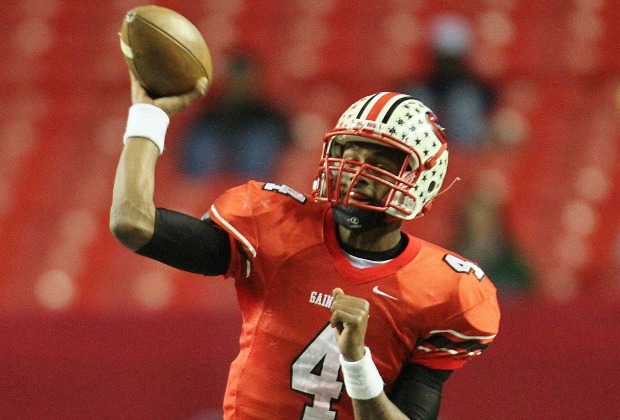 Sonny Kennedy
The first full night of high school pigskin took place tonight around the state. See below for some of the game recaps.
Class AAAAAA
Archer 37, Mountain View 0: Visiting Archer sealed raced to a 27-0 lead at the half and was paced by quarterback Gabe Tiller. The senior tossed touchdown passes to Kyle Davis, K.J. Palmer and Blake Woods in the first half.
Berkmar 9, Duluth 3: Visiting Berkmar scored the game's only touchdown in the first quarter on Rashad Hall's 8-yard rushing touchdown. Duluth added a field goal to close the quarter, but went scoreless the rest of the game. Berkmar forced a Wildcat safety in the fourth quarter.
Collins Hill 22, Central Gwinnett 0: Visiting Collins Hill took an 8-0 lead into halftime after a 10-yard rushing touchdown by Tyler Henderson and a Henderson 2-point conversion. Henderson added a 50-yard rushing touchdown in the third quarter and Rhyan England made it 22-0 after a 60-yard touchdown run.
East Coweta 49, Henry County 8: Weylin Orr tallied three first-half touchdowns for host East Coweta. Alex Branch, Malik Robinson and freshman Carlos Ford added first-half scores and the Indians led 42-0 at the half. Weylin's brother Elishua's touchdown capped the scoring at 49-8.
Etowah 27, Lambert 10: Brandon Engle scored on a 1-yard rushing touchdown to give visiting Etowah a 7-0 lead. Eagles quarterback John Oliver found Ben Rowell on a 4-yard touchdown pass before scrambling 45-yards and extending Etowah's lead to a comfortable 21-0 in the second quarter.
Marietta 63, Pope 13: Tyrell Tomlin and T.J. Bulock returned interceptions for touchdowns in the opening half, giving host Marietta a 42-7 lead at the break. With a running clock in the third quarter, Kadeem Wallington increased the advantage to 56-7 with Marietta's third interception return for a touchdown.
Mill Creek: 41, Dacula 28: Visiting Mill Creek led almost the entire game to the chagrin of the Dacula home crowd. Dacula was trailing 28-20 to start the third quarter, but was outscored 13-8 and unable to stage a late game comeback.
Rockdale County 20, Salem 0: Quarterback Zuri Minnifield provided more than enough offense for host Rockdale County. Minnifield threw for a touchdown pass and rushed for another. The Rockdale defense also intercepted three Salem passes.
South Forsyth 21, Northview 17: Nathan Phillips scored two rushing touchdowns (on carries of 12 and 50 yards) for Northview, but the scores were not enough to hold off visiting South Forsyth. Quarterback D.J. Pearson of Northview completed 25-for-36 passes for 311 yards, but no touchdowns.
Westlake 18, South Cobb 10: Quarterback Demetrius Beverly got the job done through the air and on on the ground for host Westlake. Beverly connected with Jamauri Elliot on a touchdown pass and also scored on a quarterback keeper. Quintavius Pope also returned an interception for a touchdown to boost Westlake.
Class 5A
Allatoona 50, Woodland-Bartow: Allatoona quarterback Conner Larson connected with D.J. Ezell on two touchdown passes and Conner ended the game with 65 total yards. Allatoona running backs Josh Bettistea and Ryan Halimon combined for 229 yards and four touchdowns. Bettistea led the team with 144 yards rushing.
Carver-Atlanta 20, Mays 19: Carver defeated Mays thanks to strong special teams and timely defensive play in a game played at Lakewood Stadium. Carver's special teams blocked two blocked extra points and the defense recorded a safety.
Gainesville 58, West Forsyth 28: Record-setting quarterback Deshaun Watson had another big night for visiting Gainesville. Watson threw for 368 yards and four touchdowns. Watson also added 70 yards and a score on the ground. Wide receiver Jay Gaudlock caught 10 passes for 177 yards and a touchdown.
Heritage-Conyers 14, Northgate 7: Visiting Heritage-Conyers beat Northgate in a closely contested game Friday night. Heritage scored off a 20-yard C.J. Stone rushing touchdown, and the game remained tied up until the final seconds of the game. Heritage's Ryan Sutton had a quarterback sneak in the last 15 seconds for the game-winning score.
Northside-Warner Robins 28, Flowery Branch 6: Willie Jordan opened the scoring for host Northside. Glenn Smith added a 38-yard touchdown before the half and opened the third quarter with a 12-yard touchdown. Flowery Branch found the endzone on a Jeremy James run in the fourth quarter.
Sequoyah 56, River Ridge 7: Adam Patterson paced host Sequoyah with a receiving touchdown and two rushing scores. The Chiefs led 28-0 at the half. Jake Garner, Sam Rogers, Vinnie Dodenhoff and Stephen Anderson each scored in the second half.
Union Grove, 34, Locust Grove 16: Visiting Union Grove led Locust Grove 20-0 at halftime. Union Grove running back Trevor Gear rushed for one touchdown while also receiving one of four touchdowns thrown by quarterback Jonathan Slade. Slade connected with three other different receivers for touchdowns.
Class AAAA
Carrollton 35, Oxford (Ala.) 14: Carrollton scored four touchdowns in the second quarter to break the game open as the Trojans led 28-7 at the half. Despite the lopsided score, Oxford actually outgained Carrollton 367-293 but was undone by three interceptions. Four Carrollton rushers scored touchdowns.
Eagle's Landing 41, Ola 10: Host Eagle's Landing outscored Ola 28-0 after its 13-10 halftime lead. In the third quarter, Corey Holloway scored a 15-yard touchdown, and the Eagles added a Bradley Dewberry interception return for a touchdown and two Sedrick Palmer rushing scores in the fourth.
Griffin 59, Dutchtown 35: Visiting Griffin scored 35 points in the opening half and added its final two scores in the third quarter. DeVonte Montgomery sparked the Dutchtown offense and added a 55-yard touchdown run through the Bears' defense in the second quarter to cut into Griffin's lead.
Marist 29, Clarke Central 18: Griffin King scored twice in the third quarter to spark host Marist. Marcus Miller got the scoring underway in the first quarter with a 5-yard run and Marist led 10-3 at the half. Marist's Matt Perez had a 13-yard run in the fourth to close out the scoring.
Monroe Area 48, Loganville 21: All seven of visiting Monroe Area's touchdowns came from Stanton Truitt. The Hurricanes' quarterback threw for three touchdowns and rushed for four scores (12, 5, 77 and 37 yards). Loganville trailed 35-7 at the half, and Red Devils quarterback, Royce Harrison, finished with three touchdown passes.
Class AAA
B.E.S.T. Academy 48, Cross Keys 0: Visiting B.E.S.T. Academy held Cross Keys scoreless in the first half with a 21-0 lead. The Eagles' defense kept Cross Keys in check by holding the Indians to less than 50 yards on the ground.
Jackson-Atlanta 40, Therrell 6: Quarterback Keenan Moore connected with wide receiver Quintavious Monday on touchdown passes of 38 and 48 yards for host Jackson-Atlanta. Moore completed 9 of 17 passes and finished with 227 yards through the air while Monday hauled in three catches for 101 yards.
Woodward Academy 25, Fayette County 6: Visiting Woodward Academy led Fayette County 22-0 at halftime. Quarterback Terry Googer of Woodward Academy rushed for 87 yards on 14 carries. In addition, Googer scored one touchdown on the ground and snagged a 41-yard touchdown catch during the second quarter.
Class AA
Lovett, from Class AA, defeated host Blessed Trinity, from Class AAA, 14-3 to improve to 2-0 on the season despite trailing 3-0 at the half.
A 95-yard punt return for a touchdown by Grant Haley turned the tide in Lovett's favor in the third quarter and put the Lions up 7-3. After losing the lead, Blessed Trinity fumbled on its first play from scrimmage on its own 29. Lovett capitalized on a 16-yard touchdown pass from Willie Candler to Jack McGranahan with 33 seconds left in the period.
The Lions rushed and passed for 105 yards. Jay Harris led the Lions with 91 rushing yards. Lovett held Blessed Trinity to 193 total yards. Candler completed six of 13 passes for 105 yards.
Class A
Fellowship Christian 41, Lakeview Academy 14: On the first play from scrimmage, tailback Travis Kinney recovered a fumble in the end zone that gave host Fellowship Christian a 7-0 lead. Kinney also contributed on offense by scoring two touchdowns on the ground. Fellowship wide receiver Alex Edmonds caught a 78-yard touchdown pass from quarterback Hunter Bryant that gave the Paladins a 21-0 halftime lead.
Holy Innocents' 17, Wesleyan 14: Visiting Holy Innocents' overcame a 14-10 halftime deficit to defeat Wesleyan. Running back Conner Dolan of Holy Innocents' scored two rushing touchdowns on eight carries while rushing for 39 yards. Kicker Walker Thomas nailed a 40-yarder in the second quarter for the visiting team.
King's Ridge 34, Pinecrest Academy 10: Austin Hennings and Connor Henderson each scored two touchdowns for visiting King's Ridge. Hennings caught a touchdown pass from quarterback Henry Jones and returned a fumble for a score. Henderson also scored on a fumble return and had a one-yard touchdown run.
Landmark Christian 26, Athens Christian 7: Running back Darius Smith of visiting Landmark Christian rushed for 122 yards on 16 carries. Quarterback Stockton McGuire completed 5 of 7 passes for 71 yards while rushing for a touchdown to give the War Eagles a 14-7 halftime lead. Freshman Lofton Tidwell returned an interception for a touchdown to seal the victory.
Pace Academy 38, Whitefield Academy 23: Visiting Pace Academy cruised to a 38-0 halftime lead with the aid of quarterback Kevin Johnson, who passed for 245 yards and three touchdowns. All of Johnson's touchdown passes were thrown in the first half, including a 45-yarder in the first quarter and a 56-yarder in the second.