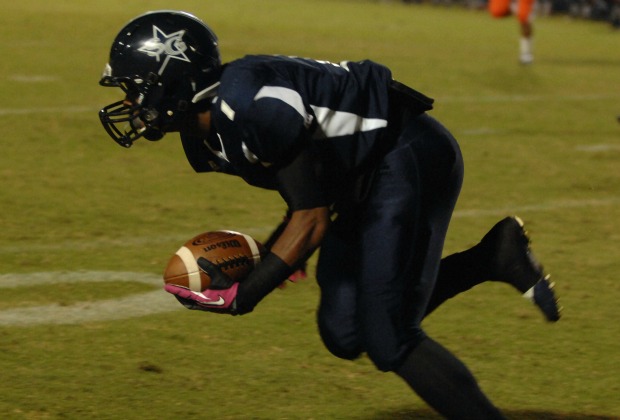 Sonny Kennedy
Stephen Black, Sean Conway, Ricky Dimon, Alex Ewalt, Chris Lionetti, Jay Underwood contributed to this story.
In the final regular season weekend of 2012, there were a lot of important games throughout the metro area. Several teams clinched playoff spots and/or region titles tonight while others salvaged their seasons with wins in the last game of the year. See who won and lost below in our Friday night football recaps.
Class AAAAAA
Berkmar 24, Dacula 21: Visiting Dacula led at the end of the first half, but could not hold off Berkmar. Dacula rushed 36 times for 201 yards as Kelan Fraise rushed 26 times for Dacula, gaining 138 yards and a touchdown. Teammate C.J. Mayes rushed nine times for 49 yards and a score.
Central Gwinnett 47, Shiloh 35: Eman Westmoreland was 29-of-41 passing for 415 yards and two touchdowns and had two rushing scores for visiting Central Gwinnett. Running back Jordan Shiloh rushed 24 times for 204 yards and three touchdowns, and Justin Brownlee caught 13 passes for 258 yards and a score. With the win, Central Gwinnett locked up its first winning season (6-4) since 2006.
Duluth 35, Mountain View 14: Duluth broke open a scoreless tie with 28 points in the second quarter to cruise past Mountain View. Quarterback Thad Bell threw two touchdown passes, one to Jordan Dandridge and another to Jeffrey Joseph. Lavonte Cranford and Jordan Dooley added touchdown runs for visiting Duluth.
Langston Hughes 28, Westlake 6: Visiting Westlake could not stop the Langston Hughes rushing offense, which scored three rushing touchdowns. Running backs Keyshaun Clark, Justin Brown and Keion Davis each contributed a rushing touchdown for Hughes. Sophomore quarterback Keenan Humphrey, Hughes second-string quarterback, completed seven passes for 74 yards and a touchdown.
Lassiter 34, Etowah 6: Willie Police led Lassiter with six catches for 134 yards and three touchdowns and a rushing score, all in the first half. Quarterback Eddie Printz was 15-of-24 passing for 264 yards and four touchdowns and Lane Jackman was Lassiter's leading rusher with 70 yards. Josh Danforth was best on the Lassiter defense with eight tackles and a sack.
Marietta 52, Harrison 14: Chavez Hemphill blocked two punts and also scored on a reception from quarterback Anthony Jennings to lead Marietta past Harrison. Jennings passed for 181 yards and rushed for 52 yards while recording three total touchdowns. KirVonte Benson rushed three times for 100 yards and two touchdowns. Tyree Harris had 146 receiving yards and a score, also for host Marietta.
McEachern 33, Hillgrove 30: Ty Griffin rushed for 222 yards and four touchdowns as host McEachern held off Hillgrove in a thriller. Richardre Bagley had two touchdown catches for Hillgrove and the visitors also got a scoring pass from receiver Evan Engram to fellow receiver Errol Breaux. Hillgrove quarterback Troy Thompson passed for 246 yards and a score.
Mill Creek 17, Collins Hill 14: Brandon Holley blocked a 31-yard field goal attempt by host Collins Hill as time expired to preserve the victory. Jacorey Lewis scored his second touchdown from the 1-yard line with less than a minute left to give Mill Creek its only lead. Bryson King kicked a 38-yard field goal for Mill Creek.
Milton 42, Woodstock 14: A special night by a of pair running backs did most of the heavy lifting and helped host Milton control the clock. Peyton Barber gained 218 yards and scored three touchdowns on 19 carries. Treyvon Paulk added 157 yards and two touchdowns, also on 19 carries.
Newton 40, Morrow 0: Visiting Newton scored 14 points in the first quarter and would not look back. Quarterback Kemani Pitman provided the offense for Newton, rushing for two touchdowns and passing for another two. Zach Sullivan also scored multiple touchdowns for Newton, rushing for one and catching another. Artice Hobbs rushed for Newton's last touchdown late in the fourth quarter.
Norcross 56, Meadowcreek 6: Alvin Kamara scored three rushing touchdowns in the first quarter and four overall against visiting Meadowcreek. Kamara finished with eight rushes for 130 yards, and quarterback Joe Wilber, who tossed a 45-yard touchdown pass to Myles Autry, was 7-for-8 passing for 192 yards. Autry also scored on an 8-yard run.
North Gwinnett 24, Peachtree Ridge 20: Cam Lewis scored a late touchdown to help visiting North Gwinnett take the lead in the fourth quarter. Quarterback Hayden Sphire led the way for North Gwinnett completing 20 of 29 passes for 276 yards and two scores to Caleb Scott. Scott caught five passes for 113 yards.
Roswell 28, Walton 24: Visiting Walton led 21-7 at the half, but Roswell rallied for the victory. Roswell scored on two touchdown passes from Ryan Monty to Bennett Barton, a Mechane Slade touchdown run and an interception return by Grant Beidel. Walton drove to the Roswell 13-yard line late, before failing to convert on fourth down.
South Forsyth 35, North Forsyth 14: Host South Forsyth outlasted a balanced offensive night by North Forsyth. Nick Scott gained 99 and scored once on 24 rushes. Quarterback Harris Roberts completed nine passes for 119 yards including four completions for 71 yards to Bailey Mauldin.
South Gwinnett 16, Parkview 14: South Gwinnett needed a field goal from Roberto Lindsay late in the fourth quarter to defeat visiting Parkview. Jordan Ramey, South Gwinnett's quarterback, threw touchdown passes to Tyrone Atchison and Bernard Morrison. However, the extra point was missed on the second touchdown, requiring Lindsay to kick the game-winner.
Tri-Cities 35, Douglas County 0: Visiting Douglas County could not stop the Tri-Cities rushing attack Friday night. Tri-Cities rushed for four touchdowns against Douglas County. The only Tri-Cities touchdown that came through the air was also the game's first touchdown. Tri-Cities held a 14-0 lead at halftime and would coast through the rest of the game.
Wheeler 21, Cherokee 20: Visiting Wheeler was led by Elijah Staley, who completed 16 of 31 passes. One of his completions went 67 yards to Emanuel Beal for a touchdown and Staley also had a rushing score. To cap the scoring, Kahlem Looney scored on a 45-yard touchdown run.
Class AAAAA
Clarkston 54, North Cobb Christian 14: Khalif Harper ran for 236 yards on 19 carries and scored five touchdowns for Clarkston. At halftime, Clarkston led just 14-7 before exploding for 20 straight points. The Fighting Angoras led 34-7 heading into the fourth quarter. Clarkston's defense recorded a touchdown (off a fumble recovery) and a safety.
Creekview 36, Riverwood 28 (3OT): Creekview needed a 5-yard pass from Hayden Hall to Chandler Wold to force the game into overtime before outlasting host Riverwood. Hall added a 15-yard pass to Connor Dulmage and a 6-yard touchdown run in the first two overtime possessions. On the third possession, Wold scored on 2-yard run, then caught the two-point conversion pass from Hall.
M.L. King picked up a dramatic win at Panthersville Stadium over Miller Grove, surviving 21-14 in overtime. After Roland Rivers found Demarquis Polite-Bray for a 13-yard touchdown pass in the first possession of overtime, M.L. King's Carlos Garrett intercepted Miller Grove quarterback Ken Allen in the end zone to end the game. M.L. King finishes the regular season as the outright winner of Region 6-AAAAA, finishing 10-0 and 9-0 in the region.
M.L. King got its first two scores on a touchdown run from Donald Clark and an interception return from Wesley Green. Miller Grove (6-3, 5-3 region) tied the game at 14-14 on a safety by Jacob Mitchell.
North Paulding 37, Villa Rica 7: Visiting North Paulding scored seven points in the first quarter, then tallied 30 combined points in the next two quarters to put away Villa Rica. Quarterback Chase Noonan led the visitors with two touchdown passes.
Osborne 20, Cambridge 7: Osborne led 20-0 in its victory before visiting Cambridge got on the scoreboard with a fourth-quarter touchdown. Xavier Evans rushed for more than 100 yards and scored on a 12-yard run for the victorious Cardinals. Osborne also got a rushing touchdown from Robert Cooks and an interception return for a score by Shanoy Lester.
Pope 31, Northview 28: Visiting Northview fell to Pope after overcoming a 17-point deficit in the fourth quarter. Running back Ronald Woods led Pope with 291 yards and three touchdowns. Logan Carr added a touchdown reception for 30 yards from Stephen Skruck. Terrence Upshaw led Northview with 107 yards rushing and three scores.
Sequoyah 42, Sprayberry 14: Blake Ingleton scored four times and surpassed the 2,000-yard mark on the season for visiting Sequoyah. His touchdowns came on runs of 30, three, three and seven yards. Ingleton's running mate, Stuart Glassic, scored twice on runs of 60 and 80 yards. Sequoyah's other score came on a 30-yard pass from Lex Lauletta to Nick Falco.
Southwest DeKalb 33, Dunwoody 12: Southwest DeKalb's Clayton Davenport and Malik Wright both went over 100 yards rushing at North DeKalb Stadium. Davenport went for 131 yards and scoring runs of 56 and 25 yards and Wright rushed for 105 yards. Roman Coats scored on runs of six and three yards, and Brandon Dumbaya capped the scoring with a 7-yard fumble recovery.
Tucker 14, Mays 7: Tucker came back from a 7-0 halftime deficit to take down visiting Mays. Dallas Rivers scored on a 20-yard touchdown run in the third quarter, and Yaquis Shelley returned an interception 30 yards in the fourth quarter to take the lead. Dominique Sanders also had an interception, and Detric Dukes had two sacks.
Union Grove 35, McIntosh 14: Derrick Craine rushed for four touchdowns for host Union Grove, giving him 21 rushing scores for the season. Jonathan Slade tossed a touchdown pass to Dalton Tumlin for Union Grove's other touchdown. Union Grove earned the No. 2 seed out of Region 4-AAAAA with the win.
Whitewater 42, Ola 14: Kendall Conley had four rushing touchdowns and 170 yards on the ground to lead Whitewater past Ola. Christian Wafford added a 10-yard scoring run and Jay Ashley threw a touchdown pass to Trevor Morgan for the victors. With the win, host Whitewater clinched Region 4-AAAAA for its first region title in school history.
Class AAAA
Grady 33, Columbia 14: Grady wrapped up a playoff spot out of Region 6-AAAA by rolling over Columbia. A 26-0 halftime lead allowed host Grady to cruise through the second half. Kivon Taylor threw three touchdown passes to Dashawn Benton to lead Grady.
Marist 42, Carver-Atlanta 14: Visiting Marist used the legs and arm of quarterback Myles Willis to defeat Carver-Atlanta. Willis completed five of six passes for 59 yards including a touchdown throw to Greg Taboada. On the ground, Willis gained 162 yards on 16 carries and scored twice. Griffin King scored two rushing touchdowns and Steven Wallace had the other Marist score.
Riverdale 20, Locust Grove 10: Visiting Riverdale got touchdown runs from running backs Fred Ward and Ti'Keem Cooper and from quarterback Asania Aderhold. Isa Muhammad added an interception on defense to set up a Riverdale touchdown.
Sandy Creek 65, Columbus 0: Sandy Creek clinched the Region 5-AAAA title with its first shutout of the season. Led by quarterback Cole Garvin, wideout Demarre Kitt and halfback Eric Swinney, the victorious hosts raced to a 44-0 halftime lead before pulling their starters. A running clock throughout the second half ended it quickly for Sandy Creek, which has now held six opponents to fewer than 10 points.
Class AAA
Blessed Trinity 28, Cedar Grove 22: Host Blessed Trinity overcame Cedar Grove with the help of running back Milton Shelton and the leg of Marc Nolan. Shelton rushed 12 times for 130 yards and scored a touchdown. Nolan kicked three field goals for Blessed Trinity with the longest being from 46 yards out.
Buford 45, North Hall 16: Buford scored three rushing touchdowns and three receiving touchdowns against visiting North Hall Friday night. Tight ends Isaac Nauta and Korie Rogers both caught touchdowns. Nauta caught a 50-yard touchdown pass for Buford's first score. Zavior Hoxie, Thomas Wilson and Montgomery VanGorder each rushed for a Buford touchdown.
Jackson-Atlanta 22, Chapel Hill 14: Host Jackson held off a second half charge by Chapel Hill. Shadricus Ferguson rushed for 107 yards and scored all three touchdowns for Jackson. Chapel Hill scored late and recovered its own onside kick, but turned the ball over on downs with 2:10 remaining in the game.
Class AA
Lovett 31, Greater Atlanta Christian 30: Host Lovett clinched the Region 6-AA championship after blocking a Brandon Holzgrefe extra-point attempt late in the fourth quarter. Lovett trailed 17-7 in the second quarter before reeling off 17 straight points. Lovett quarterback Willie Candler accounted for 204 total yards and two scores while Grant Haley ran for a score and caught another. Haley totaled 145 total yards.
Westminster 36, Hapeville Charter 12: Westminster led 18-0 at the half and extended its advantage to 28-0 in a routine win over Hapeville Charter. Touchdowns were scored by Luke Johnson, Hays Meyer, Nigel Walker and by Harrison Woodward from quarterback Jake Forte on a fake field goal. Harrison Butker added two field goals for host Westminster.
Class A
Darlington 31, Mt. Pisgah 14: Brad Butler had a rushing score and a 55-yard touchdown pass to Chandler Duggan for host Darlington. Duggan and Chas Williams also added rushing touchdowns and Franklin Schrum hit a 35-yard field goal for Darlington. Ryan Felice had two touchdowns — a 51-yard run and a 33-yard reception from Aaron Winchester — for Mt. Pisgah.
Fellowship Christian 56, Southwest Atlanta Christian 6: Host Fellowship Christian had three players score multiple touchdowns in their easy win. Running backs Tyler Hart and Conor Linneen each scored twice. Quarterback Hunter Bryant added three scores. Quarterback Darian Bell accounted for 107 of 128 yards of total offense for Southwest Atlanta Christian.
Trion 16, Whitefield Academy 7: Despite completing just one of four passes for negative nine yards, visiting Trion escaped with a victory. Kingston Lanier led the ground game with 21 carries for 95 yards and two touchdowns. Jared Wigley added 86 yards for Trion. Richard Sherrell led Whitefield Academy's rushing game with a touchdown and 83 yards on 25 carries.