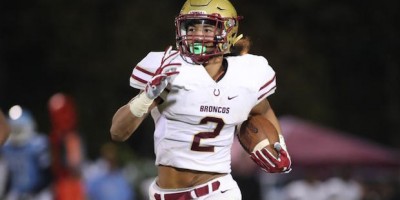 Brookwood's Matthew Hill races for a touchdown. Credit: Jason Getz/AJC
It was a huge Friday night in the Georgia high school football calendar, as the eighth week of action provided some marquee region games. Check out our 52 recaps of state and metro games to go with the AJC's featured recaps.
AJC FEATURED GAMES
McEachern 27, North Cobb 21; Pebblebrook 37, Campbell 21; Brookwood 63, Meadowcreek 0; Northside-Warner Robins 16, Valdosta 7; Mays 35, Douglas County 3; Starr's Mill 43, Whitewater 21; Arabia Mountain 36, Miller Grove 28; Westminster 15, Pace Academy 14 (OT); Wesleyan 34, Mt. Vernon Presbyterian 14
CLASS AAAAAAA
Central Gwinnett 59, Berkmar 0
The Central Gwinnett Black Knights defeated visiting Berkmar for their first comfortable win of the season. Jarren Williams threw three touchdowns in the first half (to Khmari Thompson, Justin Wilkins and Jallah Zeze) and ran for another, and Kevon Blackwood's blocked punt recovery in the end zone put the Black Knights up 38-0 at the half. Williams scored his fifth touchdown on a 45-yard run to open the third quarter.
Collins Hill 44, Duluth 9
After a scoreless first quarter, the visiting Eagles scored on four consecutive offensive possessions in the second quarter while amassing over 300 yards of total offense by halftime. Collins Hill's first touchdown was accompanied by a successful 2-point conversion. Evan Anderson scored the Eagles' second touchdown, which was followed by a long catch and run by Justin Doughtry. A 69-yard touchdown run from Najji Germana pushed the Eagles' lead to 30-0 by halftime. Kaleb Cook's scoring run was Collins Hill's final touchdown of the night.
Grayson 52, Shiloh 6
Grayson quarterback D.J. Irons ran for two touchdowns to give the Rams a 22-0 lead after the first quarter. The Rams opened the second quarter by returning an interception for a touchdown, Irons threw two touchdowns in the second quarter to give the visiting Rams a 46-0 lead at halftime.
Hillgrove 16, North Paulding 14
Hillgrove quarterback Hunter Arters threw two touchdown passes to Jaylen McCollough in the first half and North Paulding quarterback Ross Malmgren threw a pair of touchdown passes to Lucas Mays, but Hillgrove's missed PAT gave the visiting Wolfpack a 14-13 lead. North Paulding's lead held until Luis Garcia-Cano's game-winning field goal in the fourth quarter.
Lowndes 68, Mt. Zion-Jonesboro 7
Travis Tisdale, Joe Almond and J.D. Lee all had multiple touchdowns to pull Lowndes past Mt. Zion. Lowndes held a 14-7 lead after the first quarter, but by the time Michael Barrett scored on a short run just before halftime, Lowndes had expanded its lead to 42-7. Tisdale scored on runs of 5 yards and 1 yard. Lee scored on runs of 10, 3 and 2 yards. Almond added touchdown runs of 17 and 5 yards, both in the third quarter. Josh Digiamarino added a 20-yard touchdown run at the beginning of the fourth quarter.
Marietta 44, Kennesaw Mountain 28
The Marietta Blue Devils took a narrow 30-28 lead into the fourth quarter but shut down host Kennesaw Mountain's offense for the remainder of the game on their way to a 44-28 victory and a 5-1 start to the season. Quarterback Rashun Bass threw a 36-yard pass to Ramel Keyton and a 44-yarder to Scoobie Ford in the first, and Ford scored on a 40-yard run for a 23-15 halftime lead. Dawson Ellington rushed for a touchdown on the opening drive of the third before the Blue Devils defense allowed back-to-back Mustang touchdowns. Bass found Arik Gilbert in the fourth quarter and Ford scored his third touchdown for a 44-28 final.
Mill Creek 45, Discovery 7
Mill Creek scored 42 points in the first half. Uriah Leverette accounted for three of those touchdowns on 192 yards rushing, including a 52-yard touchdown run at the end of the second quarter. Discovery scored its only points in the first quarter. Hawks quarterback Brady Longenecker had three touchdown passes in the first half. Alan Andrzejewski scored the only points of the second half with a 28-yard field goal.
Milton 17, West Forsyth 13
West Forsyth had a chance to take the lead late, but Garrett Woodall came up just short at the Milton 1-yard line on a fourth-and-goal try from the 4. Milton took over on downs with 2:47 left, gained one first down and ran out the clock. Solomon Vanhorse scored Milton's first touchdown on a 6-yard run in the first quarter. West Forsyth answered with a second-quarter touchdown, but Milton's Justin Blanks blocked the PAT to keep the score 7-6. Milton's Jordan Yates threw a 7-yard TD pass to Dash Hairston in the second quarter to give the Eagles a 14-6 halftime lead before West Forsyth answered in the third quarter on a 21-yard touchdown pass from Burns to Ben Bresnahan. Hayden Hairston hit a 23-yard field goal for Milton at 6:48 in the fourth. Yates was 11-of-15 passing for 141 yards and a score, and Vanhorse rushed 13 times for 77 yards and a TD. Burns rushed for 146 yards.
Newnan 45, Wheeler 20
Newnan quarterback Bryant Walker connected with Woody Waters on a touchdown pass early in the second to give the home team an early 7-0 lead. The QB-WR duo connected again, this time from 20 yards out, later in the first for a 14-0 Cougars lead. Newnan took a 24-7 lead on Mautavier Parks' 70-yard touchdown run in the third. Newnan's Brandon Moore recovered a fumble and ran it back for a touchdown to push the Cougars' lead to 31-14. Parks scored his second touchdown with less than a minute left to give Newnan a 38-20 lead.
North Forsyth 58, Forsyth Central 0
North Forsyth streaked to a 41-0 lead at half and cruised to a 58-0 win over crosstown rival Forsyth Central. Bryson Tiggs had a big first half with four touchdowns for the Raiders, and Honus Wagner contributed an interception return for a score. The final stands as the most lopsided ever in the series history. With the win, North Forsyth moves to 4-2 overall while the Bulldogs remain winless at 0-6.
Parkview 52, Lakeside-DeKalb 30
Parkview quarterback Fred Payton threw four touchdown passes on the Panthers' way to a 52-30 victory over visiting Lakeside-DeKalb. Payton found Malik Washington on the first play of the game and Miles Marshall twice in the first half, and runs from Christian Malloy and Demetrius West brought the lead to 38-14 by halftime. Payton's final touchdown pass came early in the third to Tommy Rogers, who scored later on a 20-yard run.
Roswell 36, Lassiter 30 (OT)
Roswell quarterback Cordell Littlejohn had two rushing touchdowns in the first half, including a 75-yard touchdown run, with 1:18 left in the second quarter. The Hornets led 23-0 at the half. Lassiter stormed back in the second half. Quarterback Bradley Riopelle led the Trojans to even the score at 30-30 to end regulation, sending the game into overtime. Hornets running back Kamonty Jett scored the game-winning touchdown in the first overtime on a 6-yard rush.
South Forsyth 38, Lambert 0
Undefeated South Forsyth (6-0) opened up a 7-0 lead on a 61-yard touchdown run by Jared Honey with 1:43 left in the first quarter. Jordan Brunson ran in a 5-yard score and Alex Hardy booted a 32-yard field goal to make it 17-0 with 3:42 left in the half. South Forsyth found the end zone with 50 seconds left in the second quarter on a 16-yard touchdown pass from Cal Morris to Jaylen Pearson and opened the third quarter with a 24-0 lead. Morris connected with Pearson for a 58-yard touchdown midway through the third quarter, and Daryn Rogers ran in a 4-yard touchdown with 40 seconds left before a scoreless final frame.
Walton 49, Cherokee 7
Walton stayed undefeated and Cherokee remained winless as the Raiders dispatched the Warriors by a 49-7 final. Dominic Blaylock got things going for Walton by scoring on the first play from scrimmage and added another touchdown later in the quarter. DJ Soyoye also had a score as the Raiders raced out to a 42-7 halftime lead. Cherokee got its only points of the game on a kickoff return for a touchdown.
Westlake 14, East Coweta 12
Westlake dealt the East Coweta Indians their second loss of the year in a tight 14-12 battle. East Coweta held a 12-7 lead at halftime, but in the second half, Jalen Tillman caught a touchdown pass on a seam route to give the Lions the final margin of victory. Westlake scored its first touchdown on a Markcus Johnson bootleg. Westlake moves to 2-3 on the season.
Woodstock 38, Etowah 35
Woodstock came from behind to win on the road against Etowah, beating the Eagles 38-35. After trailing 14-0 in the first quarter, quarterback Garrett Bass threw an 80-yard touchdown pass to Louis Hall and a 33-yard pass to Drew Sheehan to keep the Wolverines in the game. Down 28-17 at the half, Bass threw three touchdown passes to Noah Frith in the remaining two quarters (on passes of 40, 43 and 18 yards) while the Wolverines defense shut down the Eagles. Etowah's only second-half score came on an 89-yard interception return.
CLASS AAAAAA
Allatoona 24, Creekview 0
Adrian Boyd's 68-yard run at the end of the first quarter set Allatoona quarterback Dante Marshall up for a 2-yard keeper for the game's first touchdown at the start of the second quarter. Marshall connected with tight end Jaylan Williams on a short touchdown pass to give the visiting Bucs a 14-0 lead at halftime. Running back T.J. Carr scored from inside the 5 for the game's final score, giving Allatoona a decisive 24-0 victory. The Bucs defense had three interceptions, a fumble recovery and a blocked punt to set up Williams's TD.
Alpharetta 37, Pope 14
Spencer Gaddis and Nolan Edmonds scored two touchdowns each while Luke Estes added one of his own in the Raiders' win. The Greyhounds got on the board first with a touchdown to hold a 6-0 at the end of the first quarter. Alpharetta got a safety and two touchdowns before halftime. Both touchdowns were on connections from quarterback Matthew Downing to Gaddis, one for 28 yards and the other 38 yards. Edmonds rushed for a 53-yard touchdown with 11:40 to go in the third, and Estes ran for a 17-yard touchdown to finish the quarter. Edmonds's last touchdown was good for 9 yards.
Cambridge 38, Dunwoody 16
The Cambridge Bears won their second game of the season by downing Dunwoody 38-16. The Bears had a strong second quarter to build a lead. Ridge Polk took it in for a touchdown on an 18-yard screen pass early in the quarter. After Polk had an interception on defense, Hogan Dykes found Evan Kuykendall in the end zone for a 21-3 edge at the break. Ty Wald had a short touchdown as the fourth started to make it 31-9.
Centennial 48, Northview 17
Host Northview scored first on a turnover by the Knights at the 7:44 mark in the opening quarter. The Knights responded with a 76-yard touchdown from Max Brosmer to Dickie. The extra point was blocked to leave the score at 7-6. Brosmer connected with Blane Mason on a touchdown pass to finish the quarter. Centennial hit a field goal and added another Dickie touchdown to make it 27-10 at the half. Dickie scored once more to start the half, then Nwanze added two more including an 83-yard touchdown run to finish the game. Dickie had three catches for 133 yards and two scores to go with three rushes for 65 yards and a TD. Brosmer was 12-of-18 passing for 303 yards and two touchdowns. Mason had five receptions for 105 yards and a score, and Nwanze had 13 rushes for 103 yards and two scores.
Chattahoochee 38, Johns Creek 31
Chattahoochee took a 22-17 lead into halftime. Jack Corrigan threw the winning touchdown to running back Marcus Stephen in the fourth quarter and the Cougars added a 2-point conversion for the seven-point win. Corrigan had 121 yards rushing and two touchdowns and passed for 172 yards and two scores. Max Webb rushed for 147 yards and a touchdown, and Cecily Mohammed hit a 33-yard field goal on the Cougars' first possession.
Dacula 49, Apalachee 13
Visiting Dacula jumped to a 35-0 lead, with two defensive touchdowns, in the first quarter. The Falcons got a touchdown on their first play from scrimmage and scored again on their next possession. The Falcons defense intercepted and score a touchdown with 52 seconds remaining in the first quarter. Falcons extended the lead to 28-0 and then recovered a fumble for a touchdown. In the third quarter, the Falcons' second string offense returns an interception for the final Falcons touchdown.
Dalton 25, River Ridge 0
Special teams gave Dalton an 11-0 lead by halftime in the Catamounts' win. Kicker Ivan Mora made a field goal of 32 yards at the 10:30 mark of the second quarter. With 56 seconds remaining in the half, Mora hit a 37-yard field goal to make it a 6-0 game. A bad snap gave Dalton a safety, which pushed the lead to 8-0. As time expired in the first half, Mora hit a 34-yard field goal to bring the lead to 11-0. Jahmyr Gibbs padded the lead on a 15-yard run at the beginning of the third quarter to make it an 18-0 Dalton lead. J.P. Tighe threw a 23-yard touchdown pass to Yendry Cruz late in the third quarter.
Harrison 63, Sprayberry 41
Hours after committing to UGA, top recruit Justin Fields was 16-of-20 passing for 263 yards, leading Harrison to a 63-41 victory. Fields accounted for seven touchdowns, five passing and two rushing, and had 135 rushing yards. A trio of Hoyas wide receivers had big games, as Steven Peterson had six catches for 60 yards and one touchdown, Dawson Brown had five catches for 99 yards and two touchdowns and Micah Davis had four catches for 99 yards and two touchdowns.
Sequoyah 47, South Cobb 20
Sequoyah beat South Cobb on the road 47-20 behind a balanced offensive performance. Quarterback Collier Pecht threw two touchdown passes in the first half, one to Patrick Ballance for 27 yards and to Wesley Potter for 56 yards. Cameron Gales ran it in twice to combine with a safety and a Potter field goal for a 33-13 lead at halftime. Cole Jacobs and D.J. King each rushed for touchdowns in the second half.
Winder-Barrow 24, Lanier 21
Winder-Barrow blocked a Lanier field goal attempt as time expired to earn the road win. After Lanier scored a touchdown in the first quarter, Winder-Barrow responded with a 51-yard touchdown pass from Brock Landis to Lamonta Mack in the second quarter. With 20 seconds left in the second quarter, Winder-Barrow's Kenny Kemp returned an interception for a touchdown, giving the Bulldoggs a 14-7 halftime lead. In the third quarter, Brock connected with Mack again, for a 6-yard touchdown pass. Later in the fourth, the Bulldoggs' Harlin Brown kicked a 30-yard field goal.
CLASS AAAAA
Buford 70, Johnson-Gainesville 0
Buford got 10 touchdowns from 10 different players as it led 35-0 after the first quarter and 56-0 at halftime. The Wolves had rushing touchdowns from Anthony Grant (15 yards), Darien Brown (34 yards), Isaiah Isaac (59 yards), Elijah Turner (27 yards) and Xalan Taylor (27 yards), and Aaron McLaughlin was 7-of-9 passing for 133 yards and touchdowns to K.J. Johnson (13 yards) and Seth Auer (27 yards). Backup quarterback Will Westmoreland was 7-of-7 with touchdown passes to Forbes Hamby (10 yards) and Quinn Williams (7 yards), and a third quarterback, Clayton Nelson, threw a 31-yard touchdown pass to Tyler Gillis. The Wolves outgained Johnson 448 to 51.
East Paulding 17, Cass 9
East Paulding got an 18-yard touchdown pass from quarterback John Michael Estes to receiver Ashton Dixon on the Raiders' first possession. Cass got three field goals, but East Paulding regained the lead with a 35-yard field goal by Devlin Dolph to make it a 10-9 game in the third. Late in the fourth quarter, Tyrell Robinson rushed 2 yards to score the go-ahead touchdown and lead the Raiders to a road victory.
Fayette County 41, McIntosh 35 (OT)
Dane Kinamon threw a 17-yard touchdown pass to Trey Williams to give visiting McIntosh a 7-0 lead, but Fayette County responded with 21 straight first-half points off three rushing touchdowns (Cory Andrews 59 yards, JeKobe Coleman 1 yard and Jalil Dabney 52 yards). McIntosh opened the second half with four straight touchdowns to erase the two-touchdown deficit and take a 35-21 lead with just 7:15 left. Dabney made it a one-possession game, 35-28, with a Fayette County touchdown run with 5:41 left. McIntosh fumbled its next possession, and Jaylan Coleman recovered it before catching a game-tying touchdown pass from Coleman with just 31 seconds left in regulation. In overtime, McIntosh's Bradley Ector fumbled, and Dabney ran in the game-winning touchdown. McIntosh's Kinamon finished with three touchdown passes and a 17-yard touchdown run.
Griffin 21, Morrow 14
On Griffin's opening drive, safety Antonio Bankston scored on a 99-yard fumble recovery for the visiting Griffin Bears. Wide receiver Jamoi Mayes scored on touchdown receptions of 10 yards 18 yards from quarterback Avious Nelson to give the Bears the road win.
Lithonia 26 Columbia 7
Midway through the first quarter, Columbia quarterback Tramaine Callaway connected with Giovanni Dyer to give the Eagles a 6-0 advantage after a failed 2-point conversion try. Lithonia answered with a 94-yard touchdown pass from Forday Tarawally to Kaveh Brantley, giving the Bulldogs their only touchdown of the game. Columbia scored two more touchdowns in the second quarter, giving them a halftime lead of 18-7. Callaway recorded the Eagles' final touchdown of the game in the third quarter when he passed to Gregory Morris.
Ola 31, Eagle's Landing 13
Ola's Chris Rodriquez rushed for three touchdowns, helping the Mustangs build a 24-7 lead with just 9:48 left in the game. Eagle's Landing cut the deficit to 24-13 with a late touchdown, but Connor Coddington fielded the Eagles' ensuing onside kick and returned it for a touchdown for the game's final points.
Rome 42, Hiram 13
Rome scored two touchdowns in each of the first three quarters. Jamious Griffin led the way with four rushing touchdowns, Knox Kadum threw a 52-yard touchdown pass to Jordan Watkins, Jaylynn Sikes added a 10-yard rushing touchdown and Emanuel Gonzalez was 6-for-6 on extra points for the Wolves.
Ware County 27, East Lake (Fla.) 9
Ware County quarterback Jeremiah O'Hara scored a 63-yard rushing touchdown on the second play of the game and added a goal-line touchdown run with 7.7 second left in the half to grow a 14-0 Gators lead. O'Hara broke free for a 63-yard run early in the second half that set up the first of Raja Bradley's two second-half touchdowns.
CLASS AAAA
Blessed Trinity 50, White County 14
A 12-yard rushing touchdown by Steele Chambers put Blessed Trinity on the board first. White County managed to tie the game, but a 12-yard touchdown pass from Jake Smith to Jake Rudolph put the Titans back on top. White County tied the game a second time but would fail to score the rest of the game. A pair of rushing touchdowns by Smith and Chambers made it a 29-14 game at the half. The Titans offense had three more rushing touchdowns in the second half. Smith went 12-of-21 for 173 yards passing and a touchdown.
Cartersville 56, LaGrange 0
Cartersville quarterback Trevor Lawrence threw six first-half touchdowns and Marquail Coaxum recovered a blocked punt for a Purple Hurricanes touchdown late in the second quarter to build a 49-0 halftime lead. E.J. Turner caught two of the Lawrence touchdown passes, while Jackson Lowe, T.J. Horton and running back Rico Frye each caught one. Marcus Gary added a 5-yard touchdown run with 8:34 left for the final points.
Chapel Hill 35, Sandy Creek 32
Visiting Chapel Hill outscored Sandy Creek 28-0 in the second and third quarters before clinching the program's first-ever win over the Patriots. Sandy Creek opened up a 17-7 first-quarter lead with two Jordan Clark touchdown runs and a 36-yard field goal by David Gonzales. Chapel Hill's first-quarter touchdown came on an 80-yard touchdown pass from K.J. Burton to Tyre Shelton. The Panthers took a 21-17 lead in the second quarter following a Burton touchdown run and Burton's second touchdown pass of the half to Shelton. Burton added a 17-yard touchdown run with 1:04 left before the half, and then Tre Reeves recovered a blocked punt for a Chapel Hill touchdown in the third quarter to grow the lead to 35-17. Clark rushed for his third touchdown with 10:49 left in the final quarter to make it a 35-24 game and the Patriots threw a touchdown pass with 4:14 left that brought the score to its final tally.
Eastside 52, Henry County 21
Noah Cook found Taylor Carter for a 16-yard touchdown pass to get Eastside on the scoreboard. Tyon Davis and Brayden Harper got the ground game going with rushing scores, and Eastside built a 31-7 halftime lead. Jaylon West opened the second half with a Henry County touchdown pass to Orri Roberts, but Cook connected with Harper for a 9-yard touchdown and Carter rushed for a 2-yard score to put Eastside up 45-14 by the end of the third quarter. Shamar Hunter capped the scoring with a 4-yard touchdown run in the fourth quarter, giving the Eagles offense its third 50-point outing of the season.
Woodward Academy 51, North Clayton 0
Woodward Academy quarterback Mike Wright rushed for two touchdowns and was 8-of-8 passing for 102 yards. Tahj Gary needed just six carries to rush for a game-high 105 rushing yards and ran in a pair of first-half touchdowns. Kimani Vidal rushed for a 1-yard touchdown in the first quarter and an 88-yard touchdown in the second quarter. Danny Chen scored on a 34-yard run in the third quarter, and Errington Truesdell recovered a North Clayton fumble and returned it 6 yards for the game's final score. Woodward gained 315 of its 397 yards of offense in the first half and rushed for 239 yards on 26 carries.
CLASS AAA
Calhoun 42, Adairsville 16
Calhoun quarterback Gavin Gray rushed for two scores and threw four touchdown passes, accounting for all six of the visiting Yellow Jackets' touchdowns. Gray completed 16 of 24 pass attempts for 279 yards and connected with Luke Mosely four times for his game-high 103 receiving yards and two touchdowns. Zach Fuller caught an 11-yard Gray touchdown pass while rushing for a team-high 87 yards, and Drew Rutledge finished with three receptions for 76 yards and a touchdown catch. Gray found the end zone on 1-yard runs in the second and third quarters. Adairsville's Mason Boswell finished 13-of-27 passing for 187 yards and threw touchdown passes to Cody Henderson and Ethan Belcher in the second quarter.
Greater Atlanta Christian 59, East Hall 0
Kyler McMichael ran in three of host Greater Atlanta Christian's six rushing touchdowns, including a 70-yard run that put the Spartans up 17-0 in the first quarter. Max Burke's 32-yard touchdown run increased the lead to 24-0 and Jackson Hardy added a 4-yard touchdown pass to Jeffrey Blake that made it 31-0. Alex Boglin (30 yards), McMichael (37 yards) and Tyler Bride (48 yards) scored rushing touchdowns, and Hardy found Tony Wyche for a 15-yard touchdown pass. Hunter Cole, Robby Fowler and Sam Collins each hauled in interceptions.
Lovett 50, Stone Mountain 0
With 6:40 left in the first quarter, quarterback Blaine McAllist rushed for a 4-yard touchdown. Adding to Lovett's first quarter lead was Peyton Ringer with a 17-yard touchdown run followed by a 26-yard touchdown reception to end the quarter and put Lovett up 22-0. The Lions scored two more times in the first half to make it 36-0 at halftime. Lance Beck had an 11-yard touchdown run late in the third. John Russ rushed for a 15-yard touchdown to cap Lovett's scoring.
Monroe Area 55, East Jackson 0
Visiting Monroe Area took a 21-0 lead into the half and added five more touchdowns in the first 13 minutes of the second half to improve to a perfect 7-0 on the season. Quarterback Chandler Byron rushed for three touchdowns and threw four touchdown passes to give the Purple Hurricanes a 49-0 lead in the third quarter. Corbin Spratlin capped the scoring with a 33-yard touchdown run in the first minute of the final quarter.
CLASS AA
Hapeville Charter 63, Washington 6
Hapeville Charter defeated Washington at home, scoring 56 straight points on the way to a 63-6 victory. Quarterback Hajj-Malik Williams threw a 40-yard touchdown pass to Rory Starkey Jr. and another for 60 yards to Kivonte Johnson in the first half. Williams, along with Tyleek Collins and Harper Atkins Jr. had a rushing touchdown as well, and Malik Fleming's interception return for a score further padded the Hornets' lead.
Rabun County 59, Putnam County 0
Cole Keener returned the opening kickoff for an 88-yard touchdown, giving host Rabun County a 7-0 lead just 13 seconds into the game. Quarterback Bailey Fisher found Keener for a 28-yard touchdown pass less than two minutes later and then followed a 20-yard Andrew Barnes field goal with a 10-yard touchdown run that grew Rabun County's first-quarter lead to 24-0. Fisher hit Austin Jones for a 30-yard touchdown just seven seconds into the second quarter, and a 7-yard Brison Beck touchdown preceded a 50-yard punt return touchdown by Austin Jones that pushed the lead to 45-0 with 4:56 left in the half. Fisher threw his third touchdown pass with 3:14 left in the half on a 28-yard pass to Braxton Hicks. A.J. Wheeler added a 5-yard touchdown run with 6:31 left in the third quarter to make it 59-0.
CLASS A
Athens Academy 49, Hebron Christian 14
Athens Academy remained unbeaten after defeating Hebron Christian 49-14. The Spartans opened up a 28-0 halftime lead over the Lions. After a double reverse, Jack Thomas found Deion Colzie for a 28-yard scoring strike, and a little later Thomas hit Payton Bowles with a screen that Bowles turned into a score. Len'Neth Whitehead also had two touchdowns for Athens Academy. Hebron got on the scoreboard in the second half as quarterback Troy Allen scored a 75-yard touchdown.
Commerce 55, Providence Christian 0
Visiting Commerce built a 42-0 first-half lead and scored six of its eight total touchdowns on the ground. Junior Dajuan Wood rushed for a 6-yard touchdown and caught a 26-yard pass from sophomore Nate Ray before Caleb Mason closed the opening quarter with a 2-yard touchdown run. In the second quarter, Tucker Flint recovered a blocked punt for a Tigers touchdown, and Nick Patrick and Tyelon Brock each rushed for touchdowns. In the second half, Brock added a 3-yard touchdown before Shyne Colbert scored Commerce's final points late in the third quarter with a 50-yard touchdown run.
Darlington 28, North Cobb Christian
Darlington visited North Cobb Christian and came away with a 28-7 victory over the Eagles. Darlington used a well-balanced attack. Tijai Whatley had two touchdowns on the ground, and quarterback Griffin Brewster had two through the air. His targets for those strikes were Ezra Barnette and Jacob Hunt. With the win, Darlington moved its season record into the winning category with a 4-3 mark, while North Cobb Christian dropped to 1-5 on the year.
Eagle's Landing Christian 76, Our Lady of Mercy 6
Eagle's Landing Christian's Khaleb Hood returned a punt and the opening kickoff for touchdowns and the Chargers' offense found the end zone nine other times while compiling 508 total yards of offense. Quarterback Brayden Rush completed six of eight passes for 99 yards and threw two touchdown passes to Sean Queen and one to Jordan Jakes. Josh Mays and Keaton Mitchell each ran for a pair of Chargers' touchdowns before freshman Josh Rogers added a pair of rushing scores in his first varsity game. Austin Reed made 10 of 11 PATs.
King's Ridge 14, Pinecrest Academy 7
Pinecrest Academy's Micky Mangan had a 90-yard touchdown pass to Michael Birozes to go up 7-0, but King's Ridge scored a touchdown late in the second quarter with a 45-yard screen pass to tie the game at 7-7 going into halftime. King's Ridge scored a touchdown with five minutes left to pull out the home victory.
Mt. Paran Christian 38, Walker 0
Mt. Paran earned a road win at Walker with 516 yards of total offense and five rushing scores. Cam Moore led his team offensively with over 100 rushing yards and a touchdown. Quarterback Niko Vangarelli, along with running backs Nate Raeder and Jack Allen, each had one rushing touchdown. Backup quarterback John Holm capped off the Eagles' scoring with a 1-yard touchdown run.
Mt. Pisgah Christian 49, St. Francis 27
After a quick score by St. Francis, Mt. Pisgah quarterback Jacob Cendoya hit tight end Connor Pursell for a 10-yard touchdown pass to tie the game. An 80-yard touchdown run by Kai Williams gave the Patriots another score with 2:33 left in the first. In the second quarter, Cendoya connected with senior wide receiver David Woodward for a 5-yard touchdown pass to extend the lead to 21-7. A quick score by St. Francis made it a 21-13 Patriots lead at the half. A St. Francis fumble in the third led to a 28-yard touchdown run on the next play by Williams, who would go on to score two more times for Mt. Pisgah.