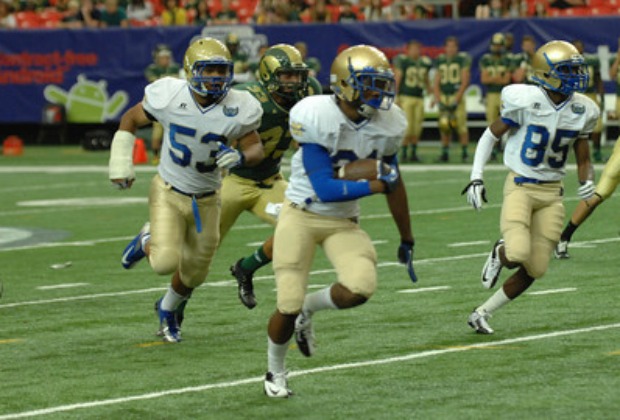 Sonny Kennedy
The action got fast and furious this week on the high school gridiron as No. 1 Grayson fell in the state's largest classification. Also, Marist won a duel with intown rival Lovett while surprising Wheeler improved to 3-0 with a win at Langston Hughes. Check our recaps of these games and more.
Class AAAAAA
Brookwood 20, Archer 19: Brookwood junior Brandon Morrow kicked the game-winning field goal with 11 seconds left. In a game that featured 719 yards of total offense, the Broncos got 100 on the ground from Jamaal Cole. Brookwood quarterback Zach Moon threw for 191 yards and a score while receiver Kyrin Priester caught seven balls for 139 yards and a touchdown.
Chattahoochee 24, Douglas County 0: The visiting Cougars beat Douglas County behind two long rushing touchdowns, one by Chase Nelson for 65 yards and another by Travis Marshall for 60 yards, to improve their record to 2-1 on the season. Dwayne Bartholomew added an interception return for a touchdown.
Collins Hill 52, Habersham Central 0: Quarterback Brett Sheehan led the visiting Eagles' offense in a win at Habersham Central. Sheehan completed 22 of 25 passes for 271 yards and three touchdowns. Julian Williams, Grant McDonald and Justin Wyatt were all on the receiving end of the scoring strikes for Collins Hill. Sheehan also added a rushing touchdown.
Lassiter 42, Kell 13: The Trojans exploded for a 28-0 first quarter lead and went into the halftime lockerroom up 35-7. Quarterback Eddie Printz threw for 270 yards and four touchdown, all to wide receiver Willie Police. Hakim Shahid closed out the scoring for Lassiter in the fourth with a 5-yard run.
Marietta 27, Hillgrove 13: Marietta quarterback Anthony Jennings completed touchdown passes of 14 and nine yards to Jordan Mathis, and also hit Kenny Norwood (16 yards) and Tyree Harris (65 yards) for passing touchdowns. Jennings also rushed for a 2-point conversion. Troy Thompson had 28- and 65-yard touchdown passes for visiting Hillgrove.
McEachern 30, Pebblebrook 23: The visiting Indians fought off the upset-minded Falcons behind 70 rushing yards from Mike Sherman, who added a 29-yard touchdown run, while T.J. Rahming caught a 66-yard score to help lead McEachern to its first victory of the season, while keeping Pebblebrook winless.
Mill Creek 49, Mountain View 0: DeVozea Felton scored four total touchdowns (three rushing, one receiving) while gaining 207 yards from scrimmage. Jacorey Lewis had 88 yards rushing and a touchdown, and Jordan Sylvain and Andrew Sciara each rushed for scores. Quarterback Daniel David was 8-for-11 passing with one touchdown. Mill Creek held Mountain View to 53 total yards and one first down.
Milton 52, Centennial 24: In the first half, Milton running back Peyton Barber ran for three touchdowns and quarterback A.J. Bush added another. After the Eagles went up 17-0, Centennial quarterback Chase Rosenberg hit Christian Robinson on a 48-yard pass and the Knights picked up the two-point conversion. Knights running back Cyril Teal opened the scoring in the second half on a 91-yard run. Barber then hit paydirt twice more on a 1-yard run and a 65-yard jaunt for his fourth and fifth scores. Rosenberg also hit Mathew Harries on a 24-yard touchdown pass.
North Forsyth 28, Cherokee 12: North Forsyth led from wire to wire and held off visiting Cherokee behind 235 all-purpose yards from Tanner Riddle. Quarterback Harrison Roberts threw three touchdowns for the Raiders—a 43-yarder to Riddle, a 20-yarder to Branson Marks and an 18-yarder to Justin Stanley. Jamal Davenport capped off the North Forsyth scoring with a 3-yard touchdown run.
Parkview 22, Grayson 7: The host Panthers capitalized on four turnovers by the visiting Rams to upset the state's top-ranked team. Chris Carson had two rushing touchdowns while Mac Marshall added a receiving touchdown from Rob Youngblood to provide the scoring for Parkview. The Panthers' stifling defense helped improve their record to 2-1, while also handing Grayson its first loss since 2010.
Peachtree Ridge 28, Duluth 21: Duluth scored three touchdowns in the fourth quarter to rally from a 28-0 deficit, but failed to recover an onside kick with under a minute left. Visiting Peachtree Ridge got rushing touchdowns from Jordan Ellis (13 carries, 102 yards) and Walden Davis. Lions quarterback Bryson Sellers threw touchdown passes to Davis and Joe Horn. Duluth's sophomore quarterbacks Tyler Campbell (rushing touchdown) and Thaddeus Bell (two touchdown passes) accounted for the Wildcats' offense.
Shiloh 19, Berkmar 7: Berkmar running back R.J. Perdeoux scored on a 5-yard run on Berkmar's first drive to give the visiting Patriots a 7-0 lead. But Shiloh scored three times in the fourth quarter, including a punt return and interception for touchdown. Berkmar linebacker Jaden Le led the team with 16 tackles.
South Cobb 28, Kennesaw Mountain 26: Visiting South Cobb drove 99 yards for the game-winning touchdown late in the fourth quarter. Stephon Masha's 1-yard rushing score put the Eagles on top. Jeremiah Alphabet caught a touchdown pass from 30 yards out for South Cobb with 5:30 remaining in the game.
South Gwinnett 43, Dacula 21: Bernard Morrison accounted for three scores including two rushing and a passing touchdown to Corey Keel on a trick play. Josh Boyd added two more rushing touchdowns as the visiting Comets rolled. Marcus Cox led the way for Dacula with 190 rushing yards and two touchdowns.
West Forsyth 63, Starr's Mill 14: The host Wolverines dominated Starr's Mill on both sides of the ball controlling the game from the start. West Forsyth had the ball nine times and turned those into nine touchdowns. The defense forced Starr's Mill to punt on seven of nine possessions in a game that had no turnovers from either side.
Wheeler 17, Langston Hughes 12: Jacobi Green (42 yards) and Emanuel Beal (26 yards) caught touchdown passes from quarterback Elijah Staley in visiting Wheeler's victory. J.D. Barron hit a 25-yard field goal for the Wildcats, who achieved their first 3-0 start since 1997.
Class AAAAA
Clarke Central 40, Loganville 6: The Gladiators were fueled by a 27-point second quarter and running back Rodney Willingham's two touchdowns. Clarke Central's Kavon Williams blocked a punt and returned it for a touchdown. Gladiators defensive lineman Demond Stovall intercepted a pass and returned it for a touchdown in the third.
Clarkston 34, Towers 6: The host Angoras received three touchdowns from running back Khalif Harper. Out of the Wildcat formation, he rushed for two and threw for one. His touchdown pass was a 15-yard completion to wide receiver Laquan Odom. Jerrod Carter recovered four fumbles for Clarkston.
Drew 42, Rockdale County 0: The Titans scored three touchdowns on special teams to defeat visiting Rockdale County. Drew returned a punt 75 yards for a touchdown three minutes into the game. The Titans also scored on a safety later in the game. The victory was Drew's first of the season.
Flowery Branch 45, Cedar Shoals 27: The visiting Falcons coasted to a 42-0 lead at halftime, but allowed Cedar Shoals to score 27 points in the second half. Flowery Branch was led by quarterback Jordan McDonald, who rushed for 142 yards and three touchdowns. The quarterback also threw for 208 yards and two touchdowns.
Heritage-Conyers 21, Salem 7: The host Patriots remained unbeaten with a win in a defensive struggle against cross-town rival Salem. The Patriots' defense allowed only 154 total yards to the Seminoles and a single touchdown late in the fourth. The biggest play for the Patriots came on an Obe Fortune 64-yard punt return to the Salem 1-yard line that set up a touchdown.
Hiram 25, Villa Rica 19: Hiram cruised to a 25-8 halftime lead then held off visiting Villa Rica for a hard-fought victory. The Hornets got touchdown runs from quarterback Rodrick Harrison and running back Jamal Hinds in addition to a 24-yard field goal off the foot of Trevor Wylie. The defense provided a scoring punch in the form of a 60-yard fumble return by Caeman Lockett.
Pope 20, Etowah 17, OT: The Greyhounds' defense held visiting Etowah to a field goal in overtime before quarterback Stephen Skruck punched in a 1-yard sneak to seal a home win for Pope. In regulation, Skruck also connected with Ben Doran on a touchdown pass, and Ronald Woods rushed for the Greyhounds' other score.
Southwest DeKalb 46, Lakeside-DeKalb 21: The Panthers' "wildcat" running attack was just too much for visiting Lakeside-DeKalb. Clayton Davenport rushed for 150 yards and two scores on just seven carries. Robert Brice gained 165 yards on 12 rushes and also scored twice. Southwest DeKalb opened the second half with an 80-yard touchdown pass to Justin Mincy.
Whitewater 41, Fayette County 14: Senior running back Kendall Conley rushed 14 times for 170 yards and three touchdowns for the visiting Wildcats. Christian Wafford (60 yards rushing) and Ian McIntyre also scored rushing touchdowns, and quarterback Jay Ashley (5-for-8 passing) threw a 30-yard touchdown strike to Brian Womack.
Class AAAA
In the first meeting between two Atlanta traditional powers, visiting Marist came back to defeat Lovett 24-16 in Buckhead.
The visiting War Eagles rallied from a 16-7 halftime deficit by outscoring Lovett 17-0 in the second half. Lions quarterback Willie Candler completed 18-of-26 passes for 279 yards and two scores, including an 86-yard touchdown pass to Grant Haley to open the scoring and a 51-yard scoring strike to Craig Rollins in the second quarter. For Marist, quarterback Myles Willis rushed for 140 yards and a 9-yard score in the second quarter while Gray King scored on a 72-yard reception and a 1-yard lunge in the third to give Marist its first lead. Fletcher Malloy closed out the scoring with a 23-yard field goal in the fourth quarter.
Riverdale 28, Grady 14: The Raiders used three special teams touchdowns to defeat the Grey Knights at Grady Stadium. Ti'Keem Cooper and Trey Sanders both returned kickoffs for touchdowns. Fred Ward picked up a Grady punt blocked by Steve Harris and ran across the goal line for another touchdown. Kahmad Magwood scored Riverdale's only offensive score on a 1-yard run.
Washington 43, Mt. Zion-Jonesboro 13: Washington running back Frank Barthelemy rushed 13 times for 193 yards and three touchdowns (51, 61, 1), while quarterback Fernanda Tucker rushed seven times for 58 yards and a score. Charlie Parker scored on a 33-yard touchdown run for the host Bulldogs. Washington also blocked a punt for a safety and led 12-7 at the half.
Class AAA
Buford 43, Hancock-Central 0: The visiting Bulldogs got off to a bad start by giving up a safety two seconds into the game on the opening kickoff. The Wolves racked up 430 yards of offense and were led by running back Dontravius Wilson with 131 yards and three touchdowns. The Wolves' defense only gave up 88 total yards of offense.
Decatur 20, Greenville 19: Andrew Brown caught the game-winning touchdown pass from Devontae Carter as the host Bulldogs edged Greenville. Brown accounted for all three touchdowns, two one the ground, while Carter completed 20 of 22 passes for 175 yards. Decatur improved to 2-1 on the season, while Greenville took its first loss of the year.
Thomson 21, St. Pius 14: The host Bulldogs pulled off yet another big win over a top program as they shocked the visiting Golden Lions behind three rushing touchdowns by three different players. Chris Jordan led the way with 142 yards on 15 carries to go along with one score. The Bulldogs intercepted a Jack Spear pass with just under two minutes left to seal the win.
Woodward Academy 28, Woodland-Henry 13: Jollyce Myrick rushed for a 12-yard touchdown in the first quarter and scored from three yards out in the third to help visiting Woodward Academy erase an early 7-0 deficit. Quarterback Terry Googer tacked on a one-yard scoring plunge and led the War Eagles with 85 yard rushing. Woodward also got a 15-yard fumble return for a touchdown from Carter Johnson.
Class AA
Calhoun 46, Carrollton 35: Calhoun quarterback Taylor Lamb threw for 467 yards on 38-of-56 passing with four touchdowns for the host Yellow Jackets. Josh Barnes caught 18 of Lamb's passes for 201 yards. Trey Chivers rushed for 264 yards and three touchdowns for Carrollton, which totaled 387 yards on the ground. Calhoun rallied from a 28-19 fourth-quarter deficit with four straight touchdowns.
Westminster 27, Thomasville 17: Westminster trailed 14-0 in the second quarter, but found its offense in time to storm past visiting Thomasville. Jake Forte helped the Wildcats' comeback effort by throwing for 158 yards and a touchdown, which was hauled in by Merritt Huber. Cameron Seward and Nigel Walker added rushing scores, while Harrison Butker booted field goals from 39 and 49 yards out.
Class A
George Walton Academy 45, Holy Innocents' 14: Nick Waters had two rushing touchdowns and an interception as George Walton scored 38 unanswered points to erase an early 14-7 deficit. Stanley Williams also scored twice on the ground for the visiting Bulldogs and Patrick Stewart returned an interception for a touchdown. Casey Shubert completed the scoring with a touchdown reception from quarterback Hunter Rice.
Hebron Christian 60, Cross Keys 0: The visiting Lions charged to victory thanks to productive quarterback play and an opportunistic defense. Quarterback Connor Holliday threw four touchdown passes in the first half. Defensively, Matthew Glisson and Seth Kuntz each brought interceptions for back scores, and Chandler Schultheis added a fumble return for another touchdown.
King's Ridge Christian 48, Pace Academy 20: The host Tigers mixed the run and the pass effectively to cruise past Pace Academy. Running back Tarez Miller ran for 200 yards on 21 rushes and scored twice. Quarterback Bailey Miller threw a pair of touchdown passes to Julian Champ and another to Benaiah Franklin.
Our Lady of Mercy 42, Mt. Pisgah 14: Austin Harper registered both touchdowns for Mt. Pisgah, hauling in two scoring catches and finishing with five catches for 67 yards. The Bobcats were paced by Chauncey Laboo and Albert Wilson. They each had two rushing touchdowns. Dylan Terrell and Rashard Fant also rushed for scores.
Whitefield Academy 46, St. Francis 7: Whitefield Academy surged to a commanding 40-0 halftime lead and coasted to a victory over visiting St. Francis. Max Kemether led the Wolfpack with 70 rushing yards and a touchdown to go along with a 20-yard interception return for a score. Richard Sherrell provided two rushing touchdowns while Sky Dupree and Ben Brannen found the endzone once each on the ground.
Contributors: Stephen Black, Ryan Caiafa, Sean Conway, Alex Ewalt, Robby Kalland, Chris Lionetti, Travis Stigall and Jay Underwood