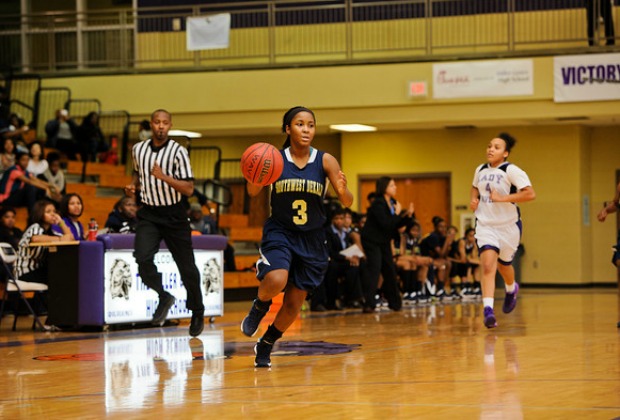 Ty Freeman
Classes AA-AAAAAA got the playoff party started tonight as first-round games were played around the state. Most games were on the girls' side, but there were several boys games contested as well. The first round round will conclude Saturday night and the Class A playoffs will begin Monday.
GIRLS
AAAAAA
Archer 67, West Forsyth 35: Recent injuries thinned out West Forsyth's backcourt and Archer pounced on the visiting Wolverines, forcing 20 of their 35 total turnovers in first half and grabbing a 26-15 lead at the break. Freshman Autumn Newby and her older sister Madison both notched double-doubles for the Tigers. Autumn finished with 20 points and 10 rebounds in her playoff debut and Madison scored 10 points to go with a game-high 10 assists. West Forsyth was led by 6-foot-5 sophomore and Maryland commit Jenna Staiti's 14 points.
Brunswick 61, Hughes 54: Destiny Alston scored 16 points, dished out six assists and also made four steals to lead host Brunswick past Hughes. Jomaiya Garner added 15 points and four rebounds for the Pirates, who also got nine points and 12 rebounds from Brianna Gipson.
Hillgrove 84, Alcovy 45: Hillgrove jumped out to a fast start against Alcovy, leading 22-6 after one quarter and 47-20 at the half, and the Hawks never looked back. They were led by Mackenzie Engram, who put up 18 points, eight rebounds and five steals. Zarriah Pierce and Ja'lyn Reese both scored 14 points for Hillgrove.
Lowndes 62, Newnan 29: Tashia Brown dominated for host Lowndes by scoring a game-high 21 points to go along with 13 rebounds and seven blocks in defeating Newnan. The Vikings charged to a 36-14 lead at the intermission and had no trouble maintaining an advantage of 20 points or more throughout the second half. Faith Starling and Taffany Smith both added 10 points for Lowndes.
North Cobb 59, Newton 50: Chantel Strahorn drained five 3-pointers and finished with 17 points to lead visiting North Cobb over Newton. The Warriors knocked down six shots from long range in the first half to take a 31-18 lead at the intermission. Kyrie' Chandler helped hold off Newton by going 6-for-6 from the foul line in the fourth quarter. Chandler scored 15 points in the game, while Aniya Corley added 11 for North Cobb.
North Forsyth 63, Central Gwinnett 49: Lochlain Corliss and Caroline Bowns each scored 22 points to lead host North Forsyth past Central Gwinnett. The Raiders trailed by one at halftime but went on a 34-19 run in the second half. Alex Frazier scored 33 points for the Knights.
Roswell 66, Mill Creek 54: Andreona Keys scored 31 points and had 13 rebounds while Nikki Cwalina added 14 points and 14 rebounds to lead host Roswell over Mill Creek. The Hornets led 27-23 at the half and 42-38 going into the fourth quarter.
South Forsyth 62, South Gwinnett 39: Sophomore guard Sarah Myers led all scorers with 31 points and South Forsyth's pressing defense suffocated South Gwinnett throughout the game. The host War Eagles led 28-7 at the half after holding the Comets to just two second-quarter points. Junior forward Ally Welch and junior guard Shelby Threlkeld each had 12 points for South Forsyth. Sophomore Essence Jordan scored 12 for South Gwinnett while freshman Alexis Lewis led the Comets with 13.
Tift County 59, Westlake 58: Tift County led by 12 in the third quarter and seven going into the final period, but host Westlake came back and eventually took the lead with 11 seconds remaining. The Blue Devils then took the in-bounds pass and senior Alexis Johnson made a 12-footer from the left wing with 1.2 seconds left to give Tift County a dramatic win. Johnson scored 18 points while senior teammate Brecklyn Greene led Tift with 20. Anriel Howard led Westlake with 20 points.
AAAAA
Salem 62, Mays 46: Salem outscored visiting Mays 33-20 in the second half had four players score in double-figures. Shay Tarver led the way with 17 points, including 2-for-2 from beyond the arc. Taylor King finished with 14 points and Rosie Kyles finished with 13 points and Jennifer Tindi grabbed seven rebounds to go with her 11 points. Ayanna Mitchell scored seven points but reached double-figures with her game-high 11 rebounds.
Southwest DeKalb 60, Loganville 44: Tynice Martin led Southwest DeKalb with 19 points and nine rebounds for the host Panthers. Loganville trailed 14-6 at the end of one quarter, but managed to stay within relative striking distance most of the way. Davion Wingate contributed 17 points for Southwest DeKalb. Wingate's highlights included a 4-point play that put the Panthers ahead 21-6 early in the second quarter.
Tucker 55, Gainesville 49: Senior center Erykah Davenport and host Tucker took a 9-point half-time lead but watched as Gainesville came back to lead by five in the fourth period. Davenport led the Tigers with 24 points, seven rebounds, three blocks and four steals. Quinlan Hughes and Nuba Jackson each had eight points for Tucker.
AAAA
Woodland-Henry 53, Westside-Macon 41: Woodland's fourth-quarter surge expanded the final margin of victory to 12 points, but the Wolfpack trailed the first three quarters. Daisha Terry paced the Seminoles with 16 points as Westside held a 25-20 lead at the half. Woodland freshman Vanessa Blagmon was the difference-maker at point guard and scored 10 of her game-high 18 points in the second half. Blagmon also added seven assists and three steals.
AAA
Dodge County 73, Tattnall County 71: Host Dodge County outscored Tattnall County 24-12 in the first quarter, but was outscored by the Warriors in each of the remaining three quarters. Dodge County survived Tattnall County's comeback attempt with balanced scoring led by junior Keyria Gordon's game and career-high 30 points. Rachel Selph (14), Kristen Hall (12) and Markesha McCloud (11) also finished in double-figures for the Indians.
East Hall 61, North Murray 36: East Hall led 24-20 at the half and exploded in the third quarter, outscoring the Mountaineers 22-1 to take a 46-21 lead into the final quarter. Jatasia Bailey netted a game-high 23 points and Ashlyn Ellison scored 18 points to lead East Hall. The Vikings also got a double-digit effort from junior Chelsea Dale, who finished with 11 points.
Johnson-Savannah 61, Thomson 39: Johnson-Savannah held visiting Thomson to just three points and took a 9-3 lead into the second quarter. Thomson outscored the Atom Smashers 15-11 in the second quarter, but still trailed 22-18 at halftime. Johnson pulled away in the second half and junior Ijeoma Odimgbe led the way with a game-high 23 points.
Morgan County 68, Blessed Trinity 51: The Visiting Titans led 13-9 lead after the first quarter, but Morgan County outscored Blessed Trinity 18-11 in the second quarter and then 41-29 in the second half. Alexis Brown led Morgan County with a game-high 18 points and freshman Tatyana Davis netted 15 points. Morgan County senior Stacia McClelland finished with nine points.
North Hall 62, Sonoraville 53: Visiting North Hall jumped out to a 14-point second-quarter lead before the No. 1-seeded Phoenix began chipping away at the deficit. Sonoravile brought it to 45-44 to start the fourth quarter, but the Trojans closed the game on a 17-9 run. North Hall's Sydney Cleveland finished with 17 points and 11 rebounds and treammates Kensi Gillespie and Katie Sayres finished with 16 points and nine points, respectively.
AA
Dublin 57, Cook 53 (2OT): Cook jumped out to an early 10-0 lead but Dublin outscored Cook 9-0 the remainder of the opening quarter. The Fighting Irish took their first lead in the second quarter and entered halftime with a 22-16 advantage. However, foul trouble in the third quarter forced Dublin starters to the bench and Cook outscored the Fighting Irish 13-1 in the period and took a 29-23 lead into the final quarter. Dublin's La'Shayla Pittman came up huge in the fourth quarter and helped Dublin outscore Cook 26-20 to force overtime. Pittman finished with 23 points and seven assists and teammate Jasmine Hollis added 19 points and a pair of steals. Cook's leading scorer was Elesha Foster, who finished with a game-high 29 points.
Jefferson 48, Lovett 38: Te'erica Eason scored a game-high 17 points but it wasn't enough for Lovett. Jefferson led 18-15 at the half before opening its lead to 15 at the end of the third quarter. The host Dragons were led by Abbie Franklin's 12 points and Maddie Dills' nine. Julia Selman and Quinn Barry each had nine for Lovett.
Kendrick 71, Model 34: Kendrick led Model 31-20 at halftime and never looked back, outscoring the visiting Blue Devils 40-14 in the second half. Kahlia Lawrence led the Cherokees with 18 points while Taylor Farley added 10. Kendrick was 12-of-18 from the free throw line while Model was 4-of-8.
Vidalia 75, Bleckley County 60: Visiting Bleckley County led the Indians 36-33 at halftime, but Vidalia outscored Bleckley County 39-27 in the second half. Chynna Hodge scored 29 points while Trinity Hamm and Chambria Harrison each added 13. Tia Troup was the leading scorer for Bleckley County with 15 points.
Wesleyan 82, Union Grove 26: Wesleyan raced to a 40-16 halftime lead en route to a commanding win over visiting Union Grove. For the first time this season, every girl on the Wolves scored. Mikayla Coombs led the way with 14 points for Wesleyan. Natalie Armstrong and Keevana Edwards both added 10 points and Armstrong also grabbed 10 boards.
BOYS
AAAAAA
Hillgrove 56, Newton 44: After trailing 25-18 at halftime, visiting Hillgrove dominated the second half. Hawks head coach Edward Morris said his team was "weary" from plying three tough region tournament games earlier this week, but Hillgrove overcame an early-game malaise to advance. Senior guard Kyle Castlin led the Hawks with 14 points while B.J. Brown and Antonio Wade each had 11. Hillgrove rallied to tie the game at 35 going into the fourth period, then dominated the final stanza. Newton was led by Jalen Glover, who scored 15.
AAA
Dawson County 55, Lakeview-Fort Oglethorpe 43: Levi Whitmire scored a game-high 17 points to lead host Dawson County past Lakeview-Fort Oglethorpe. The Tigers also got 14 points from Cameron Millholland. Zach Powers led the way for Lakeview-Fort Oglethorpe with 14 and he got support from Alec Pettoway's 13. The Warriors trimmed a double-digit deficit to just two points early in the fourth quarter before Dawson County pulled away.
AA
Greater Atlanta Christian 83, Union County 22: Greater Atlanta Christian had five players score in double figures as it easily took care of visiting Union County. Garrett Covington led the way for the Spartans with 20 points. Cam Boyd added 14, Isaiah Wilkins chipped in 13 and both Landon Tabor and Ramses Sandifer scored 10. Tyler Odom contributed half of Union County's points with 11.
Jefferson 69, Lovett 44: Jefferson outscored visiting Lovett 28-16 in the third quarter to open up the game. The Dragons had led 26-19 at the half, but caught fire in the third due to their aggressive full-court pressure. Senior forward Satchel Turpin led all scorers with 24 while teammate Roc Young had 21 for the Dragons. Turpin and Young combined for 19 third-quarter points. Junior Jonathan Thomas led Lovett with 15 while senior guard David Wiens added 12.
Stephen Black, Ricky Dimon, Brian Jones and Craig Sager II contributed to this report.