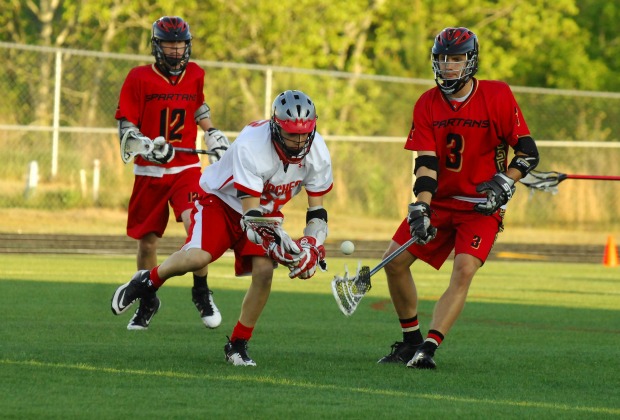 Sonny Kennedy
The boys lacrosse season officially began this past week and is setting the stage for Georgia's most competitive season yet. Lacrosse continues to cultivate and increase its popularity and stature among Georgia athletics each season and more programs have grown to allow players to begin at a younger age. Participation in travel teams is becoming a fundamental aspect of the preparation phase and there are teams that are establishing themselves early with little rust showing so far.
Out of a deep Region 2-AAAAAA, the Walton Raiders have gotten off to a particularly good start. New head coach Griffin Spotz has won his first two contests: a 10-7 victory over Mill Creek and a notable 11-10 win over a talented and persistent Johns Creek team. The Raiders were able to profit off their youthful depth while playing without their top four seniors who are serving suspensions stemming from several off-the-field misconduct issues. Spotz and the Raiders next take on Westminster, who lost to Lassiter (6-5) and beat Harrison (8-7) over the weekend.
Kennesaw Mountain has cruised in Region 1-AAAAAA so far and topped North Cobb 10-1 in the season opener before passing Campbell 19-0 over the weekend. Kennesaw Mountain will play at Harrison this Wednesday and hope to continue the blazing start. The Peachtree Ridge Lions will look to finally hit the field again this week after making an early roar in Region 4-AAAAAA. The Lions beat Norcross 20-2 in the season opener, but had to cancel their weekend matchup with Pope due to the rain. On Wednesday, Peachtree Ridge will play host to Region 3-A-AAAA's Wesleyan. The Wolves are 1-0 after beating Riverside Military 11-6 in their opener.
North Forsyth (2-0) is making its claim to be a top team in Region 3-AAAAAA after beating Buford 18-3 and River Ridge 15-2. The Raiders will get a chance to move to 3-0 on Wednesday against Woodstock. Greater Atlanta Christian has a big region 3-A-AAAAA matchup today with Buford. The Spartans are 2-0 in region play after beating Gainesville 20-1 and Fellowship Christian 17-7. Week 2 can only produce more excitement after such an outstanding Week 1 of action.