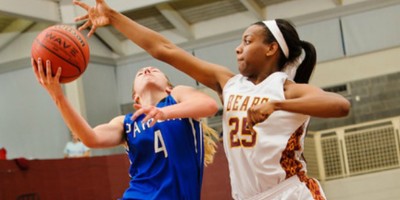 Gainesville had a good showing on the final day of competition at the Lanierland Tournament at Chestatee and for the second time in three years, the Red Elephants are champions on both the boys and girls side of the tournament.
The boys defeated North Hall 64-49 to secure the program's 24th Lanierland title in the tournament which began in 1960. Dre Raven scored 16 points and Charlie Reisman added 12 points for the Red Elephants. On the girls side, Gainesville defeated North Hall 59-50 to win the team's 13th Lanierland championship.
Gainesville's girls were paced by Keidra Young, who led the Red Elephants with 20 points – 11 in the fourth quarter – to help Gainesville erase a four-point deficit entering the fourth quarter. Gainesville trailed 30-28 at the half.
Cherokee Bluff's boys beat West Hall 70-58 to finish in third place. Boston Kersch led with 19 points, eight rebounds, two assists and two steals, Byrce Horton scored 12 points and Logan Holmes finished with eight points. For the girls, Lakeview Academy defeated Flowery Branch to take third place.
See the other scores below.
Boys
Alcovy 92, Lamar County 67
Alexander 60, Etowah 51
Auburn, AL 58, Woodland-Stockbridge 55
Bainbridge 62, Deerfield-Windsor 29
Brookwood 62, North Gwinnett 59
Calhoun 68, Murray County 43
Carrollton 67, Sequoyah 61
Cartersville 54, Sonoraville 47
Cass 71, Johnson-Gainesville 54
Central-Carroll 48, Rome 44
Charlton County 77, M. L. King 52
Cherokee Bluff 70, West Hall 59
Columbia 52, Hewitt-Trussville, Ala. 41
Commerce 68, Brookland-Cayce 57
Deltona 55, Jenkins 42
Dodge County 63, West Laurens 45
Douglas County 86, Pike County 18
Drew 58, King 49
Excel Christian 61, Woodland-Cartersville 53
Flowery Branch 83, Lakeview Academy 60
Franklin 70, Coosa 41
Gainesville 64, North Hall 49
Gilmer 81, Savannah Christian 31
Gordon Central 61, Mt. Zion, Carroll 52
Greenbrier 63, Harlem 51
Hardaway 57, Lanett 40
Harrison 59, Dunwoody 44
Heritage-Conyers 65, Jackson County 39
Holy Innocents' 43, Atlantic Shores 41
Houston County 64, Perry 50
Jenkins County 59, Treutlen 48
John Marshall 68, Wheeler 55
Jonesboro 68, St. James 46
King's Ridge 71, Groves 40
LaGrange 76, Lovejoy 67
Lakeview-Fort Oglethorpe 64, Signal Mountain, Tenn. 57
Lambert 63, Lebanon 50
Lassiter 57, Pickens 44
Lumpkin County 64, Hanahan 61
Madison County 73, Hebron Christian 57
Marianna 70, Central-Macon 51
McIntosh 77, Opelika, AL 65
Mt. Pisgah Christian 55, University Christian, FL 42
Murphy, NC 61, Towns County 54
Myers Park, NC. 66, Norcross 62
New Faith 70, Heritage-Catoosa 61
Newnan 54, Harris County 46
Oconee County 67, Oglethorpe County 49
Peachtree Ridge 85, Bishop Verot 23
Piedmont, AL 69, Athens Academy 45
Portal 62, Statesboro 37
Rockmart 55, Bowdon 54
South Gwinnett 48, Shiloh 33
South Paulding 78, Adairsville 49
Strom Thurmond, SC. 60, Josey 48
Terrell Academy 64, Pataula Charter 39
Troup County 62, Heard County 53
Valley 77, Carver-Columbus 48
Walnut Grove 57, West Forsyth 55
Walton 42, Pope 35
Washington County 61, Dublin 56
White Plains 60, Savannah Country Day 34
Whitewater 69, Lakeshore 62
Girls
Alexander 58, Pike County 21
Archer 72, Woodstock 48
Armwood, FL 67, Fayette County 44
Blessed Trinity 52, Woodland-Cartersville 19
Calhoun 58, Adairsville 28
Calhoun Falls 48, Lincoln County 40
Cass 64, Coahulla Creek 53
Chattahoochee 54, Kennesaw Mountain 29
Cherokee 70, North Gwinnett 40
Chestatee 63, Cherokee Bluff 62
Coffee 40, Early County 39
Creekview 52, James Island 18
Darlington 74, Christian Heritage 26
Decatur 58, Marietta 50
Dodge County 61, West Laurens 34
East Jackson 51, Mays 45
Elizabethton 64, Lumpkin County 46
Galloway School 65, Bishop McGuinness 52
George Walton Academy 43, Commerce 31
Hebron Christian 85, Madison County 32
Jenkins County 60, Treutlen 36
Johns Creek 52, Centennial 47
Jones County 63, Elbert County 41
Jonesboro 50, Shiloh 34
Lamar County 62, Manchester 55
Lipscomb Aca. 59, Mitchell County 28
Lovejoy 60, Palmer Trinity 54
Montgomery County 63, East Laurens 38
Morrow 62, Miller Grove 34
Murphy, NC 61, Coosa 43
North Paulding 64, Dawson County 33
Peachtree Ridge 56, Miami 51
Peachtree Ridge 60, Pope 43
Perry 45, Houston County 41
Sequoyah 45, North Forsyth 42
Sonoraville 62, Chattooga 24
South Gwinnett 57, Osborne 8
South Paulding 51, Northgate 27
Sprayberry 37, Harrison 31
Spring Garden, AL. 52, Model 37
St. Mary's Ryken 76, Luella 59
St. Vincents 41, Effingham County 29
Temple 48, Haralson County 43
Thomson 59, Strom Thurmond, SC. 26
Tift County 47, Forest Park 44
Troup County 68, Charlton County 61
Union County 72, Towns County 46
Valdosta 57, Duluth 36
Walker Valley 54, Johnson-Gainesville 22
Walton 63, Etowah 51
Warner Robins 52, Palm Beach Gardens 43
Washington County 45, Dublin 41
Wesleyan 64, Collins Hill 59
Woodward Academy 85, Cedar Shoals 48