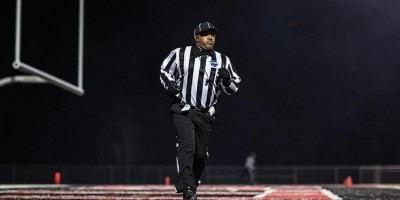 Thomas County Central Yellow Jackets and Houston County Bears headline the game of the week. Houston County is 6-1, with their only loss to Lee County. Thomas County Central comes in at 7-0 and is beating opponents by an average of 32 points. First-year head coach Justin Rodgers talked about what he has led to the success of their season so far.
"I felt like it was a sleeping giant when we took this job. I don't think people really believed me when I made that comment because of the previous five years," said Rodgers. "They had all the pieces to put together a good program. We have some good players that have really bought in and come together, and they just play so dadgum hard. If you have good players, coaches, and support, then you have a chance to be good."
Houston County has a potent offense led by some youth at the quarterback position. Sophomore Antwann Hill Jr has thrown for 1,969 yards and 19 touchdowns with a 74% completion percentage. Junior running back Ryan Taleb leads the Bears with 750 rushing yards and 14 total touchdowns.
A matchup to look out for in this game will be Houston County's offensive line against the stout defensive front that Thomas County Central has. They are led by Javion Revels, one of their best defensive lineman.
"Javion Revels is just a dynamic d-lineman. His ball get-off and take-off has just been great. We've had a lot of d-linemen upfront step up in Walter Reddick, Ezekiel Bogan, and Cam Wilks," said Rodgers. "We pieced together a nice defensive front that's been able to keep guys off our linebackers. Our front has really been the strength of our team. That was something going into the season we weren't sure of. Real happy with the way the front has played."
WR Ricky Johnson has been a difference-maker for the Houston County offense. The junior has 40 catches, 678 yards, eight touchdowns, and is averaging 97 yards per game. If the Jackets air the ball out, it will be interesting to see if Thomas County Central can slow him down in the secondary.
Thomas County also has a plethora of weapons on offense. It starts with Star QB Samuel Brown who has been fielding more offers with a breakout season. He has 19 touchdowns and over 1,600 yards passing.
"Anytime you have a good quarterback, you always have a shot. We are blessed to have Sam here because he has all the intangible tools to be a good quarterback," said Rodgers. "He throws a good ball. He's accurate, a vocal leader, and a hard worker. The things that he gets to add that are nice is mentally. We allow our quarterback to do a lot of checks and have a lot of freedom. Samuel has done a good job of managing the game there and taking those opportunities and posting some good plays."
A two-headed monster leads their backfield with Ricky Fulton and Trey Benton, who have combined for 1,167 yards rushing and 15 rushing touchdowns. Coach Justin Rodgers talked about what they mean to the offense.
"It's nice having two running backs. Running back is a tough position. It's a violent position where you get hit constantly," said Rodgers. "Being able to have two and keep them fresh is good, and they run similarly in their styles. You have to establish the run, in my opinion. I believe that opens up passes."
Houston County is flying high under head coach Jeremy Edwards in his first stint as a head coach in Georgia. A loss would knock them down to 1-2 in the region and closer to a four-seed. It will be pivotal that they get off to a good start, build momentum early in this game, and let their young quarterback, Hill, pass the ball. He's been very efficient and takes care of the football. He only has two interceptions on the season.
Coach Rodgers talked about the keys to victory and what his team needs to do to come out with a win Friday night and go 3-0 in the region.
"We have to tackle well, for sure. The next thing is we can't make the big mistake. Someone is going to make that mistake, whether it be a turnover in the special teams or a costly turnover back in your territory or your side of the field," said Rodgers. "Making sure we are not frivolous with the football. You want to ensure you don't make the big mistakes that hurt you and go out and execute."
Thomas County is 2-0 all-time against Houston County, with their last win in 2011 when they won 44-13.