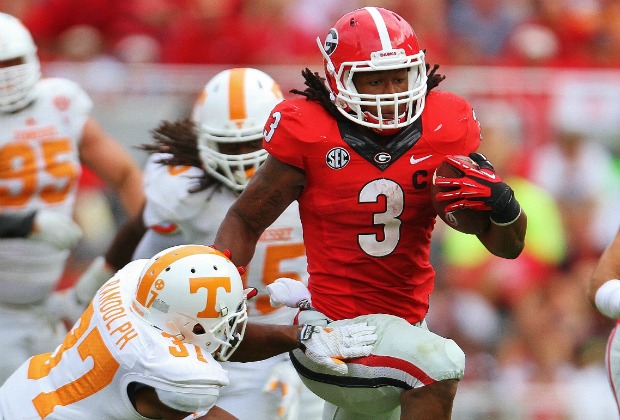 Photo by Rob Saye
For the fourth straight season, Georgia won by a one-score difference. Georgia needed a fourth-down conversion in the final seconds of the game to seal a 35-32 win over Tennessee in Sanford Stadium.
This was a game that saw Georgia's defense show glimpses of strength in the pass rush. The Volunteers were able to find success through the air with quarterback Justin Worley throwing for 264 yards and three touchdowns. However, the difference-maker for Georgia was the 217 rushing yards from running back Todd Gurley to rack up his two touchdowns on the afternoon.
The result has gone Georgia's way for the fifth straight season and the Bulldogs also picked up their first conference win of the season.
When it comes to Tennessee's potential rise back to the program the Vols were in the late-90's into this century, Georgia head coach Mark Richt believes that Butch Jones has the Vols on the right path.
"Anything you can accomplish as a coach, in my opinion, they're accomplishing it, as far as effort, conditioning, what they're doing schematically, and they're very sound in their special teams," said Richt. "They're just good in all phases. They're going to get better and better as the year goes on. We're probably fortunate to play them early on."
Richt believes that maybe a reason why this game is always so competitive, is that they face each other early in the conference schedule every season. So far, injuries and other factors haven't shaped either team too extremely.
The players seem to agree with the coach in the fact that Tennessee has been a tough opponent both in Athens and in Knoxville. Georgia running back Todd Gurley has played in two of these games now. He missed last season's visit to Neyland Stadium with an ankle injury. That said, he knows the Volunteers are always tough.
"My freshman year, we came out there doing real good," Gurley said. "Aaron (Murray) throws a pick-six and these guys were back in the game. Plus, they got a reverse. Last year I think we came out 17-0 and we just kill ourselves to bring them back in the game. But, we always finish and that's a good thing about us."
More importantly for Georgia, they were able to pick up the Dawgs' first conference win of 2014. Outside linebacker Jordan Jenkins had a strong game with five tackles and two of those for a loss. He was also able to pick up a sack in this game. He is happy to be on the left side in the win-loss column in the SEC East standings.
"It feels pretty good," Jenkins said. "I feel if we come in Sunday with the same mindset that we need to get this win and go hard in practice. Avenge some of the things that happened last year and keep our season going forward."
The passing game seems to still be an issue for Georgia, as quarterback Hutson Mason threw two interceptions in the win. Some relief could come with the potential return of wide receiver's Malcolm Mitchell, Justin Scott-Wesley and Jonathan Rumph. This trio of receivers could be back for next week's Vanderbilt game in Athens. Mark Richt says that Mitchell and Scott-Wesley could practice on Monday.
This is all potentially very good news for a passing game that even has Mason asking questions about its effectiveness.
"We'll go back to work, I'll go back to work and I'll learn from my mistakes," Mason said. "All I can do is just keep trusting my protection. I've been saying this for a while, when we get Malcolm (Mitchell) back, we'll be able to form more of an identity of where guys should be (on the field). We have a lot of talent, but it just seems like a miscommunication here or there."
Georgia also lost freshman playmaker Sony Michel to a shoulder issue in the second quarter of the game. He did not return for the second half. In the postgame press conference, Mark Richt said that Michel would be re-evaluated by medical staff. He was not sure how serious the issue is for the freshman.