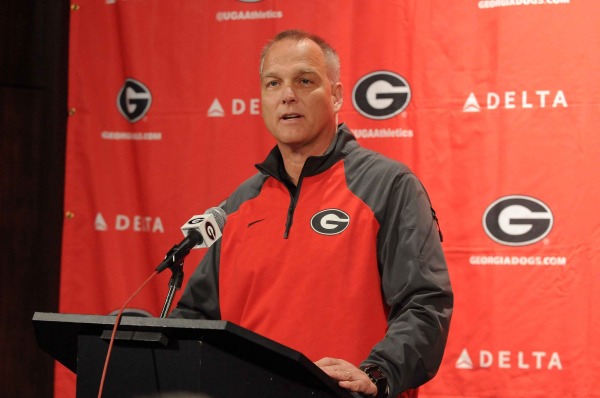 GeorgiaDogs.com
For two straight years, Georgia pulled in a signing class that ranks within the top 10 of all schools. According to 247sports.com, the Bulldogs are currently at number 10.
The reason for the "currently" after the February 4 signing date is because Georgia is still waiting on the decision of Macon County linebacker Roquan Smith. He had originally announced that he was heading to UCLA. However, reports came out later Wednesday afternoon that Bruins defensive coordinator Jeff Ulbrich was leaving Westwood to join Dan Quinn and the Falcons as the linebackers coach.
If Georgia adds Smith to this class, they could propel themselves into the top five for this year's recruiting rankings.
As it stands right now, Georgia has added 28 players in this class.  Plus they also got a linebacker from UAB.  All in all, head coach Mark Richt couldn't be happier to bring in this new crop of Bulldogs.
"We are absolutely thrilled about these young men and can't wait to see them do their thing," Richt said.
Richt went on to mention the players that have already enrolled at Georgia. This list includes Tucker defensive tackle Jonathan Ledbetter and Mays linebacker Natrez Patrick. Plus Georgia added linebacker Jake Ganus from UAB, after the Blazers shut down their program. Richt is glad they found Ganus. He was asked Wednesday at his press conference if they looked at other UAB players once the program was disbanded.
"We took a good look at the film, but Jake Stood out," Richt said. He's a guy that we thought could come in and help us. Obviously Jake doesn't have a lot of eligibility left, but he's got a lot of maturity about him, and we really believe he's going to come in and give us some good pop."
Ganus comes to Georgia after racking up a career 228 total tackles, 28 tackles for a loss, six sacks, and one 56 yard fumble return for a touchdown during this past season. 2014 was actually a career year for tackles for a loss with 16.5 and he picked all six of his sacks.
With Amarlo Herrera and Ramik Wilson graduating, Ganus helps bring experience to the inside linebacker positions that has been so consistent over the last three seasons in Athens.
This class for the Bulldogs also includes the state's top prospect in Trent Thompson out of Albany, Georgia. His new head coach Mark Richt is excited to add him to the team.
"Trent is a big, massive man who has got great ability," Richt said at his Wednesday Signing Day press conference. "If you meet him, he's just the nicest guy you ever want to meet, but when he's playing ball, he gets after it."
There really were never any worries that Thompson would have a last second change of heart. However, that wasn't the case with Hogansville athlete Terry Godwin. There was some thought that he could flip to Auburn or possibly even Alabama.
Godwin made his final decision late Wednesday evening and decided to stick with his original commitment. He made the news official on Fox Sports South and Richt was happy to hear the news.
"I was very pleased with the decision Terry Godwin made this evening," Richt said in a statement released by UGA. "He's an exceptionally talented young man, a good student, and a good person. His future is bright at UGA. It has been a great day to be a Dawg."
All total, Georgia added these two five-star signee's, 11 four-star, and 15 three-star players.
Other notable signees include Grayson defensive end Justin Young, Tri-Cities safety Kirby Coates, Marist offensive lineman Sage Hardin, Creekside wide receiver Jayson Stanley, Lakeside defensive back Rashad Roundtree, and Stephenson defensive end Chauncey Rivers to name a few Atlanta-area signees.
The Bulldogs also bring back offensive tackle DeVondre Seymour, after he went to Hinds community college in Mississippi. The former North Gwinnett Bulldog had initially come to Georgia a couple of years ago. Yes, he is the son of former Patriots/Raiders defensive tackle Richard Seymour.
In this recruiting class, Georgia loaded up a ton on defense. 19 of the signees are on defense and the other 10 are offensive prospects. Most of the pickups were in the second and third levels of the defense. The Bulldogs add six defensive backs and seven linebackers. The younger defensive line also adds six linemen.
The defensive line will probably feature the most newcomers on the field in 2015. Only Sterling Bailey and Josh Dawson return from that unit a year ago.
It will be interesting to see who cracks the linebacker unit for playing time with Jordan Jenkins, Leonard Floyd, and Lorenzo Carter returning on the outside. Plus, you get Tim Kimbrough and Reggie Carter back on the inside. Even though they were not starters, they still saw a good amount of playing time in 2014 at those positions.
The wide receiver position will likely see some of these new signees getting some playing time this season. Malcolm Mitchell is the only receiver with significant production returning from last year's team.
That could make Terry Godwin's decision the right one to stick with Georgia and Shaquery Wilson out of Coral Gables, Florida more the wiser for coming back to sign with the Bulldogs. Might we also see Stanley get some playing time? Maybe even Michael Chigbu out of New Orleans, Louisiana?
There is no doubt Georgia needed to add some depth at certain positions and it looks like they took a huge step towards doing that with this class. Only time will tell just how productive these players will be on the college level.