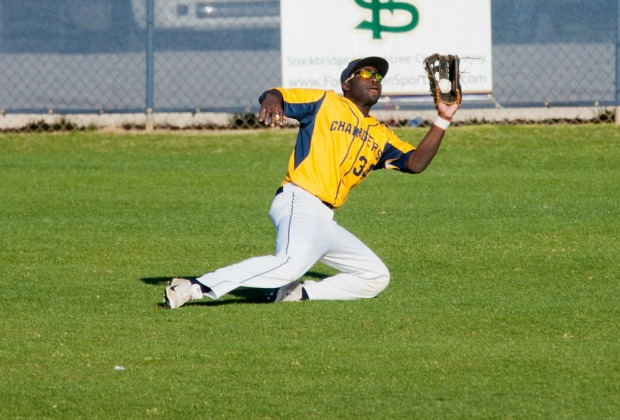 Heidi McClure
As expected, four of the top 37 players taken in the MLB first-year player draft were from the state of Georgia, one of the most prolific breeding grounds for top baseball talent. In itself, that's not extraordinary; the Peach State has produced a number of top picks in recent years. What is unusual, however, is that these four players hail from high schools in a small pocket in the Northeast metro area: Clint Frazier of Loganville, Austin Meadows of Grayson, Travis Demeritte of Winder-Barrow and Josh Hart of Parkview. Two from east Gwinnett County, one from neighboring Walton and one from nearby Barrow.
Frazier, a five-tool outfielder, went No. 5 to the Indians, while Meadows, a lefty outfielder, went to the Pirates at No. 9. Demeritte, a shortstop, came off the board at No. 30 to the Rangers and Hart, a centerfielder, went No. 37 to Baltimore in the Competitive Balance Round A. Unfortunately for the schools they pledged to, a professional baseball career is imminent: Georgia will miss out on Frazier, while Meadows (Clemson), Demeritte (South Carolina) and Hart (Georgia Tech) will also be entering either their MLB clubs' rookie ball or low Class A teams shortly.
For Frazier, it was the culmination of a fantastic high school career that includes a state title and a school record for home runs (63). The days leading up to the draft were stressful at times, but eventually led to the realization of a life-long dream. Frazier didn't let the Sports Illustrated spreads and MLB Network interviews distract him from being a productive player for the Red Devils.
"It's been a great experience, but busy for Clint all year, and especially the last month or so has been pretty crazy," Segars said. "He handled it well and had a great year for us."
Frazier's stat-line for his senior season had him at a .485 batting average, 17 home runs and 45 RBIs. The significance of having four players drafted before the second round out of such a small radius was not lost on his coach.
"To get that type of press just shows the ability level of the players in the state and I'm just happy that Clint was able to be a part of that," Segars said. "There's a lot of good baseball players in this area."
Grayson's Meadows was also a part of the media blitz that descended upon this small section of North Georgia. Like Hart and Frazier, he's a rangy outfielder with speed. Demeritte of Winder-Barrow projects to play third base at the pro level.
Josh Hart, a four-year starter for Parkview, was tabbed as a top pick from the beginning of his high school career. High draft selections are nothing new for the athletics powerhouse in Lilburn.
"We've been lucky enough for our kids to be seen because of other (high-profile) kids," said Parkview head coach Chan Brown. "When he was a sophomore, the scouts told us that they could see him being a very high draft pick."
Brown manages much more than just the game-to-game lineups for the Panthers. Part of the job for a coach of ultra-talented prep players is to act as a liaison between Major League scouts and the prospect and his family.
"Baltimore had been watching him all year long and they told him that if he was available, he might go with their 22nd pick, but if not and he was still around later on, he would go with that 37th pick," Brown said.
In his senior season, Hart hit .459 with 39 runs scored and 31 RBIs to go along with five home runs and 34 stolen bases in 36 attempts. Hart's another five-tool player with a high ceiling.
"He can really run 'em down in the gaps in center field," Brown said. "He's the ultimate lead-off hitter in your lineup. He can hit for power and can use his speed, he gets a lot of infield singles and bunt singles. He's just kind of a table-setter as far as your lineup goes, and defensively, he's a run saver."
These standouts weren't the only players on their teams to hear their names called on draft weekend. Chris Erwin from Grayson, Jarrett Freeland from Parkview and Dalton Carter from Winder-Barrow also were draft selections from their schools.
COLLEGE CONNECTIONS…
As always, Georgia universities and junior colleges were big producers of draft picks. Georgia Tech boasts five picks in the first 10 rounds: Daniel Palka in the third to the Diamondbacks, Zane Evans in the fourth to the Royals, Buck Farmer in the fifth to the Tigers, and Brandon Thomas and Kyle Wren in the eighth to the Yankees and Braves, respectively.
Wren, the son of Braves GM Frank Wren, passed up a 30th-round selection from the Reds a year ago to come back to school. Fortuitously, it allowed the Braves to select him last week and he quickly signed his father's contract offer. Another family tie comes in the form of Jacob Heyward, the younger brother of Braves star Jason Heyward, who was taken by Atlanta with the No. 1,153 pick out of Eagle's Landing Christian Academy.
UGA had three players drafted with Kyle Farmer (Dodgers, No. 244), Curt Powell (Tigers, No. 636) and Pat Boling (Nationals, No. 976).
Other state schools got in on the act, too. The highest non-BCS Georgia team to have a player drafted was Savannah State, with pitcher Kyle McGowin going in the fifth round to the Angels. Savannah State narrowly lost to Alabama in an elimination game in the FSU regional in the NCAA Tournament, and McGowin finished with a sub-2.00 ERA this past college season.
Kennesaw State had four draftees with Steve Janas, a right-handed pitcher, going the highest at 193 to the Braves. NAIA school Southern Polytechnic in Marietta, which has produced eight draft picks over the last seven years, had Nick Blount taken in the ninth round by the White Sox. Blount is a 6-foot-6, right-handed flamethrower and a 2009 graduate of South Gwinnett. Division II Columbus State saw Cameron Griffin go with the No. 1,016 pick to the Mets, and two-year schools Middle Georgia College, South Georgia College, Darton College and Georgia Perimeter were all represented.
Former Woodstock High-standout Kent Emanuel, a left-handed pitcher and weekend starter for North Carolina, was the first pick of the third round to the Astros.