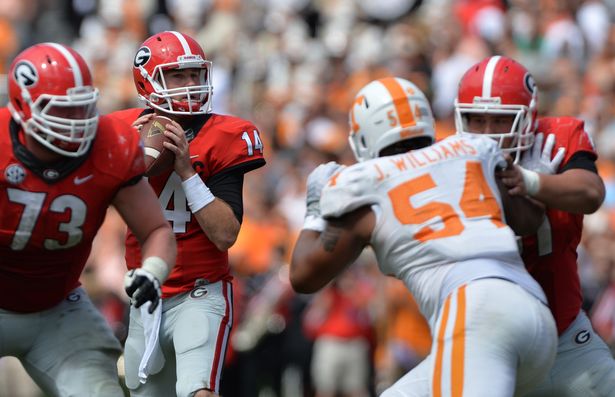 Brant Sanderlin
After seven straight weeks of playing SEC games, Georgia finally has their chance to play against other teams outside the conference. This is also a chance for the Georgia fans to maybe temporarily give their allegiances to Tennessee, at least just for one game.
Charleston Southern comes to Sanford Stadium for a noon kickoff, with an 8-3 record on the season. They have experience this season playing an FBS opponent and almost came away with a win against Vanderbilt. The Commodores were able to hold on for a 21-20 win in October. Georgia head coach Mark Richt isn't going to take them lightly.
"They're not afraid to go into an SEC setting and beat someone's tail," Richt said. "They had Vanderbilt on the ropes already this season and we know that they're an outstanding football team. I've said this before and I mean it. It's hard to beat teams that are used to winning. And this team has got the fever when it comes to winning."
Charleston Southern's team has also lost to Coastal Carolina and Presbyterian this season. However, they've won three straight games and put up 576 yards of total offense. This is a Big South Conference record according to their game notes. All this being said, senior wide receiver Michael Bennett says they need to try and keep their strong momentum rolling.
"It is a little bit difficult, but it's just another time to compete," Bennett said. "I think that's what it comes down to. We're competitors and it doesn't matter who we're playing. Charleston Southern has a good team. They're 8-and-3 and they're a hard, physical team."
Win or lose, these final two games of the season have no bearing on what happens to Georgia in terms of the SEC East race. They just need Missouri to lose one of their final two games against Tennessee and then Arkansas.
The question was brought up earlier can Georgia cheer for Tennessee? Michael Bennett thinks they can.
"I'll probably just paint a 'T' somewhere and run through it or something like that," Bennett said. "Me and (Georgia quarterback) Hutson (Mason) will be definitely cheering them on."
Bennett later was asked if he would be willing to sing 'Rocky Top' in his rooting interest for the Volunteers. He says that isn't going to happen.
That said, Bulldogs senior defensive end Sterling Bailey won't be afraid to use the pipes and sing along to help the Tennessee orange and white to a win.
"I'll probably just turn on the TV and be singing good ol' Rocky Top," Bailey said. "I don't know all the words but hopefully before then I'll learn them."
One of the other topics this week in Athens with the team, was whether players/coaches could wear the Tennessee colors to cheer them on. Mark Richt isn't sure if that could happen this weekend for him.
"I don't know if I ever wore orange when Jon (his son) was a Clemson Tiger for a year," Richt said. "I might have one day wore something orange but it was in private. The last time I wore orange was at the U of M (Miami) back in '82."
Tennessee is being picked by many to win this game, so Georgia fans are hoping the experts are right this weekend. They're also able to root for former Alpharetta QB Joshua Dobbs, as he tries to pull off the upset.