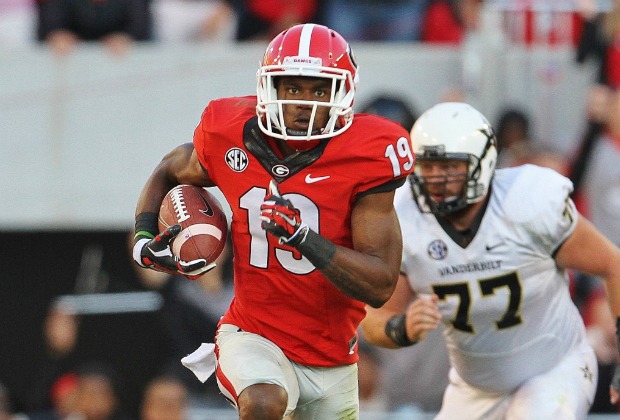 Photo by Rob Saye
The Bulldogs didn't have to struggle too much to pick up their fourth win of the season, 41-17 over Vanderbilt inside Sanford Stadium. This was a game that featured quarterback Hutson Mason using the vertical passing game, the defense scoring another touchdown, and running back Todd Gurley throwing a pass.
That last part of that sentence is not a mistype. One of the favorites to win the Heisman Trophy was called upon and threw a pass. In fact, it was the longest pass in terms of yards thrown by Georgia this season. It went for 50 yards from Gurley to freshman tight end Jeb Blazevich. In terms of whether or not the spiral was very tight on the pass, head coach Mark Richt says he's not so worried about whether or not it looks good going through the air.
"We have a saying at Georgia, we say that spirals are optional," Richt said. "If you hit your target, that's all we care about. Spirals are optional. If its completed, it's a pretty pass to me."
Gurley accounted for 187 all-purpose yards in the win and found the end zone twice running the football. The Bulldogs' top playmaker liked getting that play call that he'd be throwing the football.
"I was like 'oh finally there goes my play'," Gurley said. "The protection was there and I wanted to act like I was going to fake the run. I saw Jeb and I just threw it. So I'm happy about that."
Coming into the game this week, people asked whether or not Hutson Mason could ramp up the passing game. The senior quarterback did admit last week that he was forcing things in this offense and was told by offensive coordinator Mike Bobo to "let 'er rip." Mason finished the game with 121 passing yards on 11 completions in 17 attempts. He found wide receiver Chris Conley twice for touchdowns. He did throw another interception in this game. That said, he thinks he took the pressure off himself.
"I think it was good to just kind of get out there and do some things in the passing game that we haven't done this year," Mason said.
You might have also noticed that redshirt freshman quarterback Brice Ramsey also got on to the field in the third series of the game. Mason said that he found out this morning that Ramsey would get on the field. He says he's not concerning himself with the move.
"I don't think you can let it mess with you, honestly," Mason said. "I think if you sit there and think 'what are the coaches thinking'? Am I doing this or am I doing that? That's when you become distracted on you need to do to get done. It's easy to worry about what everyone else is doing or what my coaches are saying, instead of just working on a day-to-day basis on what I can do to perform."
Georgia also had wide receiver Malcolm Mitchell back on the field for the first time this season. He starts his season with one catch for 11 yards. He was happy to get back on the field, but would like to hhave the limits pulled back on his playing time.
"Even during the game today I was saying 'just let me go out there,'" Mitchell said. "But, somebody has to be smart in this situation and it obviously isn't going to be me. So they take control of that and I just listen. Even if I don't like the outcome."
You would be kidding yourself as a Georgia fan if you didn't look around the country and see how the other games went on this college football Saturday. Oregon, Alabama, Oklahoma and Texas A&M all losing help Georgia after their win. That said, Mark Richt isn't doing too much scoreboard watching.
"I watch what's going on in league play," Richt said. "I'm very aware of what's going on and who's playing who, all that kind of stuff. I keep a close eye on all of that. We're always basically cheering for the team that needs the win to give us a better chance to get to Atlanta. That's who we cheer for. In the (SEC) West it really matter to us, we really don't care one way or another. We just really like watching good football."
Georgia has a chance to take ahold of the SEC East lead next week when they take on Missouri in Columbia. This will be a tough trip for Georgia and its part of a four-game, five-week stretch that keeps them away from their home field.