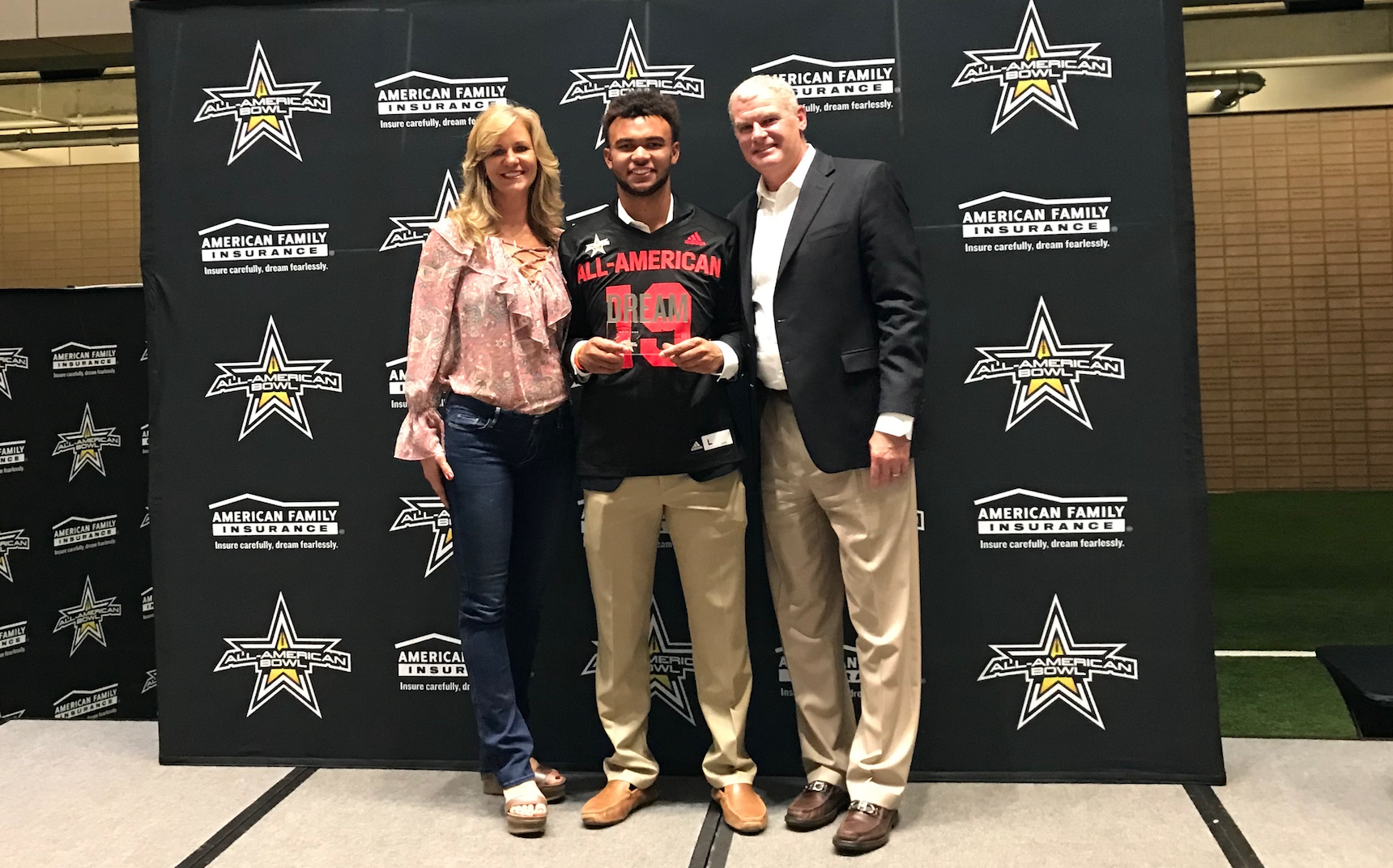 The 2019 All-American Bowl stopped at the College Football Hall of Fame Tuesday night for its Jersey Presentation Tour, and honored the states' nine players that will be making their way to San Antonio to suit up for the East Team on Jan. 5.
The All-American Bowl is in its 19th year of existence, and has become the most prestigious high school all-star event in the country. Each year, the selection committee invites the nation's top 100 players to star in the game, and names like Odell Beckham Jr. and Adrian Peterson have annually added to its ever-growing prestige and tradition. To date, 380 NFL Draft picks, 134 Pro Bowlers and 52 Super Bowl champions have put on the same All-American jerseys that were presented to the nine Peach State products.
The special group of Class of 2019 standouts includes Walton receiver Dominick Blaylock; Blessed Trinity running back Steele Chambers; Marist safety Kyle Hamilton; Cedar Grove receiver Jadon Haselwood; Greater Atlanta Christian defensive lineman Chris Hinton; Roswell outside linebacker Tyron Hopper; Marietta receiver Ramel Keyton; Buford offensive lineman Harry Miller; and Buford long-snapper Quentin Skinner.
Joined by rows of media, family and friends, each player was individually recognized above the end zone of the Hall of Fame's indoor field, and then stood on stage with his high school head coach to receive and put on the official All-American jersey for the first time. For Blaylock, who committed to the University of Georgia on July 16 of 2017, this occasion was the latest chapter in his long recruiting journey and dream to play in this game. Blaylock was in the eighth grade when he received his first SEC offer, and went out to San Antonio to watch former Georgia Bulldogs Sony Michel and Nick Chubb compete in the 2014 edition of the game.
Now, it will be Blaylock's turn to represent his state and future team in San Antonio.
"It's a blessing to get an opportunity to compete in this game," said Blaylock. "This state has some of the best players in the country, and I think it's a great group of guys on and off the field."
Keyton is taking his receiver skills to the University of Tennessee next fall, and spoke about all the greatness enshrined in the building where the ceremony took place.
"It's an honor to be at the College Football Hall of Fame, and especially for an occasion like this," said Keyton. "There are so many great players that are recognized in this building, and I am going to do everything I can to make Tennessee a championship program when I get there."
The group's other receiver, Jadon Haselwood, is waiting for game day to announce his college decision.
You can catch the 2019 All-American Bowl Presented by American Family Insurance on NBC at 1 ET on Jan. 5.