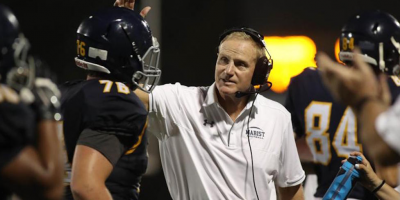 The prowess and reputation of Georgia High School Football is bolstered by the state's long history of outstanding coaches. Across the Peach State are some of the finest high school coaches in the country and this competitive fraternity of program leaders has been crucial to Georgia's state-wide success over the years. Listed below are the current coaches that have the most all-time victories. By only counting GHSA victories and not GISA victories, this would have excluded some coaches that have achieved just as many victories in GISA and also would impact win totals for certain coaches that have had stints at both GHSA and GISA schools. Rather than providing a list exclusive to GHSA wins that would exclude GISA victories, I have made note of this variable in my rankings of the current Georgia High School Football coaches with the most career victories.
1. Alan Chadwick: (386-73-0):
Marist head coach Alan Chadwick has achieved all 386 of his career victories leading the War Eagles. Over the course of his 35 seasons (1985-2019) at the school, Chadwick has tallied an impressive 84.1 winning percentage. Chadwick has also led the program to a pair of state titles, 18 region championships and has coached 100 all-state selections over the course of his career. In addition to being the most victorious current head coach in the state, Chadwick is also the longest tenured head coach as he enters his 36th season at the helm.
2. Rich McWhorter: (291-86-2):
Current Jackson County head coach Rich McWhorter previously coached Charlton County for 29 seasons prior to taking over the Panthers program for the first time in 2019. At Charlton County, McWhorter led the Indians to 288 victories and four state titles. Last year's Jackson County team finished 3-7 to increase McWhorter's all-time win total to 291. McWhorter is just nine wins away from becoming the 14th coach in state history to ever achieve 300 career victories.
3. Rick Tomberlin: (261-127-0):
Appling County head coach Rick Tomberlin has racked up his 261 career wins while coaching and a total of nine schools over his 34 seasons. Following a three-year stint at Effingham County (2010-12) Tomberlin would not make his next head coaching stop until 2016 with Calvary Day. After a run to the quarterfinals that season, Tomberlin took a head coaching hiatus again until taking over the Appling County program. In his two seasons with the Pirates, Tomberlin has led the team to a 15-8 record. The bulk of Tomberlin's 261 victories came during his 14 seasons spent at Washington County (1992-2005) where he racked up a 157-31 record, three state titles and nine region crowns.
4. Bill Murdock: (249-131-5):
Terrell Academy head coach Bill Murdock has spent 31 seasons with two GISA programs. He led Southwest Georgia Academy from 1989-2004 and compiled a 145-58-4 record with three state titles. After arriving at Terrell Academy in 2005, Murdock has led the Eagles to a 104-73-1 record with a pair of state championships and two state titles. Murdock is one of the 14 Georgia High School coaches in state history to win at least five state titles.
5. Ron Gartrell: (239-121-0):
Coach Ron Gartrell led Shamrock High School for eight seasons before becoming the first-ever head coach at Stephenson High School in 1996. Following his 35-46 record at Shamrock, Gartrell has led Stephenson to 10 region titles and a 204-75 overall record during his 25 seasons at the school. Gartrell has coached five AJC Super 11 players and 83 all-state selections over his 33-year head coaching career.
6. Mark R. Stroud: (218-101-0):
Calvary Day head coach Mark R. Stroud has also spent time coaching at Toombs County (1992-2007) and Swainsboro (2016) in addition to his two stints with the Cavaliers (2008-15, 2016-2020). He produced 120 victories in his 16 seasons at Toombs County and has led Calvary Day to a 94-34 record over his 12 years spent at the school. His 2016 Swainsboro team produced a 4-7 record.
7. Gerry Romberg: (211-122-0):
Westminster head football coach Gerry Romberg has spent all 28 seasons of his head coaching career leading the Wildcats' program. Romberg's 2015 team made history when it won the school's first state title since 1978 in dramatic fashion over Blessed Trinity in the Georgia Dome. Westminster has reached 13-straight postseasons heading into 2020 and has coached 53 all-state selections over the course of his career.
8. Maurice Freeman: (210-104-0):
Brooks County head coach Maurice Freeman has racked up his 210 victories at three total schools over the course of his 27-year career. Following four seasons at Southwest High School and six seasons at Brunswick, Freeman has compiled a 156-52 record since taking over for Brooks County in 1994. Brooks County won the state title in Freeman's first season at the school and the Trojans nearly won another state crown this past season. After opening the year 1-3, Freeman's squad caught fire and made a run to the Class AA state finals where they eventually fell 42-32 to Dublin. A total of 13 of Brook's County's 15 games this past season came against ranked opponents and they ended up with a 10-5 record.
9. Erik Soliday: (206-146-2):
Erik Soliday led five GHSA programs from 1997-2017 prior to taking over the GISA-based Tiftarea Academy Panthers in 2018. While coaching in the GHSA, Soliday racked up a 187-141-2 overall record that included a pair of state titles at Americus High School in 2000 and 2001. These past two seasons, the Panthers have gone 19-5 overall with back-to-back GISA Class AAA semifinal berths.
10. Steve Pennington: (204-132-4):
Bulloch Academy head coach Steve Pennington would not have made the list the last two seasons, but after taking a two-year break he has stepped in this past Feburary to lead Bulloch Academy in 2020. Coach Pennington achieved his 204 career wins while leading Louisville (1983-89), Appling County (1990-95), Ware County (1996-98), Statesboro (2004-16) and Southeast Bulloch (2017). The bulk of Pennington's career wins came during his 13-year stint at Statesboro where he led the program to the 2005 Class AAAA state championship and a 105-49 overall record.
11. Frank Barden: (201-97-1):
St. Francis head coach Frank Barden surpassed 200 career wins this past season in what marked his 26th season as a head coach. Barden began his career at Pickens where he coached for two seasons and then spent the next 18 years of his career at Cartersville (1996-2013). While leading the Purple Hurricanes, Barden achieved a 154-58 overall record and led the program to the 1999 Class AA state crown. Barden then spent four years at Stephens County (2014-17) before taking over the St. Francis job in 2018. St. Francis won its first-ever playoff game this past season under Barden with a 34-31 win over Trinity Christian.
It is worth pointing out the four head coaches this upcoming season that will have an opportunity to surpass 200 career victories. Stratford Academy head coach Mark Farriba currently sits at (199-128-3), Winder-Barrow head coach Ed Dudley is at (198-103-0), Walker head coach Michael Gunn is at (194-72-1) and Coffee head coach Robby Pruitt enters 2020 with a 191-57-1 career record. Additionally, newly-hired Valdosta coach Rush Propst has 119 career wins in the state of Georgia, but when combined with his year's spent as a head coach in the state of Alabama, he sits just one win away from 300 career victories.
Listed above were the current head coaches with the most career victories, but now I want to take a look at the all-time victory list. As of now, there are 13 head coaches in Georgia High School Football history that have achieved 300 or more victories. At the top of the list is former Lincoln County head coach Larry Campbell who is the state's leader in all-time career victories by a wide margin with his 477.  Marist's Alan Chadwick is the only active coach who has eclipsed the 300 mark and he is second on the all-time list at 386. A perfect 15-0 season in 2020 or a 1-loss run to the finals would make Chadwick and Campbell the only two coaches in state history to have ever reached the 400-win club.
ALL-TIME CAREER WINS
1. Larry Campbell: (477-89-3; 11 state titles; 42 seasons; 1 school)
2. Alan Chadwick: (386-73-0; 2 state titles; 36 seasons; 1 school)
3. Robert Davis: (354-73-0; 3 state titles; 36 seasons; 2 schools)
4. Dan Pitts: (346-109-4; 1 state title; 39 seasons; 1 school)
5. Dwight Hochstetler: (345-114-1; 3 state titles; 37 seasons; 2 schools)
6. Barney Hester: (340-167-9; 11 state titles; 43 seasons; 4 schools)
7. Ronnie Jones: (329-114-3; 4 state titles; 37 seasons; 3 schools)
8. Luther Welsh: (323-162-5; 3 state titles; 43 seasons; 6 schools)
9. Bill Chappell: (317-74-9; 1 state title; 33 seasons; 1 school)
10. T. McFerrin: (317-84-4; 2 state titles; 34 seasons; 8 schools)
11. Wayman Creel: (312-106-14; 3 state titles; 39 seasons; 3 schools)
12. Nick Hyder: (302-48-5; 7 state titles; 28 seasons; 2 schools)
13. Rodney Walker: (300-141-3; 1 state title; 39 seasons; 9 schools)