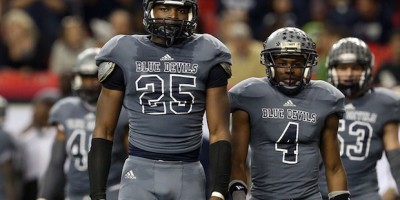 Former Norcross star Lorenzo Carter was drafted No. 66 by the Giants last month.
Georgia High School Football has earned high-praise for the abundance of former prep stars that have been taken in recent NFL Drafts, but after experiencing this proliferation, the state encountered a major dip in draftees taken in last week's draft. So what does it all mean?
Down from the nation-best 29 former Georgia prep stars drafted in 2017, just 12 Georgia High School players were picked up in this year's draft, putting Georgia well-behind Florida (35), Texas (27), California (27), tying them with Pennsylvania for sixth, and resulting in the lowest number of draft picks produced in a decade. Still, despite it being quiet year, the larger sample size still supports years of progress and helps put the annual fluctuations into perspective.
According to the Georgia High School Football Historians Association, Georgia has averaged 19.1 picks per draft over the last 10 years, 13.5 from 2000-09 and 11.6 from 1990-99. In 2015, Georgia set its all-time record with 30 picks and then dropped back to 15 in 2016, before rebounding back up to 29 picks in 2017. Next year could very well repeat this pattern, which is also seen in real time as especially star-studded recruiting classes often come in years of twos. Additionally, the state's staying power in the NFL once its prospects make rosters has worked alongside these gradual increases in draft picks and grown the number of Peach State products on NFL rosters annually. After placing 119 players on rosters at the start of the 2016 season, the number grew to more than 130 by the time last season started. Even with just 12 picks added this year, there are still going to be undrafted free agents that can also make official rosters and add to this number, and there is plenty of confidence in the surge of young players that have entered the league recently to remain there.
The state did not produce 20 or more picks in a draft for the first time until 2013. And in the last six years, the state has maintained a 20.5 average (only Florida and California can say the same). So despite the downswing, Georgia High School Football's influence on the NFL remains at an all-time high.
Numbers of Georgia players taken in the NFL draft by year:
2018 12
2017 29
2016 15
2015 30
2014 17
2013 20
2012 14
2011 19
2010 16
2009 13
2008 12
2007 12
2006 13
2005 13
2004 13
2003 13
2002 13
2001 18
2000 15
1999 14
1998 15
1997 9
1996 14
1995 9
1994 4
1993 14
1992 13
1991 13
1990 11
1989 16
1988 12