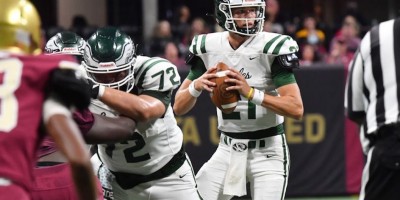 Center Parc Stadium will host a three-day state championship marathon to conclude an already memorable and thrilling 2021 football season. Nationally-ranked powerhouses, recruits and perennial contenders will share the ultimate stage and put the Peach State's prowess on full display. The action will kickoff on Thursday, Dec. 9 with three-straight flag football championship showdowns, and then the Class A Private finals begins at 5 p.m. with a rematch of last year's championship between Prince Avenue Christian and Trinity Christian. Prince Avenue Christian won 41-21 last year. "It feels like we are playing with house money," said Prince Avenue head coach Greg Vandagriff. His statement points out that he had a senior-laden team last year and it is a brand new collection of underclassmen leading the Wolverines this year. As for Trinity Christian, they returned nearly every starter from last year's run to the finals. Prince Avenue Christian quarterback Aaron Philo has racked up 4,204 passing yards and 44 touchdowns through the air this season and Trinity Christian's senior passer David Dallas has accounted for 3,641 yards and 45 passing touchdowns this season. Both quarterbacks have hit this mark despite getting first-round byes. In Class A Public, Irwin County and Brooks County will faceoff in another championship rematch. Irwin County, which is appearing in its fifth-straight title game scored a 27-19 victory in last year's finals. This will be the fourth time in the last two seasons that the programs have faced and Irwin County was able to hold on for a 21-13 win over the Trojans in region play. Brooks County has not lost since that defeat and has scored 52.5 ppg this postseason.
TAKE IT HOME
Thursday offers a trio of outstanding matchups—opening with Region 1-AA rivals Thomasville and Fitzgerald in the noon slot. Thomasville previously defeated the Purple Hurricanes 15-8 on Oct. 22, a victory that clinched Thomasville's region crown. Thomasville is one win away from the program's first state title since 1988 and Fitzgerald is looking to snap a championship drought that dates back to the 1948 season. The Class 4A championship features Carver-Columbus and Benedictine in the first-ever meeting between the programs. Carver-Columbus battled past Cedartown 22-21 in a dramatic semifinal victory and Benedictine has battled past defending champion Marist (24-21) and North Oconee (42-32) in the past two rounds. Friday's primetime matchup will be two-time defending champion Buford against a red-hot Hughes team looking for the program's first-ever championship. Hughes' 13-1 record this season is the best in the program's 14-year history and Buford's 13-1 record includes 11 occasions of holding opponents to a touchdown or less.
CHASING HISTORY
Day 3 begins with Carver-Atlanta making the short trip to Center Parc Stadium to square off with Region 5-3A rival Cedar Grove. When the two teams met previously this season, it was a 3-0 game heading into the fourth quarter before the Saints eventually won 17-0. Carver-Atlanta quarterback Bryce Bowens did not take the reins until the following week against Westminster and he has been phenomenal ever since. Class 5A powerhouses Warner Robins and Calhoun will kickoff at 3:30 p.m. in their first-ever meeting before the grand finale between Milton and No. 1 ranked Collins Hill—which is expected to be one of the most viewed Georgia High School Football games of all time.