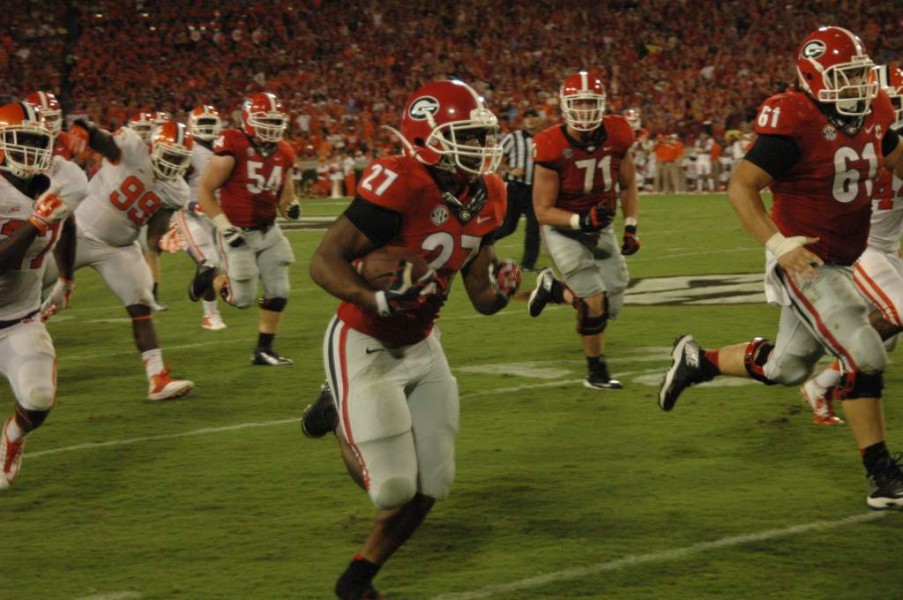 Logan Booker/ Bulldawg Illustrated
It's that time of the year again, when we get to scratch the itch! Yes, these last couple of winter months has left us shivering in the cold and yearning for any type of meaningful football.
In terms of meaningful football, that might be up for debate. The Bulldogs will go through 15 days of work scattered over the months of March and April. They will play their annual spring game (G-Day) coming up on April 11.
The word "meaningful" when talking about spring practice might not carry a ton of weight to the average fan out there, given the fact the first game of the season is a full six months away from kicking off. That said, head coach Mark Richt says a ton of players inside his building are looking forward to these 15 opportunities with the coaches.
"We're looking forward to our spring football and getting ready," Richt said. "It's a great time of year. There are a lot of new faces and a lot of great opportunities for the guys to compete for starting positions, compete for playing time, and compete against each other, offense versus defense and all that good stuff."
In terms of the position battles that will be closely contested over the next few weeks, none will be looked at more closely than the competition for starting quarterback. For the past two seasons, this really hasn't been a concern with Aaron Murray and Hutson Mason still in the program.
Both of those players are no longer in the Butts-Mehre Building. However, redshirt sophomore Brice Ramsey, junior Faton Bauta, and redshirt freshman Jacob Park still are in Athens. Richt says to him, the competition is wide open. This was in regards to the question of Ramsey having the inside track for the job.
"I'd say it's more 1A,B, and C right now," Richt said. "Really it's a matter of giving all of those guys an opportunity to get reps and make it equal as possible. I'm sure we'll be rotating who is number one on any given day, as far as who works with that unit."
Ramsey would seem to be the favorite right now, after his relief appearance against Louisville in the Belk Bowl to end last season. However, the arrival of new offensive coordinator Brian Schottenheimer could erase the past. We did see examples of this on defense last season, with Jeremy Pruitt coming aboard. Richt thinks the same element could be in play with the quarterbacks.
"Everybody had an opportunity to prove what they could do," Richt said. "There's just so many guys getting opportunities to get the reps with the one unit."
Could a starter be named at the end of spring practice? Richt says he doesn't think that will be the case.
Another position on offense that will be looked at with a lot of interest is at the center spot. Georgia lost three year starter David Andrews and now that gives senior Hunter Long and sophomore Isaiah Wynn a chance to win the starting spot.
On the defense, the linebackers group will be looked at with great expectations entering the 2015 season. The part of that group that will have the largest microscope focused on them will no doubt be the outside linebackers.
One of the most experienced members of that group is senior Jordan Jenkins. He's ready for people to expect a lot of the group of five returners.
"It's definitely really exciting because it just shows that all our heard work as a unit is somewhat paying off," Jenkins said. "If you see one of us making plays, it's not just one person. Everybody makes plays in a unit."
The group of five returning outside linebackers accounted for 27.5 tackles for a loss and 15.5 sacks in 2014. They are by far the most productive position group on the defense.
Jenkins has had a very good career for the Bulldogs, but he's looking to one of the younger guys to do huge things in a Bulldog uniform.
"Lorenzo Carter is going to be one of the greatest defensive players to come through this university," Jenkins said. "He's a young man who is gifted athletically and gifted mentally. He just has all the tools you want in a kid. If he stays focused, commits to the offseason and commits to getting better, the sky is the limit for that guy."
During the spring, the team will go through at least three scrimmages. In those scrimmages, they will be able to tackle to the ground. Outside of those three scrimmages, Mark Richt says he's not sure how much they will hit to the ground.
Richt was also asked about whether or not they'll allow for rising sophomore running back Nick Chubb to be tackled to the ground. Richt says they will and added something to the effect that the defense will have to get him down first. That was definitely a tough task for opposing defenses last season. We do know that Jenkins wants his shot to get after Chubb.
"Him and Sony (Michel) have been talking a lot of trash and I've got a hit in on them," Jenkins said. "I referenced one of the spring scrimmages we had when I got Todd (Gurley) in the backfield and got Chubb the next. I have not let them let that moment go."
It is all fun right now and it will be even more fun when they take the field on Tuesday March 17. As for the itch scratching this spring? Make sure you don't scratch too hard.