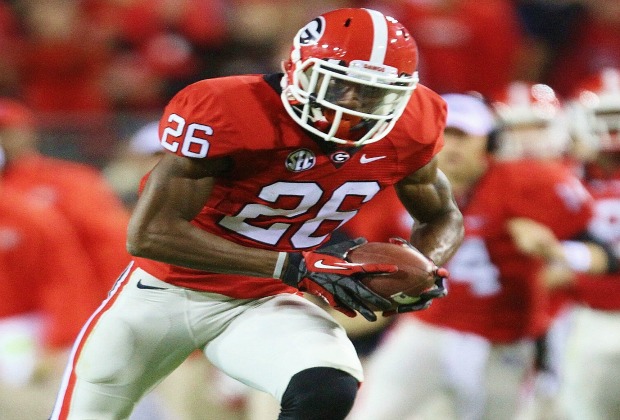 Rob Saye
A complete team effort is needed for Georgia to beat Alabama, but within this team of Bulldogs there are three playmakers that can offer them the edge in this ballgame. I am not including Aaron Murray or Jarvis Jones who both performed brilliantly while withstanding their season long responsibilities of leading their respective sides of the football. Also taken out of consideration is Georgia's young offensive line that, tackle to tackle, will need to play its best game of the year when the nation's No. 1 defense comes bearing down on Saturday. The offensive line will no doubt have its hands full on Saturday, but hopefully its not Crimson jerseys their hands are full of for the sake of avoiding flags and keeping the Bulldog Nation's hopes of a national title alive. This top three list is instead the individual playmakers whose numbers will be called upon to make a game-changing play that could lift the Bulldogs to victory.
LB Alec Ogletree After sitting the first four games of the season due to an off-season suspension, Ogletree has accumulated 87 total tackles and proven to have one of the best noses for the football in not just the conference but the country. His incredible combination of size and speed allows him to patrol the field sideline to sideline, and his physical presence makes him a factor on any play. Ogletree has been refining his game each week, and his quick, downhill tackling creates momentum and force offenses into longer third downs. He could be the most important player on the field Saturday when it comes to winning third downs, and he is at the forefront of a fast and aggressive Georgia defense.
WR Malcolm Mitchell This sensational sophomore made the biggest play of Georgia's season in Jacksonville when he caught a six-yard pass and shook Gator defender Loucheiz Purifoy to turn it into the game-winning 45-yard touchdown over their SEC East rivals, ranked No. 2 at the time. This same dynamism will be needed against the Tide defense that, like Florida, boasts an outstanding secondary. Mitchell had a painful drop in last year's SEC championship game, but clearly he has proven to be a big play guy capable of making something happen any time he gets the ball in his hands. Along side Tavares King, Mitchell will have to be a reliable target and continue making explosive plays.
K Marshall Morgan The Crimson Tide defense allows just 9.3 points per game. Alabama is especially difficult to score against in the red zone and although Georgia has found great success in that area of the field this year, getting points on the board with field goals will play a role in any close game and especially when facing the Tide defense. Morgan is a true freshman and could see one of his busiest days on the grandest of stages. Morgan has gone 8-for-12 this year on field goals and has hit two of his three chances from over 50 yards. Clutch kicking from Morgan is going to be huge for the Bulldogs if they are to crown themselves champions this weekend.