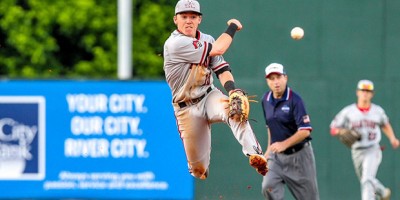 Allatoona Baseball Twitter
The remaining games in the 2018 GHSA Baseball season have been moved to State Mutual Stadium in Rome and Parkview High School for the Class AAAAAAA finals in reaction to the weather that has threatened the playoff finals. Cartersville will face Jefferson in the Class AAAA Game 3 at 5 p.m. on Wednesday followed by the Allatoona vs. Pope Game 3 at 7:30 p.m. Mill Creek and Parkview will take the field at 3 p.m. on Thursday to begin their series, and at 7 p.m., Lovett and Westminster will battle it out for the Class AAA title after the teams split the first two games in Macon on Monday. See the schedule below.
At State Mutual Stadium (Rome)
(Note: Tickets purchased in advance for games at UGA or Mercer will be honored in Rome and at Parkview)
Class 4A – Cartersville 4,9 vs. Jefferson 5,3 (split)
May 23 – Class 4A "if" game - 5:00 p.m.
Class 6A – Allatoona 11,4 vs. Pope 9,8 (split)
May 23 – Class 6A "if" game - 7:30 p.m.
Class 3A – Westminster 6,6 vs. Lovett 2,7 (split)
May 24 - Class 3A "if" game - 7:00 p.m.
At Parkview High School
May 24 - Class 7A – Mill Creek vs. Parkview, doubleheader beginning at 3:00 p.m.
May 25 – Class 7A "if" game – 1 p.m.
Previous Results:
Class 1A Private – Tattnall Square 11,5 over Prince Avenue 0,2
Class 1A Public – Gordon Lee 10,7 over Telfair County 0,1
Class 2A – Benedictine 6,3 over Berrien 3,0
Class 5A – Loganville 13,3 over Buford 3,2