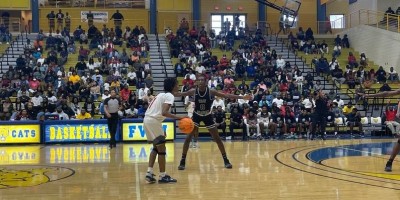 The GHSA has semifinals at three locations around the state on Friday and Saturday.
Here's a look at the AJC's coverage from each site.
Class 7A: Semifinal coverage from Georgia State
Class 6A: Semifinal coverage from West Georgia
Class 2A: Semifinal coverage from Georgia College
Class 4A: Semifinal coverage from Fort Valley State
Girls: Griffin 59, Hardaway 54
Griffin (26-4) had lost in five semifinals prior to Wednesday's 59-54 win over Hardaway (24-5) and advanced to the championship for the first time in program history.
"They are very gritty. And these girls have experienced a lot of heart ache over the years," said Griffin head coach Roy Johnson. "So they don't want to go home and they especially don't want to go home knowing they did not give a complete effort and fortunately we have one more opportunity to get it done."
Hardaway was also looking to make history and compete for its first state championship next week in Macon, but was unable to hold off the Bears' in the fourth quarter. The Hawks trailed Griffin 27-25 at the half and used a 19-14 advantage in the third quarter to build a 44-41 lead.
"We already knew that they had really great guards," said Johnson. "That's a very good team over there at Hardaway. They are athletic and they play really well together. They are definitely going to be a team I'm going to have to worry about for the next couple of years. We knew we were going to have to come in and be scrappy and play hard and we did a good job at that. Hopefully the girls decided today that they didn't want to go home."
Trailing 44-41, Griffin opened the fourth quarter on a 9-0 run to take a 50-44 lead before closing out the victory.
"Zy Thompson came up big for us," said Johnson. "She had three fouls in the third quarter and so I didn't want her to be in foul trouble in the fourth. When she came back the fourth, she had a couple steals and made some big free throws. That helped get Aaliyah Durham get going also. And that is our senior leadership. That is what they do."
Thompson finished with 15 points and Durham led with 15 points in the second half with a game-high 26 points. Bears teammate Leah Turner also reached double figures (11) and scored eight points in the second half. Hardaway was led by Mikayla Johnson (23), Akilah Shelton (8), Adazha Burrell (8) and Jenaiya Hardy (8).
"We have a chance at a championship now and that is really all we can ask for," said Johnson. "We just want to go in there and execute the game plan and hopefully that will produce the result we want."
Boys: Fayette County 73, Benedictine 67
Fayette County advanced to the state finals for the second time in the last three seasons and will take on Pace Academy for a chance to win its first-ever state title. The Tigers' fell 54-53 to Baldwin in the 2021 Class 4A Finals and are making their return to Macon with a fresh blend newcomers and seniors that have made deep playoff runs before.
Fayette County won the opening tipoff and two passes later, sophomore Keith Gillespie had the Tigers up 3-0 with a corner three-pointer. Gillespie ended up connecting on a trio of three-pointers in the first quarter and helped the Tigers' build an 18-16 lead.
"Some toughness. We built a lead and they came back and made a run like I told the guys they were going to do. They were running five in and five out and we got in a little rhythm."
"Keith is our shooter,' said Fayette County head coach Andre Flynn. "We started three sophomores, including Keith, so they've never been here before, but that is what Keith does. He's the one that tries to bust the game open for us."
Fayette County dominated the second quarter 23-10 to go up 41-26 at the half and that scoring burst was fueled by senior RJ Kennedy—who sparked a 9-0 run in the quarter.
"He's our leader," said Flynn. He's the guy that makes us go. He's been in these games before and was in the finals in 2021."
Fayette County pushed its lead to 54-33 late in the third quarter and took a 58-41 lead into the final frame following a Sean Van Dorn bucket before the buzzer. Benedictine was able to surge back in the final minutes and that run was fueled by a highlight reel dunk by ZaDon Bryant over Kennedy that cut the deficit to 64-49 with 3:50 left. Benedictine came within five points (72-67), but Robert Hurst added a free throw and the clock expired.
Kenendy led Fayette County with 21 points and Van Dorn finished with 15. Caleb Jones finished with a game-high 31 points to lead the Cadets and Stephon Frazier finished with 15.
Girls: Baldwin 58, Holy Innocents' 45
Holy Innocents' 4-2 lead three minutes into the first quarter was the last time the Golden Bears would lead as Baldwin's star power soon took over and ran away with the victory to advance to the finals where the Braves will take on Region 2 rival Griffin. Baldwin closed out the first quarter on a 14-5 run and a no-look pass from Jasmine Williams to a wide open Kassidy Neal under the basket helped push the lead to 20-9 early in the second quarter.
"We weren't going to change anything said Baldwin head coach Kizzy Walker. "We were going to come out and play fast and play our style of basketball."
Neal led the Braves with 16 points in the first half as they took a 28-21 lead. She finished the game with a team-high 23 points and teammate Madison Ruff caught fire in the third quarter with 13 of her 17 points coming in the frame.
Holy Innocents' struggled to score outside of a 25-point performance from Olivia Hutcheson, 10 points from Zaynah Preston and a seven-point night from Halee Swain. Reese Newman's first quarter 3-pointer were the only points provided outside of Hutcheson, Preston and Swain.
Baldwin extended its lead to 44-33 heading into the fourth quarter and Zy'Keria Paschal stepped up with six of her eight points coming in the final frame.
"This has been a tough year," said Walker. "We started off the year so slow, but the girls have focused and improved a ton. We have a chance to win our first state title since 1988."
Baldwin started the season 0-4 and were 5-7 before compiling an 18-1 record ever since. The Braves' only loss in this stretch was to Griffin (51-48) in the Region 2 championship game on Feb. 17. Baldwin defeated Griffin 62-45 and is 1-2 against the Bears heading into the championship.
Boys: Pace Academy 57, Westover 49
No. 2 seed Pace Academy (24-7) took a 34-31 lead into the fourth quarter and held top-seeded Westover (22-8)  with outstanding shooting from the foul line. The Knights were 24-of-30 from the free throw line throughout the game and went 15-of-19 in the fourth quarter from the charity stripe.
"We did not play our best today, but the free throws were obviously huge," said Pace Academy head coach Sharman White. "Kyle Green and Eric Chatfield hit big ones and we are excited to come away with the victory against a very tough Westover team."
Green hit 8-of-10 free throws in the fourth quarter and fueled his team-high 16 points with 14-of-16 shooting from the foul line. Chatfield finished with 13 points and was a perfect 4-of-4 from the line—giving Pace Academy a 55-46 lead with just 24.5 seconds left in the game. Senior Kendall Evans added 10 points and set the tone defensively. Evans blocked Westover's three-point attempt with 55.8 left and LJ Moore—who finished with eight points—went to the foul line to extend the lead on the ensuing possession.
Westover's Kemari Leverette led the Patriots with a team-high 16 points and freshman Jalen Holmes reached double-figures with 14 points. Anthony Milton scored all five of his points in the second quarter and Antonio Felder scored all eight of his points in the second half
Pace Academy sits one victory away from the program's fifth all-time state championship and what would be the program's third title in the last four seasons.
Class A Division II: Semifinal coverage from Valdosta State
Boys: Charlton County 50, Greenforest 49
A game-winning 3-point shot from Jarvis Wright as time expired completed Charlton County's upset of Greenforest in the Class A Division II semifinals.
The game was tied at 15 after the first quarter but Charlton took a 27-24 lead at the half. Greenforest's 14-7 run in the third quarter gave the Eagles a 38-34 lead entering the fourth quarter.
Wright, a 6-foot-2 sophomore shooting guard, entered the semifinals averaging a team-leading 20 points per game and finished with 14 points against Greenforest. Jamari Hamilton scored 16 points to lead the Indians ahead of Elyiss Williams, who scored 11 points. Isaiah Lloyd scored 12 points, DK Manyiel Dut added 11 points and Gai Choi scored 10 points.
Charlton (29-2) beat Early County 66-32, Telfair County 79-42, Hancock Central 68-45 and Greenforest to earn the program's first-ever championship berth.
Boys: Wilkinson County 85, Macon County 63
Wilkinson County has a storied basketball history, winning 10 state championships from 1999 to 2016 and the bid for the program's 11th championship is alive after a 85-63 victory over Macon County in the Class A Division II semifinals.
Wilkinson County led 22-15 after the first quarter and 36-33 at the half following an 18-14 run from Macon County in the second quarter. The Warriors took control of the game with a 26-14 effort in third quarter and a 23-16 effort in the fourth quarter. Justin Stanley scored 25 points for Wilkinson County.
Wilkinson County beat Greenville 85-37, Fulton Leadership 79-52, Portal 46-42 in the quarterfinals. Macon County was on path for the program's first-ever championship.
Girls: Lake Oconee Academy 34, Mount Zion-Carroll 14
Defending-champion Lake Oconee Academy advanced to the state title game while having little trouble in the Titans' 34-14 victory over Mount Zion-Carroll in the opening game of the day of the Class A Division I semifinals at Valdosta State.
Senior point guard Jada Williams scored 18 of Lake Oconee Academy's 34 points in a game where the Titans led 21-3 at the half.
Lake Oconee entered the tournament as the Region 8 champion and beat Bowdon 76-32, Schley County 63-34, Turner County 58-23 and Mount Zion-Carroll to earn the title berth.
Girls: Clinch County 63, Taylor County 55
Clinch County's bid for the program's fourth first state championship, but first since 1993, is still alive after moving past Taylor County 63-55 in the penultimate game of the Division II semifinals.
Clinch trailed 10-4 early in the first quarter but put together a run to lead 18-12 entering the second quarter. Taylor County cut into the lead but trailed 26-24 at the half. Clinch County took a 43-37 lead into the fourth quarter after a 17-13 run in the third quarter.
Ameyion Grady scored 30 points, with 25 coming in the second half, to lead the Panthers.