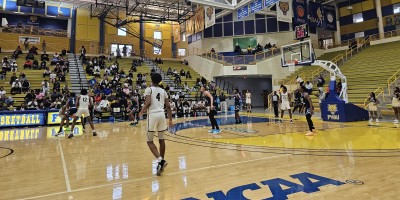 The GHSA has semifinals at three locations around the state on Friday and Saturday.
Here's a look at the AJC's coverage from each site with our own Seth Ellerbee coming out of his cave in Macon to cover the 3A semifinals at Fort Valley State featured below the links.
Class 5A coverage from West Georgia
Class A Division I coverage from Georgia College in Milledgeville
Class 3A Semifinal coverage from Fort Valley:
Girls: Hebron Christian 65, Wesleyan 58
Hebron head coach Jan Azar waggled her finger at the referee before the beginning the fourth quarter of the 3A semifinals as her top-ranked and undefeated Hebron team held a 46-43 lead over arch rival Wesleyan, which Azar coached to 13 state championships from 2002 to back-to-back titles in 2017 and 2018.
Whether she was disgruntled with something or just casting a mystical basketball spell on the court has yet to be determined but, judging by the effort by Hebron in the fourth quarter to advance past Wesleyan 65-58, it quite possibly could have been the latter.
"I have been at Hebron for four seasons and this is my place," said Azar, sitting in a chair in an open space outside the gym at Fort Valley State, as rain trickled down the nearby windows, asserting that her ties with Wesleyan mean little when competition takes center stage.
"Wesleyan was a great place for me when I was there. In coaching basketball, you want your girls to give back, even after school and I think this is an example of that happening."
And as a steward of the game, Azar  was happy to sit and, for a moment, reminisce about her impact on the game that 'd just taken place. Not only her influence of the Hebron girls on the court, but the legacies of two programs she helped nurture.
One, a legendary basketball power which Azar left with a packed trophy case. The other, an up-and-coming powerhouse now advancing to its third state title in as many years. Four former players of Azar's were on the coaching staffs of Hebron and Wesleyan in the 3A semis.
"There were three on the Wesleyan staff that played for me and one on my staff, Mikayla Coombs, at Hebron who played for me," Azar said. "But I am getting old. That game aged me 10 years."
And despite not having coached any of the Wesleyan players and not really knowing many of them, she knows the program and the coaches. Any self-respecting coach would use that to their advantage.
Hebron trailed 11-6 after the first quarter and put together a 20-15 run in the second quarter to enter the half tied at 26. Hebron took advantage in the third quarter, outscoring Wesleyan 20-15, with a majoring of its offensive production in the quarter coming from sophomore Audrey Beckham.
Beckham, who finished with 21 points to lead the Lions, scored 12 points in the third quarter to give Hebron a 46-41 lead entering the fourth quarter.
"Everyone focuses on Audrey or Amiya or Nikki, who had a huge 3-point shot in the fourth quarter," Azar said. "But that freed up areas for players to make shots and Kayla Lane stepped up. She has been at Hebron for a long time. She played middle school ball there before I got here and her 3-point shots were the difference in the game."
Lane, a 5-foot-10 junior wing, scored 14 points – with four 3-pointers – to help keep Wesleyan at bay. Amiya Porter, a junior guard, finished with eight points.
Crucial defensive plays added to Wesleyan's struggles and noteworthy defensive efforts sometimes are not lauded.
"I think the biggest part of the game that is not going to show up on the stats sheet was the defense by Anya Moodie and Camryn Register on Chit Chat Wright, because she is a heck of a player."
Junior guard Chazadi Wright, known as Chit Chat, led Wesleyan with 31 points ahead of Audrey Ekou-Bla, who scored eight points. The victory moved Hebron to 31-0 and Wesleyan ended its season at 27-4.
The victory provides Hebron a shot at a year-long redemption. The Lions lost in the state championship game last season to Mount Paran 54-49 and haven't dropped a contest since.
"Our girls are hungry," she said. "They want to go back and finish that from last year. But we are going to enjoy this now. We are going to enjoy the weekend. We will get back to the drawing board after I check out Lumpkin County/Calvary Day."
Boys: Cedar Grove 61, Douglass-Atlanta 45
In the fourth meeting of the season between Region 5 rivals Cedar Grove and Douglass, the Saints utilized everything it had learned in the prior three meetings to settle in, take control and earn a championship berth after the 61-45 victory at Fort Valley State in the 3A semifinals.
"We knew we had to play great defense," said Cedar Grove sophomore E.J. Colson, who led the Saints to a state championship runner-up appearance in football against Sandy Creek in December.
Cedar Grove went 4-0 against Douglass this season – a 77-76 victory on Jan. 17, a 62-61 overtime victory on Feb. 7 and a 69-64 victory on Feb. 14. – before the semifinal win.
"They are a great shooting team and we knew we just had to shut that down and execute on defense," Colson said. "My guys were talking and once we got settled down, we felt good."
But settling down took some time after the Saints weathered a delay in their departure from Ellenwood, creating a rushed feeling to the day.
"If I could tell you the things that happened today," laughed head coach Kendrick Callier. "We were delayed on departure and had to eat on the way and felt rushed and didn't really settle in until the second half. We had to eat on the bus after picking up our food. It was a rush."
Four players scored in double-figures for Cedar Grove led by Jaylen Adside, who finished with 16 points. Colson scored 13 points, Darius Reynolds finished with 12 points and Emanual Green added 10 points.
Cedar Grove trailed 17-9 after the first quarter and 26-24 at the half before taking and maintaining control of the game. The Saints outscored the Astros 23-10 in the third quarter to lead 46-36 entering the fourth quarter while controlling the momentum and pace.
"We went into halftime and I told our guys to settle down," said coach Callier. "We already knew their plans. They are a hard-playing team and I told them to take care of the ball, sit back and play disciplined defense and let them give it to you."
Josh Mickell scored 11 points and Eddie Gamble and Santel Durham each scored 10 points to lead Douglass.
Boys: Sandy Creek 62, Cross Creek 44
Sandy Creek had little trouble keeping two-time defending champion Cross Creek at bay during its 62-44 semifinal victory in the nightcap game at Fort Valley State and a team-effort was the key to success.
"We just had to come in every game we walked into like we were playing Cross Creek," said Sandy Creek's 6-foot-8 junior forward Micah Smith. "We could not take anything lightly through the whole season and we were playing games and practicing like it was a final four game all season."
The Patriots, which will play Cedar Grove in the championship game at the Macon Centerplex on March 10 at 3 p.m., held a 16-7 lead after the first quarter and a 34-15 lead at halftime in the victory.
"When we got to the semifinals, it was nothing new," Smith said. "We go hard all the time."
Smith scored 16 points to lead a trio of Patriots players in double-figures. Junior PJ Green finished with 13 points and senior Vic Newsome scored 10 points in the victory.
Sandy Creek beat Ringgold 100-57, Wesleyan 68-22 and No. 2 Johnson-Savannah 56-50 before facing Cross Creek. The success is attributed to the close team chemistry that each member of the Patriots has leaned on throughout the season.
"Our depth is fueled by our love for each other," Smith said. "We are all blood. That's what makes this work, the love we got."
The Razorbacks trying for the third-straight and third-overall championship after it beat Sandy Creek 57-49 in the 3A final in 2020-21 and Windsor Forest 60-53 last season. Against Sandy Creek in the semis, Antoine Lorick scored 15 points to lead.
Girls: Lumpkin County 78, Calvary Day 31 
Lumpkin County's bid for a repeat state championship is alive and well after the Indians' dominating victory over Calvary Day in the Class 3A semifinals.
Members of the Indian's "Lethal Weapon 4″ each scored in double-figures to lead Lumpkin. Averie Jones, a 5-foot-6 junior point guard, scored 21 points; Mary Mullinax, a senior shooting guard, scored 20 points; Lexi Pierce scored 18 points, and Kate Jackson finished with 12.
The team has been playing together since they were kids, and coach David Dowse said that is paramount to the family feel of the program.
"These girls have been together so long," Dowse said. " When you have a senior come on the floor who doesn't play that much and she scores two baskets and our bench erupts when we are up 50 points, that's family."
The Indians led 46-11 at the half.
"We want to see this through and be able to defend what we won last year," he said. "We know the team we will face (in Hebron) and most people in the state probably have them penciled in. But they are going to get the best of us."
Lumpkin County beat Greater Atlanta Christian 51-47 in last year's 3A championship game to earn the team's first state championship.
Calvary Day senior Hannah Cail – a Georgia College-commit – scored 15 points to lead the Cavaliers.