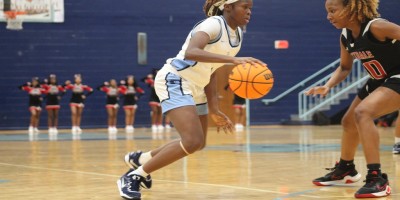 Photo Courtesy of Rosannette Kirby
The 2023 GHSA/Dr. Ralph Swearngin Basketball State Championships will begin Wednesday at the Macon Coliseum, with 17 total games across four days of competition. On Wednesday, the Class A Division II and Class 4A finals will take place before the Class 2A and Class 5A finals, along with the Coed 3-Point Contest, occur on Thursday. Friday will feature the Class 3A and Class 6A finals, along with the Girls 3-Point Contest, and the championships will come to a close on Saturday with the Class A Division 1, Class 7A and AAASP finals, along with the Boys Slam Dunk finals.
All games will be televised live on the GPB Knowledge Channel, and streamed live on GPB Sports. The NFHS Network will broadcast each game, and you can watch each finals matchup by clicking here. You can also view this year's state championship program by clicking here.
Click the following links for the boys brackets and girls brackets to see each team's path to Macon. The GHSA will also provide live stats for each game.
See the game stories from each finals matchup below, and follow the links to the full game recaps on the AJC.
Class 7A
Boys: Wheeler 78, Cherokee 58
Five players scored in double-figures as Wheeler captured the program's ninth state title and third since 2020 in the Class 7A state championship game to close out the GHSA's weekend in Macon. The Wildcats were led by senior point guard Isaiah Collier's 22 points on 9-of-13 shooting. Arrinten Page scored 15 points and Junior Ricky McKenzie, senior Damion Mitchell Jr. and junior Ricky McKenzie each scored 11 points for Wheeler. Braylin Giddens led Cherokee in scoring with 17 points, Cameron Pope added 12 points, Tayden Owens scored 11 points and Dastin Hart finished with 10 points. Wheeler won its first state title in 1994 before winning in 2002, 2003, 2005, 2009, 2015, 2020, 2021 and this season. Cherokee was trying for the team's first championship.
Click here for the AJC's full game recap.
Girls: Brookwood 43, Norcross 39
Key free-throw shooting from senior point guard Diana Collins in the final minute of the game helped the Broncos keep defending-champion Norcross at arm's length while securing the program's first state championship. Collins finished with 21 points on 7-of-10 shooting from the field and 7-of-8 from the free throw line. As a team, Brookwood was 11-of-14 from the free-throw line compared to Norcross' 3-of-7.  Danielle Osho, a 66-foot-1 senior power forward, scored 10 points and senior Jade Weathersby finished with nine points. Norcross was led by senior Veronaye Charlton, who scored 17 points and Jania Akins who finished with 13 points.
Click here for the AJC's full game recap.
Class 6A
Boys: Alexander 64, Lee County 42
Alexander outscored Lee County 38-18 in the second half to run away with the program's first-ever state title. Lee County took a 14-11 lead after the first quarter and the Cougars were able to grab a narrow 26-24 lead at the half. Lee County tied the game 26-26 to start the third quarter and 33-33 with 4:19 left in the quarter before Alexander sparked a 13-0 run that gave the Cougars a 46-33 lead. Braeden Lue led Alexander with a game-high 26 points to go with his 12 rebounds. Teammates Noah Melson (15) and Jay Qua Nelson (11) also notched double-figures and Gregor Dunson finished with nine points. Ousman Kromah was the lone Trojan to score in double-figures and finished with 15 points. Caden King finished with eight points and a team-high 10 rebounds.
Click here for the AJC's full game recap
Girls: River Ridge 68, Lovejoy 50
River Ridge closed out its first-ever state championship with a 10-0 run after Lovejoy cut the deficit to 58-50 with six minutes left. The Knights (27-5) picked up their 17th-straight victory and finished the year without a loss within the state of Georgia. River Ridge's last in-state loss was to Lovejoy (71-59) in the Elite 8 of last year's playoffs and the defending state champion Wildcats' went on to win the title. Lovejoy's Bryanna Preston picked up her fourth foul in the second quarter and fouled out in the second half with 13 points. Teammate La'Nya Foster led Lovejoy with 16 points and 12 rebounds. River Ridge led 16-15 at the end of the first quarter and pushed the lead to 36-29 at the half. Mataya Gayle surpassed 2,000 career points with a three-pointer in the second quarter and finished with a game-high 25 points to go with a team-high five assists and nine rebounds. Kay Cleaveland added 15 points and Sophia Pearl also reached double-figures with 11 points.
Click here for the AJC's full game recap
Class 5A
Boys: Kell 61, Eagle's Landing 53
Eagle's Landing might have won the third quarter battle, but Kell won the war to capture the program's first-ever state championship while completing the sweep of Class 5A on the boys and girls side of the sport. Kell endured a 24-10 run from Eagle's Landing in the third quarter and trailed by six with one minute left in the quarter before surmounting a game-winning 18-6 effort through the fourth quarter. CJ Brown scored 22 points to lead the Longhorns with Cannon Richards adding 11 points. Eagle's Landing, which was 29-0 entering the game, was led in scoring by David Thomas (23 points) and Kenneth Brayboy (12 points).
Click here for the AJC's full game recap.
Girls: Kell 57, Warner Robins 36
Senior point guard Crystal Henderson was 11-of-23 shooting from the floor and 6-of-7 from the free throw line while finishing with 29 points to lead Kell to its first basketball title. The Longhorns led 24-13 at the half and took control of the game through a 20-10 run in the third quarter. Senior power forward Jamiah Gregory scored 15 points and Makayah Harris finished with eight points. Warner Robins was trying for the team's second state championship and first since 1965. Tori Davis and Jada Morgan each scored eight points to lead the Demons.
Click here for the AJC's full game recap.
Class 4A
Boys: Pace Academy 66, Fayette County 54
Pace Academy won its first state title since 2021 and fifth overall after a 66-54 victory over Fayette County. The Knights led 39-32 at halftime, and used an 8-0 run in the third quarter to push their advantage to double-digits and led throughout the rest of the game. Pace Academy dominated on the glass, out-rebounding Fayette County 41-19. Knights junior small forward LJ Moore led all scorers with a game-high 23 points and added seven rebounds. 4-star guard Kyle Green scored 19 points and added five rebounds for the Knights. Robert Hurst led Fayette County with 12 points. The victory gave Pace Academy head coach Sharman White his 499th career win and 10th championship as a head coach.
Click here for the AJC's full game recap.
Girls: Griffin 51, Baldwin 47
Griffin and first-year head coach Roy Johnson won its first state title in program history after a 51-47 victory against Baldwin. The Lady Braves held a four-point lead with 1:10 left in the game, but Griffin closed the game on an 8-0 run with clutch three-pointers from Zamiyah Hosley and Leah Turner to give them the lead. Turner was scoreless in the first half but ended the game with two clutch free throws and a 17-point second half. Aaliyah Duranham added 20 points for the Bears. Baldwin led throughout most of the game but the 22 turnovers and ten missed free throws would prove the difference in the game. Janaye Walker and Kassidy Neal combined for 33 points, with Walker posting a 21-point, 19-rebound double-double.
Click here for the AJC's full game recap.
Class 3A
Boys: Sandy Creek 66, Cedar Grove 38
Sandy Creek defeated Region 5 rival Cedar Grove for the fourth time this season to sweep the Saints and capture the program's first-ever state title. The Fighting Patriots', who also defeated Cedar Grove in this year's football state championship game, trailed 14-13 at the end of the first quarter. Sandy Creek proceeded to outscore Cedar Grove 18-0 in the second quarter to take a 31-14 lead into the half and then poured on a 35-24 scoring advantage in the second half. Cedar Grove held a brief 14-10 lead with 27 seconds left in the first quarter before Sandy Creek's PJ Green nailed a three-pointer to cut the deficit to 14-13 at the buzzer. Green's three-pointer to end the first quarter sparked a 21-0 run that went into the third quarter before Cedar Grove scored to cut the deficit to 31-16. Sandy Creek forced 20 turnovers and had 32 of its 66 points come in the paint. Sandy Creek's Micah Smith (17), PJ Green (16), Vic Newson (14) and Amari Brown (10) all finished in double-figure scoring. Emmanuel Green led Cedar Grove with a team-high 11 points, Darius Reynolds finished with 10 and Jeremy Hardaway had nine points.
Click here for the AJC's full game recap
Girls: Hebron Christian 68, Lumpkin County 36
Hebron Christian completed a perfect 32-0 season and won the program's second all-time state title after winning its first in 2021. Golden Lions' head coach Jan Azar won her 15th all-time state championship in the process after winning 13 with Wesleyan before starting Hebron's program and leading them to a pair of titles. The Lions opened up a 15-7 lead in the first quarter and pulled ahead 30-19 at the half. Aubrey Beckham led the way with 10 points and and five other Hebron players scored in the first half. Lumpkin County struggled shooting the ball as Averie Jones scored 14 of the team's 19 points in the first half. Butler sparked Hebron Christian's strong second half—where she scored 13 and matched Beckham with a team-high 16 to go with her 13 rebounds. Aniya Porter finished with 12 points and her 3-pointer in the fourth quarter grew Hebron Christian's lead to 50-27 with 7:00 left. Hebron ultimately outscored Lumpkin County 38-17 in the second half.
Click here for the AJC's full game recap.
Class 2A
Boys: Westside-Augusta 89, Providence Christian 81 OT
Defending champion Westside-Augusta needed every bit of regulation and a few minutes more to find an answer for Providence Christian's outside shooting and successfully defend last year's championship. And when it needed to hit its free throws, Westside did while outscoring Providence Christian 18-10 in the overtime period to secure Westside's fifth title. The Patriots previously won state championships in 1941, 1967, 1995 and last season. The teams ended regulation tied at 71 and Providence went up on a 3-pointer from Thomas Malcolm, who finished with 12 points. Westside's AuMauri Tillman, who finished with 36 points, responded on a short jump shot. Malcolm's layup with 2:38 left in overtime put Providence up 76-73. Westside's Khalon Hudson, Jalexis Ewing and Tillman scored on a run that put Westside up 79-76. Providence took the 79-77 lead on a 3-pointer from junior Sam Thacker, but that was the last time the Storm would lead. Westside scored on a layup and two free-throws from Demarco Middleton and a free-throw from Ewing to lead 84-80 before Providence was forced to foul. Providence was trying for the program's first. Hudson helped Westside, scoring 21 points, Ewing added 18 points and Middleton scored 11 points. Thacker led Providence with 22 points, Devin McClain finished with 21 points, Kamron Carryl had 16 points.
Click here for the AJC's full game recap.
Girls: Mt. Paran 67, Banks County 44
After outscoring the Leopards 18-8 in the first quarter, Mt. Paran never took its foot of the gas and repeated as state champion after moving up a classification to 2A this past season with a 67-44 victory over Banks County. The Lady Eagles led 31-22 at halftime and used an 11-0 run in the third quarter to go up by double-digits, never surrendering the lead. Mt. Paran out-rebounded Banks County 32-21 and shot 59% on the field in the title game. Ciara Alexander scored a game-high 26 points on an efficient 75% shooting from the field and added eight rebounds for the Eagles. Despite being in foul trouble throughout the game, Jessica Fields finished with 23 points and nine rebounds. Ryleigh Murphy was the leading scorer for Banks County with 14 points.
Click here for the AJC's full game recap.
Class A Division I
Boys: King's Ridge 68, Mount Pisgah 58
After entering the tournament as the No. 4 seed from Region 6 and facing a daunting road-test throughout the bracket, King's Ridge figured it'd win the whole thing. And in doing so, the Tigers captured the program's first-ever championship in the Class A Division I finale over 2021 A Private champion Mount Pisgah. King's Ridge relied heavily on 6-foot-6 senior forward Micah Hoover and 6-foot senior guard Zak Thomas. Hoover finished with 25 points and Thomas scored 24 points to make up 72 percent of King's Ridge's offensive production. Jaydon Cole scored seven points and Isaac Martin and Jackson Thomas each scored six points. Three players scored in double-figures to lead Mount Pisgah – Micah Tucker (19 points), Cedric Haynes (11) and Tyson Pittman (10). Grant Randall and Max Tucker each scored seven points for the Patriots.
Click here for the AJC's full game recap.
Girls: St. Francis 76, Galloway 74 OT
St. Francis won its first three state championships in three-of-four seasons from 2013-2016 in Class A Private and after outlasting Galloway 76-74 in overtime of the Class A Division I state championship game, the Knights are champions again. After entering overtime tied at 66, St. Francis junior power forward Sa'Mya Wyatt converted four consecutive free throws, including two with eight seconds left in the game, to overtake Galloway and secure the victory. Wyatt led the Knights in scoring with 27 points and Nya Young added 21 points. Galloway, which was trying for the program's first-ever state championship, was led by Tiann Thompson (23 points), Kyla Cain (15), Taryn Thompson (14) and Dee Stokes (12). St. Francis head coach Aisha Kennedy coached the Knights to each of the program's four titles in 2013, 2015, 2016 and this season.
Click here for the AJC's full game recap
Class A Division II
Boys: Wilkinson County 40, Charlton County 36
Wilkinson County won its 11th title in program history and now has an impressive 11-0 championship record after its 40-36 win against Charlton County. It was a defensive struggle for both teams as they both shot under 30%. The Warriors trailed the entire game, until Kwaveon Hill hit a baseline jumper with 1:30 left in the game to give Wilkinson County the lead. Charlton County star power forward Elyiss Williams fouled out with just 44 seconds left in the game, and posted a 10-point and 20-rebound double-double. Shooting guard Jarvis Wright, who averages 20.2 points per game, had an open three with less than 30 seconds left to tie the game, but couldn't convert. Wilkinson County's Hill would be fouled, nailing both free throws and sealing the game and the championship for the Warriors. Hill finished with a game-high 12 points and was named Player of the Game.
Click here for the AJC's full game recap.
Girls: Clinch County 45, Lake Oconee Academy 42
Clinch County won its first state title since 1993 with a 45-42 victory over Lake Oconee Academy in the first game of the 2023 GHSA Basketball State Championships. After heading out of halftime tied 20-20, the Titans went on a 10-2 run in the third quarter and held a six point lead heading into the fourth, but the Panthers used a run of their own to get back in the game. Clinch County went on a scoring surge in the fourth, outscoring Lake Oconee 15-6. Holding a one point lead with less than a minute left in the game, A'Miyeon Grady drove to the lane and hit a jumper to give the Panthers a three point lead on what would be the final bucket of the game. Grady finished with 11 points in the title game. Junior Tyana Dorsey was also a huge factor for Clinch County, scoring 19 points along with 20 rebounds. Jada Williams led the Titans with 16 points and Hannash Heinen added 10.
Click here for the AJC's full game recap.
AAASP
AASP/GHSA Wheelchair: Houston County 49, DeKalb 30
Coed 3-Point Contest
Flowery Branch duo — Bella Brick and Landon Mealor — win contest.
Girls 3-Point Contest
Rabun County's Ellie Southards wins 3-point contest
Boys Slam Dunk Finals
McEachern's Jalen Hilliard wins slam-dunk contest