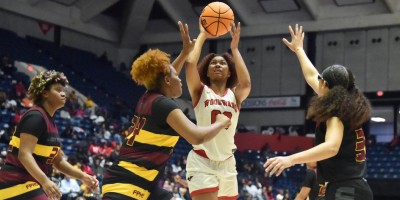 The first round of the GHSA basketball tournament is split between Tuesday and Wednesday nights. The AJC is covering the Buford girls game in the first round and you can follow the link to that game story, the boys and girls brackets or see the first round recaps below.
Class 7A
Boys
Peachtree Ridge 70, Mountain View 45
The Peachtree Ridge boys will be joining the girls team in the second round following a comfortable 70-45 victory over Mountain View, avenging a 73-71 regular-season loss to the Bears back in December. Junior Byron Martin (20 points) and seniors Khush Chauhan (13) and Jameel Peters (10) finished with double-digit scoring in the win — the Lions' first in the state tournament in four years. For Mountain View, junior guards Donte Golden and Bronson Blair scored 14 points apiece.
Girls
Archer 45, Hillgrove 36
The Tigers got their 20th win of the season in the opening round of the playoffs with a 45-36 victory over Hillgrove. The visiting Hawks briefly knotted the game at 21-21 to start the second half before Archer seized control, building a 10-point lead (39-29) by the beginning of the fourth en route to the win. The Tigers will look to avoid their fourth second-round exit in five years when they face Lowndes later this week.
Lowndes 59, Westlake 29
One-seed Lowndes got its fifth win in a row to advance to the second round for the second consecutive season. The Vikings dominated throughout their first-round matchup with visiting Westlake and held a 49-23 edge with 4:57 remaining when a light malfunction in the gym led to a delay.
North Paulding 47, Grayson 46
Two-seed North Paulding built a 28-22 lead over visiting Grayson before the break, then held on through a second-half Rams rally to move on to the Sweet Sixteen. Junior combo guard Jayda Jackson hit the game-winning free throw to secure the victory. The Wolfpack will face the winner of Wednesday's matchup between Richmond Hill and Pebblebrook.
Campbell 67, Colquitt County 35
Two-seeded Campbell out of Region 2 put together an emphatic opening–round win against Colquitt County, outscoring the visiting Packers 23-8 in the third quarter alone to set up a second-round showdown with the winner of South Gwinnett and McEachern. Tai Harvey finished with 18 points, 10 rebounds and two steals; Brooke Suttle contributed 10 points, 11 rebounds and five assists; and Lila Marble added 11 points and four steals.
Central Gwinnett 53, North Gwinnett 44
Region 8 Coach of the Year Courtney Harris led the two-seeded Black Knights to a big opening-round victory over visiting North Gwinnett. Central Gwinnett held a narrow 24-20 edge at halftime, then steadily grew the lead to nine points (38-29) by the start of the fourth quarter. The Black Knights will be hosted by one-seed Walton later this week.
Walton 65, Denmark 60
The top-seeded Raiders are moving on to the Sweet 16, despite a school record-setting 47 points by Denmark's Emma Hempker. The junior SG finished with seven threes and went 10-of-10 from the line in the loss. For Walton, 6'3 center Lexy Harris and sophomore Graycen Ehlen each had 15 points.
Brookwood 75, Harrison 36
Top-seeded Brookwood maintained control throughout its opening-round matchup with Harrison, leading 17-4 after the first quarter, 37-17 at the break and 60-27 heading into the fourth. A trio of Broncos finished in double digits, with Diana Collins leading all scorers with 27 points, Justyce McCoy scoring 17 and Kennedy Daniels adding 12. Brookwood will host the winner of Wednesday's game between Carrollton and Valdosta.
In other 7A girls games: Two-seeded Peachtree Ridge is advancing to the Sweet 16 following a 56-43 victory over Mill Creek. Hawks freshman Bella Ragone finished with 20 points and five rebounds in the loss. South Forsyth extended its win streak to 17 games with a 55-30 win over Wheeler. The top-seeded War Eagles got double-digit scoring from Jadyn Kniceley (16 points), Clara Morris (15) and Ava McGlockton (15).
Class 6A
Girls
Habersham Central 53, Lassiter 40
Habersham Central advanced to the second round after a 53-40 victory against Lassiter. Junior Kyia Barrett carried the scoring load, finishing the night with 26 points. The Raiders will be hosted by one-seed Langston Hughes later this week.
Woodward Academy 72, St. Pius X 33
Woodward Academy held a 41-16 lead at halftime and outscored St. Pius X 31-17 in the second half to advance to the second round of the tournament. The War Eagles have scored 70 points or more in 14 of their 29 games this season.
Sequoyah 65, Douglas County 50
Sequoyah upset Douglas County 65-50 and advanced to the second round, seizing momentum with a 23-point second quarter that gave the Chiefs a 31-22 lead at the half. They will face North Forsyth in the Sweet 16 later this week.
Veterans 62, Glynn Academy 27
Veterans cruised to a 35-point victory over Glynn Academy to advance to the Sweet 16. The Warhawks had a balanced attack on offense with 18 points from sophomore point guard Nariah Nelson and 10 points from junior guard Desteyn Seaton, and on defense, they held their opponents to under 30 points for the seventh time this season.
North Forsyth 67, Pope 57
Erin Whalen scored 14 points and grabbed 12 rebounds to lead North Forsyth past Pope. The Greyhounds cut into North Forsyth's double-digit halftime lead in the third quarter, holding the Raiders to just eight points in the frame to make it a one-possession game heading into the fourth. From there, top-seeded North Forsyth pulled away with a 20-point performance in the final quarter to advance to the next round.
River Ridge 70, Alexander 36
Senior guard Mataya Gayle led scoring for River Ridge with 19 points and four steals, and junior Allie Sweet finished with a double-double of 10 points and 10 rebounds. Sophia Pearl (11 points) and Kayla Cleveland (12 points) also contributed double-digit scoring for the Knights.
In other 6A girls games: Lovejoy rolled to a 43-point victory at home against Riverwood. No. 3 Rockdale County clinches another Sweet 16 berth after a 71-23 victory against Lakeside-DeKalb. No. 6 Hughes defeated Rome 55-36 to advance to the second round. No. 9 Tift County defeated Grovetown 55-38. Marist knocked out defending state champion Forest Park, which ended the season on a three-game losing streak. Lee County defeated South Effingham 44-30. Blessed Trinity rolled to a 67-36 victory against Shiloh to advance to the second round. Brunswick defeated Thomas County Central 71-36 and reached 70 points in a game for the eighth time this season. Woodstock advanced to the second round for the second year in a row after a 12-point victory against New Manchester.
Class 5A
Boys
Lithonia 58, Northside-Columbus 57
No. 3 seed Lithonia defeated No. 2 Northside-Columbus on the road thanks to a team-high 15 points from Caleb Taylor and 11 points from Cortez Vaughn. Taylor scored 10 points in the second quarter, including two three-pointers, to help give Lithonia a 33-29 halftime lead after the Bulldogs trailed 14-9 after the first quarter. Lithonia led 51-42 after the third quarter before the game tightened up again, but three late free-throw makes from Vaughn and two from Joshua Daniels helped the Bulldogs hold on. Kameron Hill of Northside led all scorers with 26 points. Lithonia will travel to No. 1 seed Eagle's Landing in the second round.
Chapel Hill 60, Chattahoochee 51
No. 1 seed Chapel Hill held off No. 4 seed Chattahoochee on the road as Oray Towns III scored a game-high 19 points for the Panthers. Khirus Doucet added 12 points for Chapel Hill, and Kelvin Hunter and C.J. Winters each scored 10 points. Aidan Temple led Chattahoochee with 18 points. In the second round, Chapel Hill will host the winner of Wednesday's Cass-Jefferson game.
Kell 97, Jackson-Atlanta 68
Jaylen Colon exploded for 28 points and was 8-of-12 on three-pointers for No. 1 seed Kell, which defeated Jackson-Atlanta at home. Colon added eight steals and four assists, and C.J. Brown scored 19 points to go with nine rebounds, eight assists and two steals for Kell. Peyton Marshall and Cannon Richards each scored 14 points for Kell, and Richards blocked seven shots. Aaron Smith contributed 13 points and shot 3-of-5 from three for the Longhorns, who in the second round will host the winner of Wednesday's Eastside-Calhoun game.
In other 5A boys games: No. 3 Tri-Cities defeated No. 2 Cambridge on the road 69-57. In the second round, the Bulldogs will meet the winner of Wednesday's game between Heritage-Conyers and Hiram. … No. 1 seed Eagle's Landing downed No. 4 seed Greenbrier 80-32 at home and improve to 26-1.
Girls
Arabia Mountain 65, McIntosh 39
Sierra Burns scored 26 points and had eight rebounds to lead host Arabia Mountain past McIntosh. Myori Pruitt scored 20 points for No. 2 seed Arabia Mountain, Malaya Jones scored 12 points and Angelina Billingsley had 11 rebounds. For No. 3 seed McIntosh, Kendall Davis led all scorers with 31 of her team's 39 points and had 12 rebounds. Arabia Mountain will host upset winner Jones County in the second round.
Midtown 52, Centennial 39
No. 2 seed Midtown won at home over No. 3 seed Centennial with three players scoring in double-figures, led by Briaiah Lewis with 18 points. Devin Bockman and Hailey Wortmann each scored 11 points for the Lady Knights, and Cate Barton contributed 11 points. Midtown will host Cartersville in the second round.
Harris County 51, Chamblee 33
No. 2 seed Harris County improved to 19-8 with a home win over No. 3 seed Chamblee. Allana Coulter led Harris County with 14 points, and Janiya Broome scored 13 points. Also for Harris County, Madalynn Cauley contributed eight points and Shamarri Smith scored seven points. Harris County will host Warner Robins in the second round.
Union Grove 66, Greenbrier 58
No. 3 seed Greenbrier held a 14-12 lead over No. 2 seed and host Union Grove after the first quarter, but Union Grove held a 34-31 lead at halftime and a 51-41 lead after the third quarter. Julia Baker led Union Grove with 19 points. Jordan Brooks scored 17 points for the Lady Wolverines, including seven made free throws in the fourth quarter to help seal the win, and Nadea Smith and Skylar Patten scored 12 and 11 points, respectively.
Dalton 51, Loganville 30
No. 3 seed Dalton led just 20-17 over No. 2 seed Loganville on the road but pulled away in the second half. Emma Hefner led the Lady Catamounts with 14 points to go with three rebounds and two steals. Also for Dalton, Grace Ridley scored eight points and had eight rebounds, and Kemara Washington and Jolie Wingfield each scored seven points. In the second round, Dalton will play the winner of Wednesday's Greater Atlanta Christian and Jackson-Atlanta matchup.
Other 5A girls games – Cambridge's all-time leading scorer, Jordynn Dudley, scored her 2,000th career point in her team's 69-52 home win over Banneker. No. 2 seed Cambridge will travel to No. 1 seed Calhoun, a 73-48 winner over Heritage-Conyers, in the second round. … No. 4 seed Jones County upset No. 1 seed Ware County 44-36 on the road. … Another No. 4 seed, Cartersville, won 53-44 at No. 1 seed Jefferson. … No. 2 seed Warner Robins defeated No. 3 seed Statesboro at home 50-42, pulling away over the course of the second half in a game that it trailed 23-22 at halftime and led 36-32 after the third quarter. … No. 1 seed Kell defeated Lithia Springs at home 69-23 after leading 35-12 at halftime. In the second round, Kell will host the winner of Wednesday's Hiram-Flowery Branch matchup.
Class 4A
Boys
Pace Academy 67, Miller Grove 28
Region 5 No. 2 seed Pace Academy's head coach Sharman White celebrated a statement win over his former team and saw Kendall Evans and MJ Madison lead the way with 13 points apiece.
Fayette County 98, New Hampstead 73
Top-seeded Fayette County caught fire and connected on 12 3-pointers to eliminate New Hampstead. The Phoenix were led by Rashawn Treull's game-high 36 points in the losing effort.
Girls
East Forsyth 76, Sonoraville 72
Host East Forsyth preserved its 43-34 halftime lead to advance to the second-round for the second-straight after its maiden season in 2021-22. The Broncos will have to visit No. 1 seed Luella next to attempt to earn consecutive trips to the Elite 8.
Luella 67, Hapeville Charter 23
Top-seeded Luella extended its win-streak to 10 games and was led by senior guard and South Alabama-commit Camryn Berry's game-high 13 points and Trinity Layton's 12-point, 15 rebound effort. Mercer-commit Ari Dyson stuffed the stat sheet with nine points and 11 rebounds.
Northwest Whitfield 58, East Hall 56
Top-seeded Northwest Whitfield trailed by three points before escaping with a victory and was led by Kennedy Baker's game-high 29 points and Beckley Manning's 10 points. The Bruins will host No. 2 seed Westminster in the Sweet 16 after Westminster's 52-37 win over Woodland-Stockbridge
Fayette County 56, Islands 41
No. 2 seeded Fayette County overcame a 10-9 deficit to take a 46-27 lead into the fourth quarter and will visit No. 1 seed Hardaway in the Sweet 16 after the Hawks' 71-29 win over West Laurens.
Stockbridge 67, Southwest DeKalb 49
Stockbridge is back in the Sweet 16 for back-to-back years and opened up its Class 4A postseason debut with a comfortable 18-point win over the visiting Panthers. The Tigers will visit Region 8 champion Chestatee in the second-round after the top-seeded 61-25 win over Central-Carroll
Starr's Mill 45, Wayne County 27
Third-seeded Starr's Mill built a 24-18 halftime lead and outscored the Jackets 21-9 in the second half to set up a showdown with No. 1 seed Griffin—which cruised to a 62-17 win over Bainbridge.
Class 3A
Girls
Lumpkin County 72, Oconee County 47
Defending-champion Lumpkin County relied on its offensive stalwarts to move past Oconee County and into the second round. Averie Jones, a 5-foot-6 junior point guard, scored 28 points to lead the Indians. Senior shooting guard Mary Mullinax added 22 points and senior point guard Lexi Pierce finished with nine points for Lumpkin.
Hebron Christian 68, White County 53
Hebron Christian was led by a 22-point performance from Aubrey Beckham, who added six assists and four rebounds. Ja'kerra Butler finished with 19 points, 21 rebounds and four blocks and Amiya Porter scored 13 points with five assists for Hebron.
Wesleyan 79, Franklin County 29
Johanna Potter scored 22 points with seven rebounds, three blocks and two assists to lead Wesleyan into the second round. Chazadi Wright scored 15 points with 10 assists, six steals and five rebounds. Londyn Walker scored 13 points with two rebounds, two assists and two steals, Eva Garabadian scored nine points, Desiree Davis added eight points, Shayla Bahr finished with five points and Avery Tucker scored four points.
Dawson County 41, Hart County 34
After trailing 17-16 at the half, Dawson County relied on second-half efforts from Abby Samples-Slaton, who scored nine points in the second half, and Emma McCarron, who scored 11 points in the second half. Morgan Chester scored eight points in the victory.
Morgan County 49, Long County 45
Three players scored in double-figures to lead Morgan County past Long County into the second-round matchup with Carver-Columbus. Destiny Hunter scored 15 points, Kymora Smith added 13 points and Jaden Young finished with 10 points to lead the Bulldogs.
Adairsville 41, Sandy Creek 36
Adairsville entered the tournament as the No. 4 seed from Region 4 and upended Region 5 champion Sandy Creek to earn a berth in the second round against Dawson County.
In other 3A girls games – Carver-Columbus defeated Upson-Lee 102-34 and will face Morgan County in the second round. … Carver-Atlanta beat Bremen 47-38 and will meet top-ranked Hebron Christian in the second round. … Liberty County will travel to Mary Persons in the second round after moving past Hephzibah 64-48… Mary Persons defeated Thomasville 55-24 to earn a second-round berth. … Peach County moved past Dougherty 55-53 to earn a second-round berth against Cavalry Day. … The Cavaliers defeated Salem 65-27 after leading 52-21 entering the fourth quarter.
Class 2A
Girls
Josey 52, Vidalia 22
Josey bounced back from its 56-48 overtime loss to Thomson in the Region 4-2A championship to dispatch third-seeded Vidalia. The Eagles jumped out to a 24-13 halftime lead and led 40-19 before outscoring the Indians 12-3 in the final frame. Josey awaits the winner of Wednesday's matchup between No. 1 Dodge County and No. 4 ACE Charter.
Banks County 60, North Murray 27
No. 1 seed Banks County was led by Resse Murphy's game-high 21 points and also got key contributions from Ryleigh Murphy (9), Addison Hoard (9), Maddison Adams (6), Kam Grier (5) and Valentina Torres (5)
Northeast 81, Berrien 48
No. 2 seeded Northeast stormed out to a 19-6 lead and established a 37-17 halftime lead before closing out the 33-point victory. The Raiders will face the winner of Butler and top-seeded Tattnall County in the Sweet 16.
Landmark Christian 73, Washington 42
Top-seeded Landmark Christian's only loss within Class 2A came to a Columbia team that the War Eagles' avenged with a 62-50 victory in the region championship. Tuesday's 21-point victory saw Landmark jump out to a 49-20 halftime lead and the War Eagles will host Fannin County in the Sweet 16 after the Raiders' 62-37 win over Athens Academy.
Class A Division I
Boys
Woodville-Thompkins 60, Lamar County 33
Woodville-Thompkins is advancing to the Sweet 16 after a dominant showing over Lamar County. Jonathan Pickering led the team in scoring with 25 points. Alfonzo Ross also notched doubled figures with 17 points and Joey Bell finished with nine points. Woodville-Thompkins enters the next round with a four-game win streak.
In other Division I boys games – Rabun County defeated Trion 54-42 fueled by a strong fourth quarter. Mount Vernon cruised to a 40-point victory at home against Jasper County.
Girls
Galloway 72, Social Circle 27
Galloway is advancing to the second round and improving to a  24-5 overall record after a 45-point victory against Social Circle. Junior point guard Tianna Thompson led the Lady Scots in scoring with 15 points, and she also had five steals and five rebounds. Dayana Stokes had a near-double-double with 14 points and eight rebounds, while Kailyn Fields added 13 points, five assists, and two steals.
East Laurens 64, Irwin County 47
East Laurens advanced to the second round of the playoffs for the first time since 2021 after a 17-point victory against Irwin County. East Laurens held a two-point lead at the half after being outscored by Irwin County in the second quarter. The Falcons pulled away in the fourth quarter, however, outscoring their opponents 19-9 in the frame.
Woodville Tompkins 63, Crawford County 38
Woodville-Tompkins advanced to the second round thanks to a 63-38 victory. The Wolverines jumped out to a 19-1 lead in the first quarter playing great defense and knocking down shots, then maintained control and outscored their opponent in each quarter except the fourth.
Rabun County 74, Pepperell 37
Rabun County advanced to the second round after a 74-37 victory over Pepperell. Junior point guard Lucy Hood led the Lady Tigers in scoring (25 points) and assists (8) and added four steals on the defensive end. Rabun County had four scorers in double figures including senior Trea Blalock who finished with 12 points and three steals. Junior guard Mili Watts also made her impact felt with her eight steals on defense.
Other Division I girls games – No. 3 Elbert County defeated Trion 61-28. No. 9 Pelham advanced to the second round after defeating Bleckley County 57-19. Mount Pisgah advanced to the second round after defeating Prince Avenue Christian 59-52.Temple defeated Bryan County in a tightly contested game 55-50 to punch their ticket to the second round. Dublin defeated Bacon County 42-31 to advance to the next round. Lamar County defeated Savannah 56-40. St.Francis defeated Jasper County 96-11
Class A Division II
Girls
Clinch County 59, Calhoun County 32
No. 2 seed Clinch County improved to 23-4 after handling No. 3 seed Calhoun County at home, as the Pantherettes led 35-10 at halftime. Clinch County got 20 points apiece from Amariah Dean and Ameyion Grady. Clinch County will travel to No. 1 seed Montgomery County in the second round.
Chattahoochee County 73, Johnson County 67
No. 4 seed Chattahoochee County defeated No. 1 seed Johnson County on the road, getting double-figure scoring from four players including sophomore Quan'Keythia Josey, who led the team with 19 points. Chattahoochee County's Jordyn Johnson followed with 18 points, Ke'Asia Hardwick scored 11 points and Jessika Carter scored 10 points. Chattahoochee County will travel to Towns County for the second round.
Greene County 47, Greenforest Christian 43
No. 3 seed Greene County won its first playoff game since 2009 with its road win over No. 2 seed Greenforest Christian. The game was tied at 35-35 heading into the fourth quarter. Greene County will travel to No. 1 seed Taylor County for the second round.
Other Division II girls games: No. 2 seed Macon County defeated No. 3 seed Georgia Military 61-14 at home to advance to the second round, where it will visit No. 1 seed Mt. Zion-Carroll, a 42-29 winner over No. 4 seed Warren County. … No. 2 Wilcox County defeated visiting No. 3 seed McIntosh County Academy 54-44 and will travel to No. 1 seed Early County, which was a 45-30 home winner over No. 4 seed Echols County. … No. 1 seed and defending champs Lake Oconee Academy improved to 25-2 with a 76-32 home win over No. 4 seed Bowdon. Lake Oconee will host No. 3 seed Schley County, a 67-37 road winner over No. 2 Glascock County. … No. 1 Montgomery County defeated visiting No. 4 seed Treutlen 55-37 and will host Clinch County in the second round. … No. 2 seed Towns County downed No. 3 seed Christian Heritage 49-38 at home to improve to 20-8. … No. 2 seed Randolph-Clay edged No. 3 seed Charlton County 54-49 at home and will visit No. 1 seed Hawkinsville, a 47-29 winner over No. 4 seed Emanuel County Institute. … No. 1 seed Taylor County routed No. 4 seed Twiggs County at home, 72-17.