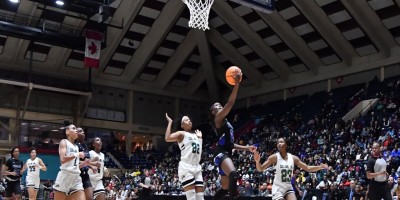 The quarterfinals are split between Tuesday and Wednesday nights with the majority of the girls games taking place on Tuesday night. The AJC will have a writer covering the Bradwell Institute-Kell girls game Tuesday and the Walton-Grayson boys game Wednesday.
See the link to the boys and girls brackets or check out the Tuesday recaps below.
Class 7A
Girls
Brookwood 74, South Forsyth 58
No. 1-ranked Brookwood used a 19-0 third-quarter run to pull away from visiting South Forsyth, advancing to the semifinals with the 74-58 win. The battle between two one-seeds began as a back-and-forth affair, with the host Broncos holding narrow leads of 14-12 and 29-28 after the first and second quarters. Brookwood outscored the War Eagles by a margin of 26-9 in the third, however, including the 19-0 run, for a 55-37 advantage heading into the fourth. Sophomore PF Danielle Osho led all scorers with 22 points, and senior PG/SG Diana Collins (21 points), junior SG/SF Kate Phelan (12) and senior PG Kennedy Daniels (10) added double-digit scoring as well. For South Forsyth, seniors Sharon Tolliver and Clara Morris finished with 18 and 12 points, respectively.
Buford 66, North Paulding 42
Top-seeded Buford gained control of its quarterfinal matchup with visiting North Paulding with a 15-0 first-quarter run on the way to a comfortable 66-42 victory. The two-seeded Wolfpack built an early 9-6 lead before the Wolves closed the opening frame strong to take a 21-9 advantage into the second and a 38-21 edge at the break. Buford awaits the results of Wednesday's showdown between two-seeded Archer and fellow one-seed Norcross to determine its opponent in the Final 4.
Class 6A
Girls
Langston Hughes 61, Rockdale County 53
Langston Hughes is advancing to the Final 4 after pulling away from Rockdale County with a 22-point fourth quarter. Hughes held a 39-37 lead after the third quarter before its strong finish. Mikayla Taylor was the leading scorer for the Lady Panthers with 24 points and added 18 rebounds. Hughes has scored over 60 points in 15 of its 29 games this season.
River Ridge 61, Marist 43
River Ridge is moving on to the semifinals following an 18-point victory over host Marist. The Lady Knights held a 28-15 lead at halftime before River Ridge used a 15-8 run late in the third quarter to pull away. Sophomore Kayla Cleveland led the Knight in scoring with 17 points and added nine rebounds. Freshman Katie Harpring had 23 points and seven rebounds for Marist. River Ridge will play Langston Hughes this weekend.
Lovejoy 79, Gainesville 34
Defending state champion Lovejoy is headed back to the Final 4 after a 45-point victory over visiting Gainesville. The Lady Wildcats used a 25-9 run in the second quarter to seize momentum for good and led from start to finish. Lovejoy will play Brunswick in the semifinals.
In other Class 6A girls games: No. 1 seed Brunswick will be squaring off with Lovejoy in the Final 4 following its 59-47 win over No. 3 seed Sequoyah.
Class 5A
Boys
Eagle's Landing 81, Mays 71
No. 1 seed Eagle's Landing defeated No. 2 seed Mays at home after leading 40-26 at halftime. Eagle's Landing improved its record to 28-1 and Mays ends the season at 21-9. The Eagles will see No. 4 seed Jonesboro after the Greyhounds' 56-53 upset of Hiram.
Jones County 56, Hiram 53
Senior guard Daethan Harris made a layup with 26 seconds remaining to put No. 4 seed Jones County ahead 54-53 over No. 1 seed Hiram. The visiting Greyhounds led 20-18 at halftime but trailed 40-39 heading into the fourth quarter. Jones County was led by senior guard Jaylen Sanford's 23 points. The Greyhounds, now with a record of 20-12, will play No. 1 seed Eagle's Landing on Friday at 4 p.m. at the University of West Georgia.
Kell 73, Dutchtown 60
No. 1 seed Kell joined the girls program in the semifinals with a home win over No. 3 seed Dutchtown. Junior center Peyton Marshall led the Longhorns with 17 points, and junior guard C.J. Brown contributed 16 points. In the semifinal, which is Friday at 8 p.m. at the University of West Georgia, Kell will face the winner of Wednesday's game between No. 1 seed Chapel Hill and No. 2 seed Union Grove.
Girls
Jackson-Atlanta 54, Union Grove 47
No. 1 seed Jackson-Atlanta broke a halftime tie with a 14-4 scoring advantage in the third quarter to down No. 2 seed Union Grove at home. Jackson was led by 17 points from junior Taliah Cornish, and fellow junior Shakira Gresham added 16 points. Also for the Lady Jaguars, sophomore Aaliyah Weaver added 10 points and junior Maya Whitehead scored seven points. For Union Grove, junior Jordan Brooks scored 19 points. Jackson will face No. 1 seed Kell on Friday at 6 p.m. at the University of West Georgia in the semifinals.
Warner Robins 73, Midtown 63
No. 1 seed Warner Robins got a home win over No. 2 seed Midtown to advance to the program's second consecutive semifinals. Warner Robins saw its lead cut to as few as four points in the fourth quarter but held on for the 10-point victory.
Calhoun 62, Arabia Mountain 52
Sophomore guard Sa'Niah Dorsey scored a game-high 24 points and had nine rebounds to lead No. 1 seed Calhoun to a home win over No. 2 seed Arabia Mountain. The Lady Jackets also got 10 points a piece from guards Britiya Curtis, a senior, and Kat Atha, a junior. For Arabia Mountain, freshman guard Lauren Chavis scored 16 points and junior guard Malaya Jones scored 12 points. Calhoun, now 25-4 on the season, led 49-41 heading into the fourth quarter. The Lady Jackets will meet No. 1 seed Warner Robins on Friday at 2 p.m. at the University of West Georgia.
Class 4A
Girls
Baldwin 58, Luella 51
Baldwin handed Luella (22-7) its first loss within the classification this season to return to the semifinals. The Braves built a 25-24 lead at the half and were led by Janaye Walkker's 23 points and 15 rebounds. Madison Ruff finished with 15 points, six rebounds, four assists and four steals and Cassidy Neal added 13 points. The Braves will visit Holy Innocents' Saturday at Fort Valley State.
Holy Innocents' 63, Trinity Christian 32
Holy Innocents' jumped out to a 37-13 halftime lead and improved to 26-4 on the season. The Bears dominated in all facets and extended their win streak to 20-straight heading into their semifinal showdown with Baldwin. Holy Innocents' has outscored its three playoff opponents by an average of 36.7 ppg.
Hardaway 48, Northwest Whitfield 42
Visiting Hardaway held on to its 37-34 lead into the fourth quarter and advanced to the semifinals with the team's 11th-straight victory. The Hawks got off to a blazing start with an Adazha Burrell 3-pointer and went up 13-0 before Northwest Whitfield's Kennedy Baker broke thedrought and got the Bruins on the board. Hardaway took a 17-4 lead into the second quarter and a Baker shot before the half kept Northwest Whitfield within striking distance as the lead shrunk to 25-16 at the half.
Griffin 63, Chestatee 47
Visiting Griffin used a 12-0 scoring run in the second quarter to build a 31-21 lead and held the War Eagles to just eight points in the third quarter to run away with the victory and take a commanding 50-29 advantage into the final frame. The Bears will square off with Hardaway in the semifinals.
Class 3A
Girls
Wesleyan 78, Carver-Columbus 71
Four players scored in double-figures to lead Wesleyan past Carver-Columbus and into the semifinals against top-ranked Hebron Christian. Junior Audrey Ekoue-Bla scored 20 points with four rebounds and three assists to lead Wesleyan. Junior point guard Chazadi Wright scored 19 points with eight rebounds, three assists and two steals, junior Eva Garabadian scored 17 points with six rebounds and two steals and sophomore Johanna Potter scored 14 points, seven rebounds and two blocks for the Wolves.
Hebron Christian 98, Mary Persons 25
Top-ranked Hebron Christian was not phased in its quarterfinal matchup against Mary Persons and a 27-point effort from sophomore point guard Ja'Kerra Butler helped the Golden Lions move to 30-0 on the season. Butler added 10 rebounds and six steals in the romp. Sophomore guard Aubrey Beckham scored 20 points with 12 rebounds and 14 assists and junior guard Amiya Porter added 12 points with three steals. Junior wing Kayla Lane scored 12 points with four rebounds and junior wing Nickiya Daniel scored nine points with five rebounds.
Calvary Day 59, Dawson County 32
Calvary Day senior point guard Hannah Cail hit a buzzer-beating shot at the end of the third quarter to mark her 2,000th career point as the Cavaliers moved past Dawson County and into the semifinals. Cail finished with 23 points to lead all scorers ahead of Destini Gooddine (17 points) and freshman Molly Smith, who scored 15 points on five 3-point shots. Eva Bishop scored 10 points to lead Dawson County.
Lumpkin County 63, Cross Creek 48
Defending champion Lumpkin County is in its third-straight semifinals after weathering a road victory against 2021 3A champion Cross Creek. Mary Mullinax, a 5-foot-10 senior shooting forward, scored 20 points to lead the Indians. Senior point guard Lexi Pierce scored 19 points, junior shooting guard Averie Jones finished with 15 points and senior power forward Kate Jackson scored nine points for Lumpkin.
Class 2A
Girls
Josey 47, Murray County 38
Josey went up 24-16, but Murray County answered with a quick run that was capped by a Kiersten Hixson three-pointer to cut the deficit to 24-21 with 5:30 left in the third. Murray County answered again in the fourth quarter when Josey went up by eight points and cut the deficit to 37-33 with five minutes left before Josey closed out a 10-5 scoring run. Josey will take on Banks County in the semifinals after the Leopards' 61-56 win over Central-Macon. Banks County held off the Chargers—despite a 21-point effort by Alaya Grane and a 19-point night by Taliah Grier.
Landmark Christian 66, Butler 42
Landmark Christian advanced to the semifinals after falling to Holy Innocents' in last year's quarterfinals. The top-seeded War Eagles cruised past No. 4-seeded Butler 66-42 to grow its win streak to eight-straight and improve to 23-8 overall. Landmark Christian will take on No. 1 ranked Mt. Paran in the semifinals after its 54-43 road win over Thomson. Mt. Paran improved to 30-1 overall with its win over Thomson and carries an 18-game win streak into tipoff.
Class A Division I
Boys
Mount Pisgah 69, Irwin County 55
Sophomore point guard Micah Turner scored 19 points and surpassed the 1,000-career points milestone, to lead Pisgah past Irwin County and into the semifinals. Senior shooting forward Grant Randall scored 17 points, junior power forward Max Tucker finished with 11 points, sophomore Cedric Haynes added nine points and freshman point guard Grant McDuffie scored seven points for Pisgah.
Girls
Woodville-Tompkins 64, Oglethorpe County 44
Woodville-Tompkins advanced to its second final four in school history with a 64-44 win over Oglethorpe County. The Lady Wolverines started the game with a 9-0 run and held Oglethorpe County to only three points in the first quarter. Woodville-Tompkins built on the early momentum to increase their lead and never trailed in the game. Sanai Chisholm led the Lady Wolverine in scoring with 16 points and added six steals. Tuesday was the 21st time this season Woodville-Tompkins has held its opponent to 45 points or less this season.
Elbert County 63, Swainsboro 49
Defending state champion Elbert County is moving on to the Final 4 after a 14-point victory over visiting Swainsboro. The Lady Blue Devils trailed in the first period after getting outscored 17-13 but held Swainsboro to six points in the second quarter and led by five points at halftime. Elbert County pulled away in the third quarter, building a double-digit advantage. Elbert County will face Galloway in the next round.
St. Francis 84, Lamar County 45
Sophomore point guard Desi Taylor scored 21 points with six assists to lead St. Francis past Lamar and into the semifinals against Woodville-Tompkins. Anaja Hall, a 6-foot-4 senior center, scored 19 points with 11 rebounds and three blocks to help the Knights.
In other Division I girls games: Galloway's 71-36 win against host Pelham has earned the Scots a spot in the semifinals, where they will play Elbert County.
Class A Division II
Girls
Mt. Zion-Carroll 46, Wilcox County 38
No. 1 seed Mt. Zion-Carroll advanced to the program's first state semifinal with its home win over No. 2 seed Wilcox County. The Lady Eagles will take on No. 1 seed Lake Oconee Academy in the semifinals Saturday at 2 p.m. at Valdosta State University.
Lake Oconee Academy 58, Turner County 23
No. 1 seed Lake Oconee Academy defeated another top seed, Turner County, to return to the semifinals. The 2022 Class A Private champions led just 10-9 after the first quarter and 25-17 at halftime but held Turner County to six points in the second half.
Taylor County 64, Randolph-Clay 35

No. 1 seed Taylor County trailed No. 2 seed Randolph-Clay 19-17 after the first quarter but held a 27-23 halftime lead. The Lady Vikings put the game away by outscoring visiting Randolph-Clay 22-3 in the third quarter to advance to the semifinals. Taylor County, which improved to 28-1 with the win, will face No. 2 seed Clinch County on Saturday at 6 p.m. at Valdosta State University.
Clinch County 56, Towns County 41
Host Clinch County scored the first 16 points of the game against Towns County in a matchup of No. 2 seeds. The Pantherettes led 28-19 at halftime and 44-27 after the third quarter and were led by freshman forward Amariah Dean, who scored 16 points and had 13 rebounds. Senior forward Amiyeon Grady scored 11 points and senior guard Makyah Rowles scored nine points as well for Clinch County, which moved to 24-5 with the win.