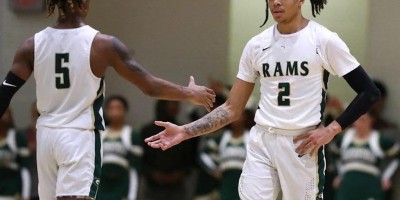 The quarterfinals are split between Tuesday and Wednesday nights with the majority of the girls games taking place on Tuesday night and the boys Wednesday. The AJC will have a writer covering the Bradwell Institute-Kell girls game Tuesday and the Walton-Grayson boys game Wednesday.
Class 7A
Boys
Norcross 58, Newton 56 (OT)
Senior guard Lemariyon Jordan's game-winning, buzzer-beating tip-in of his teammate's missed layup capped off a 7-0 Norcross run to close out overtime and send the fourth-ranked Blue Devils to the Final 4. Newton senior guard Marcus Whitlock hit a three-pointer at the end of a back-and-forth regulation to knot the game at 50-50, and the Rams quickly built a 56-51 lead in overtime before Ashton Pennamon fouled out with 1:09 remaining and Mier Panoam hit a pair of free throws to begin Norcross' final run. Jordan finished with 16 points for the Blue Devils, who will see Cherokee in the next round.
Cherokee 70, Carrollton 66
No. 2 seed Cherokee is back in the Final 4 for the first time since 1982 following a 70-66 road win against host Carrollton. The Warriors led 38-34 at halftime but found themselves trailing late before senior Tayden Owens hit a three-pointer to give Cherokee a 68-66 edge. Senior Cameron Pope then hit a pair of free throws to seal the win for the Warriors, who will face top-seeded Norcross this weekend.
Wheeler 79, McEachern 71
No. 1-ranked Wheeler pulled away from No. 2-ranked McEachern with a strong third quarter, then held on to win 79-71 and advance to the semifinals. USC signees Arrinten Page and Isaiah Collier each finished with 24 points for the Wildcats, who held a narrow 32-29 advantage at the break before outscoring the Indians 24-13 in the third. Senior guard Jehlani Hamilton (16 points) also contributed double-digit scoring. For McEachern, Ace Bailey finished with 18 points, including a pair of three-pointers to start the fourth quarter, before fouling out with six minutes left in the game. Senior Jaylen Hilliard had 17 points, and Bailey's fellow Rutgers commit JaMichale Davis added 13 points, 11 of which came in the second half. Wheeler and Grayson will square off in the next round.
Girls
Norcross 61, Archer 53
Top-seeded Norcross trailed 45-43 heading into the final frame of its quarterfinals matchup with visiting Archer before finishing strong to advance to the Final 4. The Blue Devils led 34-25 at the break and were outscored by the Tigers by a margin of 20-9 in the third. Senior point guard Veronaye Charlton led Norcross with 18 points and nine rebounds, and junior guard Jania Akins added 15 points.
In other 7A girls games: No. 1 seed McEachern held on during a second-half rally from visiting Central Gwinnett to win 50-47 and set up a semifinal showdown with top-ranked Brookwood.
Class 6A
Boys
Lanier 62, Grovetown 58
Lanier advanced past defending state champion Grovetown after a 13-4 run gave them a double-digit lead with 1:25 left in the game. Grovetown's Vashon Ferguson hit a few late shots to keep the Warriors in the game, but Lanier held on. Osmar Garcia-Araujo finished with 19 points for the Longhorns, who will face Lee County in the Final 4.
Alexander 54, Jonesboro 53
Trailing 53-52, Greg Dunson, a freshman guard, hit the go-ahead basket with 9.6 seconds left in the game which pushed Alexander past Jonesboro and into the semifinals. The victory marked head coach Jason Slate's 500th win for the Cougars.
Lee County 65, Blessed Trinity 61
Lee County is advancing to the Final 4 after picking up a four-point road victory against Blessed Trinity. The Trojans had three players in double figures, including leading scorer Christian Brown with 17 points and sophomores Ousmane Kromah and Josiah Parker with 10 points apiece. Brigham Rogers was the leading scorer for Blessed Trinity, finishing with 24 points. Lee County will face Lanier in the next round.
Etowah 54, St. Pius X 53
Etowah advanced to the Final 4 after Brandon Rechsteiner hit a  game-winning free throw. The senior point guard, who finished with 21 points, drove to the lane, drew contact, and was fouled before hitting the go-ahead foul shot to lift the Eagles past St. Pius X. Senior Mason Etter added 16 points. Etowah will play Alexander in the next round.
Class 5A
Boys
Chapel Hill 71, Union Grove 57
No. 1 seed Chapel Hill led 38-25 at halftime and pushed the lead beyond 20 points in the second half to defeat No. 2 seed Union Grove at home. Senior forward Kelvin Hunter led the Panthers with 26 points with six three-pointers to help Chapel Hill improve to 23-8. Chapel Hill will face No. 1 seed Kell in the semifinals on Friday at 8 p.m. at the University of West Georgia.
Class 4A
Boys
Pace Academy 62, Baldwin 31
Pace Academy picked up a dominant road win over Baldwin to improve its record to 23-7 overall. The Knights will square off against Westover on Saturday at Fort Valley State. Westover, who defeated McDonough 43-41 in last year's semifinals, sent the Warhawks home for the second-straight season Wednesday night with a 66-57 victory.
Fayette County 83, Woodland-Stockbridge 71
Top-ranked Fayette County's 21-20 lead disappeared after Woodland used a strong second quarter to build a 39-35 halftime advantage. The Tigers' offensive firepower with Sean Van Dorn (21 points), Keith Gillespie (20) and RJ Kennedy (19) out-manned a game-high 24-point performance by Woodland's Kyree Brown.
Benedictine 58, Madison County 35
Benedictine opened a 15-6 lead after the first quarter and went into the half with a 27-13 advantage. The Cadets closed out the third quarter ahead 38-23 before coasting to their 10th-straight victory.
Class 3A
Boys
Cedar Grove 94, Long County 91 2OT
Cedar Grove outlasted Long County in a double-overtime contest to advance to the semifinals against Region 5 rival Douglass. In the first overtime period, Long County scored three points in a four-second span following a free-throw from Keshawn Smith to lead 80-78 with 8.8 seconds left. The Saints advanced the ball and got off a shot, which missed, but the put-back by Nathiel Loyd tied the game at 80. Cedar Grove took a 90-82 lead after an 8-0 run, capped by a dunk from Emanuel Green with 1:31 left in the second overtime. Long County guard Zyi Holt scored with 10 seconds left to cut the lead to 93-91 but Jaylen Adside brought the score to its final tally after a foul and a one-of-two effort from the free throw line. EJ Colson scored 29 points to lead the Saints. Adside added 21 points, Manny Green had 16 points with eight rebounds and Darius Reynolds scored 11 points with eight rebounds and eight blocks. Christian Glenn led Long County with 29 points, Jamel Brimlett scored 19 points, Cameron Rosa added 12 points and Smith scored nine points with 13 rebounds.
Sandy Creek 56, Johnson-Savannah 50
Top-ranked Sandy Creek weathered a late charge from No. 2-ranked Johnson-Savannah to advance to the semifinals against defending-champion Cross Creek at Fort Valley State Friday. Against Johnson, Sandy Creek led 46-35 entering the fourth quarter and was nursing a 53-50 lead with 1:20 left on the way to victory. Micah Smith, a 6-foot-8 junior, scored 17 points and Amari Brown, a 6-3 junior guard, scored 14 points for the Patriots.
Cross Creek 72, Hart County 65
Antoine Lorick led all scorers as defending-champion Cross Creek past Hart County and into the semifinals against top-ranked Sandy Creek. Lorick, a 6-7 senior power forward, scored 15 points for the Razorbacks. Senior shooting guard Isam Anthony finished with 14 points and 6-7 sophomore shooting forward Jaden Priester added 12 points. Dontrel Smith, De'Kel Hobbs and Kylen Clark each scored eight points.
Douglass-Atlanta 78, Dougherty 73
Douglass led 26-25 after the first quarter and trailed 47-42 at the half in a come-from-behind quarterfinal victory over Dougherty. Douglass cut back into the lead with a 20-18 advantage in the third quarter and put the game away by outscoring the Trojans 16-8 in the fourth quarter.
Class 2A
Boys
Model 62, Dodge County 60
Host Model took a 28-25 lead into the half and knocked down back-to-back three-pointers to end the third quarter with a 47-41 lead. Dodge County's final possession came with one second left under
its own basket, but they were unable to force overtime and Model advanced to the semifinals for the first time in program history. Jeremias Heard (16 points), Jayden Hames (15), Jakenes Heard (14) and Stevie Dallas led Model in scoring. Model will square off with No. 1 seed Providence Christian in the semifinals this Saturday at Georgia College and State University. Providence Christian advanced to the semis on Wednesday with an 84-70 win over Spencer and improved to 26-4 overall.
Westside-Augusta 81, South Atlanta 50
Defending state champion Westside-Augusta jumped out to a 64-34 lead after the third quarter en route to its sixth-straight victory. The Patriots built a 26-13 lead in the first quarter and grew a 51-26 edge by the break. Westside-Augusta will take on Columbia in the semifinals after the Eagle's 74-60 win over Windsor Forest. Columbia carries a 30-1 overall record and rides a 22-game win streak into this Saturday's game.
Class A Division I
Boys
Mount Vernon 68, Temple 38
Mount Vernon is advancing to the Final 4 following a 30-point victory over host Temple. The Mustangs trailed 26-25 at halftime but used a strong third quarter to seize momentum, outscoring Temple by a margin of 28-8 during the frame. Junior SF Xavier Shegog led scoring with 20 points, in addition to 14 rebounds and two blocks. Senior PG Ashton Patterson (16 points, 10 assists, 3 rebounds, 3 steals, 3 blocks) and senior center Keith Williams (10 points, 10 rebounds, 2 blocks) also had double-doubles, and junior PF Dennis Scott III contributed 11 points and seven rebounds. Mount Vernon will play King's Ridge this weekend.
Swainsboro 70, Athens Christian 55
Swainsboro extended its win streak to eight consecutive games after defeating Athens Christian in the Elite 8. Athens Christian held a 19-8 lead at the end of the first quarter and stayed out in front throughout the entire game until the 4:49 mark in the fourth quarter when Jakari Nobles made a transition layup to give the Tigers the lead and momentum. Swainsboro closed the game on an 18-5 run.
King's Ridge 62, Woodville-Tompkins 54
No. 4 seed King's Ridge came away with a 62-54 road win over host Woodville-Tompkins to advance to the Final 4, where the Tigers will face Mount Vernon. Alfonzo Ross was the leading scorer for Woodville-Tompkins, finishing with 28 points.
Class A Division II
Boys
Greenforest Christian 67, Calhoun County 60
No. 1 seed Greenforest Christian held off a furious late rally by fellow No. 1 seed Calhoun County. Greenforest, which hosted the game at Miller Grove, led 44-27 at halftime and 58-38 at the end of the
third quarter, but Calhoun County then went on a 17-0 run in the fourth quarter to cut the lead to as few as three points, 58-55. Greenforest, the 2022 Class A Private state champions, recovered and
held off the visitors from there to reach the semifinals, where the Eagles will face No. 1 seed Charlton County on Saturday at 4 p.m. at Valdosta State University.
Charlton County 68, Hancock Central 45
No. 1 seed Charlton County defeated No. 2 seed Hancock Central at home thanks to 19-point games from both senior forward Jaylen King and sophomore guard Jarvis Wright. Also for Charlton County, sophomore center Elyiss Williams turned in a dominant performance in the post with 11 points, 21 rebounds and eight blocked shots, and junior guard Ja'mari Hamilton scored 10 points. Charlton County held a 37-17 halftime lead and improved to 28-2.
Macon County 71, Dooly County 65
Sophomore guard Frankie Raines Jr. led Macon County to a road win over Dooly County with 28 points, six rebounds, three assists and three steals in a matchup of No. 1 seeds. Also for Macon County, junior wing Dontavious Collier scored 21 points with 11 rebounds and two blocks, and junior forward Derrick Lester Jr. scored 14 points with 10 rebounds and two steals. Macon County will face No. 1 seed Wilkinson County in the semifinals on Saturday at 8 p.m. at Valdosta State University.