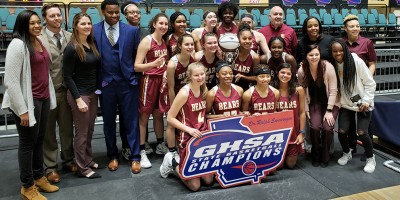 By Seth Ellerbee
Macon – Dwon Odom's veins were as ice cold as the floor at the Centreplex, which has its basketball court built on top of an ice rink, as he led St. Francis past Eagle's Landing Christian 73-69 in the Class A-Private title game. The victory marked the third title for the Knights after winning back-to-back A-Private crowns in 2014 and 2015.
"This is a crazy feeling right now," said Odom, a junior guard, as he sat on the bench seconds after the clock struck zero, his head held in his hands as his teammates celebrated around him. "We gave it our all the entire season. We just wanted to come in here and give the seniors one last memory, man."
When Eagle's Landing Christian climbed back to within a basket, 69-66, with 10 seconds left, the Knights in bounded the ball to Odom and an immediate foul put him back at the line. Following his two free throws, St. Francis enjoyed a five-point spread 71-66 with eight seconds left.
With 2.5 seconds, ELCA converted a three-pointer to pull within two points, 71-69, but an ensuing technical on a time out called by ELCA's coach with none remaining put Odom, who scored 17 of his 28 points in the fourth quarter, at the line again. He hit one of two and inbounded the ball to Chase Ellis with 1.8 seconds left and the immediate foul put Ellis at the line for two shots. He missed the first but made the second to clinch the victory.
St. Francis jumped out to an early lead and enjoyed a 25-16 spread after the first quarter. ELCA responded with a 17-10 run in the second frame to climb within two, 35-33, at the break. Through the game, there were 12 lead changes and the score was tied four times. St. Francis led for 25:16 and ELCA held the lead for 4:58. The largest lead was held by St. Francis (10 points) for 1:34 in the first quarter.
Odom finished with 28 points on 10-of-14 from the floor, 2-of-3 from beyond the arc and 3-of-4 from the line. Jusuan Holt added 16 points on 6-of-7 from the floor and 1-of-2 from three-point range. Ellis and Seth Hubbard each added eight points. C.J. Riley scored seven points and Jordan Brown added six points.
Eagle's Landing was led by Mekhi Cameron and K.J. Jones III, who each scored 17 points. Felix Uadiale added 16 points and Trevon Reddish scored 12 points.
Class A-Private girls – The Holy Innocents' girls captured its third girls basketball state championship with a 75-48 victory over Wesleyan in the fifth-consecutive finals meeting between the two programs. Wesleyan won three of the previous meetings – 2015 and 2017-2018. Holy Innocents' won titles in 2016 and 1999.
The Golden Bears were led by 6-foot-4 sophomore forward Jillian Hollingshead, who finished with 25 points on 10-of-14 shooting from the floor and 5-of-6 from the free throw line.
"She is a great teammate and has been the entire year," said head coach Nichole Dixon of her underclassman forward. "One of the things that we have tried to challenge her on is that we've told her that, you're a great teammate but there will be times when we are going to need you to take over. She's worked really hard in practice and her teammates really bought in. We always knew there was an X-factor there and it's Jillian. She's 6-4 and the other team doesn't have that. She just did a good job sealing and keeping people on her back and finishing."
Holy Innocents' took a 16-11 lead after the first quarter and expanded the lead to 27-18 at the break. The Bears then took control in the second half to put the game out of reach as they outscored the Wolves 48-30 through the third and fourth quarters.
"Our point guard, Cierra Foster, does an excellent job going downhill and getting to the creases," Dixon said. "She did a really good job of doing that and so they had to draw help from somewhere and she did a great job reading the help and knowing where to pass. We kind of said that if they come out in a specific matchup we had to attack from the post and get the extra pass."
Holy Innocents' also got 18 points from Jada Farrell on 6-of-11 shooting from the floor, 1-of-3 shooting from beyond the arc and 5-of-6 from the free throw line. Marya Hudgins finished with nine points. Foster scored eight points and Rachel Suttle added seven points. Logan Jackson and Charlsie Birkel each scored four points.
Wesleyan was led by Avyonce Carter with 17 points on 5-of-14 shooting from the floor, 1-of-1 from beyond the arc and 6-of-10 from the free throw line. Paige Lyons added 11 points. Nicole Azar finished with 10 points. Alyssa Phillip scored six points and Jessie Parrish netted three points.
Class A-Public
Boys: Calhoun County 69, Treutlen 67
Calhoun County's Quanderious Powell might have finished with just six points but his final basket beat the clock and put the Cougars ahead as the time expired to win their fourth boys state basketball title. Calhoun County also won titles in 1972, 1997 and 2016.
The Cougars led 16-14 after the first quarter before Treutlen cut into the lead with a 22-21 effort in the second quarter. Calhoun edged Treutlen 18-17 in the third frame before matching each of Treutlen's 14 points in the final frame to keep the margin.
Jahmad Wiley led all scorers with 18 points to lead Calhoun County. Tykevious Curry added 16 points and Juwaun Wiley scored 13 points. Bryan Smith finished with nine points.
Treutlen was paced by James Byrd's 17 points. Arkavias Lovett finished with 15 points and Kamron Jordan added 14 points. Tafarjae Jordan had 10 points.
Girls: Marion County 50, Calhoun County 38
Despite fighting through cramps in the second half which left them limping, the Whitley twins, Ansley and Ashley, combined for 32 points to lead Marion County to its first-ever girls basketball title in the Class A-Public championship over Calhoun County. Ansley led with 20 points, Ashley added 12 points.
Marion County led 13-8 after the first quarter and pushed the lead to 24-12 at the break. Calhoun County cut margin the lead with a 15-12 run in the third quarter but Marion erased the difference with a 14-11 effort in the final frame which put the game away.
Marion's largest lead was a 17-point margin and Calhoun's largest lead, which was held for just 22 seconds, was a two-point spread. The game was tied for 1:44 and there was only one lead change.
Ansley was 4-for-8 from the floor and 12-for-14 from the free throw line. Ashley was 3-for-5 from the floor and 6-for-9 from the free throw line. Jameisha Williams added 13 points and was 6-for-10 from the floor and 1-for-4 from beyond the arc.
Calhoun County was paced by Destiny Hightower with 12 points. Jateriah Winbush added 10 points.