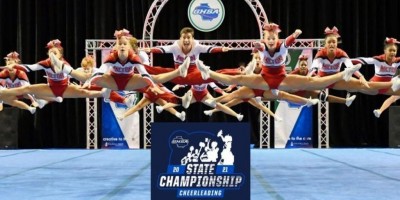 The GHSA Cheerleading State Championships begin Monday at the Centreplex in Macon for two days of electrifying routines, a return to form following the 2020 State Championships that were played in the fall due to the Covid-19 virus.
The Class A Private, A Public and COED finals will open the event at 10 a.m. Monday. Session two will begin at 4 p.m. with the Class 2A and 5A finals. Tuesday's finals sessions will begin with Class 4A and Class 7A at 10 a.m. and conclude with the Class 3A and Class 6A championships, beginning at 4 p.m.
Lambert enters the finals as the defending champion in the state's highest classification (7A) and since 2012-13, the Trojans have won six championships – 2012-13, 2013-14, 2015-16, 2016-17, 2018-19 and last season. Creekview returns to defend its 6A championship – the program's only title — and McIntosh will try to repeat in Class 5A. The Chiefs won state championships in 1994-95, 1998-99, 2013-14, 2016-17 and last season.
Denmark, a program which began competing in 2018, won the 4A title last season but reclassified to 7A this year and will try to repeat in its new classification. In Class 3A, Pierce County will try for its eighth cheerleading title and sixth consecutive championship. Since 2012-13, the Bears have won each season except for the 2014-15 championship which Calhoun won.
Vidalia returns for a chance to repeat as the Class 2A champion. The Indians have won three state championships – 2003-04, 2016-17 and last season. Mount Paran has had control of Class A Private since the 2012-13 season when it began its run of eight consecutive championships and the Eagles are back to try to capture the program's ninth state championship.
Gordon Lee's first title in school history came in the 2016-17 season. Since then, the Generals have established themselves as the top-dog of Class A Public. They have won four consecutive state titles – one in each of the past four seasons – and return to defend last season's Class A Public championship. In the COED competition, Mill Creek has won in each of the past two seasons and the Hawks are back to try for a third consecutive title, which would make them the first program to three-peat in the COED competition since its conception in the 2004-05 season.
Follow the link to MONDAY'S schedule and TUESDAY's schedule.