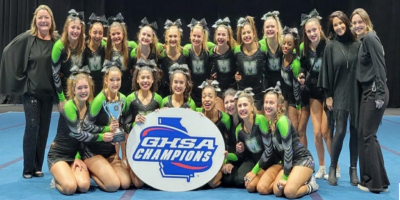 The GHSA Cheerleading State Championships crowned four state champions on Saturday to conclude the 30th anniversary celebration of cheerleading as a sanctioned sport at the Macon Centreplex. Class A and Class 5A took the floor first for Session 1 and championship concluded with Class 7A and the high-flying COED division. Former GHSA Cheerleading Coordinator and State Tournament Director Pam Carter now serves as a liaison to her successor Penny Mitchell and has been instrumental to this growth and has witnessed it first-hand as one cheerleading's pioneers.  She reflected back on the tremendous advancements she has seen over the years.
"When I won state in 1995, the little pyramid I won with probably would be in the bottom three scores in the state this year if you look back in time," explained Carter. "This sport has just developed way beyond what I ever expected."
The judges called six teams out of the 32-team field to decide the Class A state champions. This group includes defending Class 2A state champion Bleckley County, nine-time state champion Commerce, two-time state champion Pepperell, three-time state champion Armcuhee and first-ever title hopefuls Lake Oconee Academy and Swainsboro. Ultimately, it was Armcuhee that earned the title and the Indians captured their first state title since 2018. Pepperell finished runner-up, Commerce placed third and Bleckley County capped a fourth-place finish.
After the conclusion of the Class 5A competition, Cartersville, Dalton, Greenbrier, Jefferson, McIntosh and Northgate were the selected six teams called back to the floor. The championship ultimately went to McIntosh and gave the Chiefs their fourth-straight championship and eighth all-time title. Cartersville finished runner-up, Northgate placed third and Greenbrier earned fourth.
The first-ever COED championships were handed out in 2004 and there have been 11 different programs take championships in the years since. Mill Creek and Peachtree Ridge were tied for the most COED titles in state history with three each heading into Saturday and Mill Creek prevailed to take home its fourth all-time title. The Hawks were called to the floor with runner-up Chapel Hill, third-place Milton, fourth-place Lakeside-Evans, Union Grove and Milton.
Championship weekend concluded with the crowning of this year's Class 7A champions. Denmark, Hillgrove, Lambert, North Paulding, Richmond Hill and two-time reigning state champion South Forsyth were called to the floor. Hillgrove earned fourth, Richmond Hill placed third, North Paulding earned runner-up and Lambert was crowned the state champs—giving the Longhorns' their sixth all-time state title and first since 2019. South Forsyth was unable to defend its state title, however, Lambert's victory gives Forsyth County its seventh-consecutive Class 7A championship and ninth in the 10 years that Class 7A has existed.