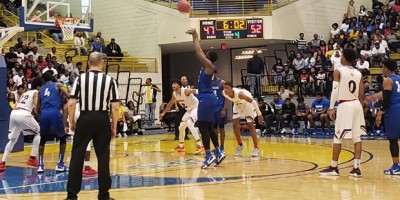 By Seth Ellerbee
Fort Valley – Spalding's girls advanced past Luella 50-28 and will play the winner of the Flowery Branch/Carver-Columbus game at 11 a.m. on Friday at the Macon Centreplex. Americus-Sumter's boys moved past Sandy Creek 63-56 and will face the winner of Woodward/Carver-Columbus at 1 p.m. on Friday in Macon.
Boys
Americus-Sumter 63, Sandy Creek 56
Don't call it a Cinderella story, Americus-Sumter is for real.
The Panthers relied on clutch free-throw shooting from Trae Brown and Quevoluia Willoughby in the fourth quarter to avoid Sandy Creek comeback and advance to the Class AAAA title game at 1 p.m. on Friday at the Macon Centreplex.
Americus Sumter scored 11 points in the final frame, nine of which came from free throws from Brown and Willoughby.
"That's a good moment," Brown said of his ability to convert clutch free throws when his team needed them. "That's the kind of moments that we work on and I'm glad I can be able to do that. We had to handle the ball and stop them from scoring and I'm glad we could do that. We came here and we came to win and we expected to win. They played, but we played, also. We came out with the win and we played harder."
The Panthers built a 19-11 lead by the end of the first quarter and extended the lead to 39-27 at the half before Sandy Creek could respond. The Patriots clawed backed and with 2:07 left in the game, they trailed 54-51.
With 39.2 seconds left and Sandy Creek down 58-51, Sandy Creek's T.J. Bickerstaff a senior forward, gathered the ball and released a three-point shot from the top of the key. The shot looked like it was blocked by an Americus-Sumter defender, however a foul was called, nullifying an easy break-away lay-in for the Panthers.
"I think it was an unfavorable call," said Americus coach Michael Hoffpauir. "I think in high school they look at body contact. Im used to college, well, not college so much, but, if the first contact is the ball, the body contact is incidental. It was a good, clean block but it could've made a bigger difference in the game because it took away a breakaway layup we had. But, it's just part of the game. There will be some of those calls and we just had to power through them."
Bickerstaff converted all three of the free throws to pull the Patriots to within four points, 58-54 before Brown protected the lead.
Brown got the inbound pass and brought the ball down the court before being fouled with 34.3 seconds left. He converted both free throws in the 1-and-1 to push the lead to 60-54 with 28 seconds remaining. Brown then stole the ball on the next play and was fouled to earn another visit to the line for two shots. He converted one and then Willoughby took his turn at the charity stripe and, after converting both free throws, the game was out of reach as time ran out.
"We hang our hats on being a defensive-minded team," Hoffpauir said. "I think that's one of the things that has gotten us over the hump. All these teams we had to play against Salem, Upson Lee, St. Pius and, of course, Sandy Creek. They're big teams, strong teams, very good and very solid in what they do. But, our defense and toughness got us over the hump."
Brown finished with 20 points leading Americus. Joshua Lusane added 17 points. Lashon Ross scored nine points and Willoughby had eight points. Bickerstaff led Sandy Creek with 21 points. Julian Alexander scored 11 points.
Carver-Columbus 58, Woodward Academy 50
The game was a back-and-forth affair that both teams will feel they deserved the win but in the end, A.J. Watts's  28 points led Carver-Columbus past Woodward 58-50 to advance to face Americus-Sumter at 1 p.m. on Friday at the Centreplex in Macon. Carver's Watts and Jalen King combined for 49 of the Tigers' 58 points. Devin Flowers added the other nine.
"Its just a blessing to coach a group of guys that I had a chance to coach this year," said Carver-Columbus coach Warren Beaulah. "Especially a guy like A.J. Watts. He is a special kid. You don't get them many times in your coaching career."
With 1:11 left in the game and Carver leading 50-45, Watts, a 5-11 senior guard, drove the lane and converted a contested layup to put the Tigers up 50-45 and that's as close as it would get. Woodward rushed the ball down the court and found Will Demorest in the right corner but his shot missed. Watts corralled the rebound and, with a perfect full-court pass, found Devin Flowers cutting down the floor for an easy lay-in which put Carver up 52-47.
"Watts just kind of willed us to win," Beaulah said. "It's innate. It's something that special kids have that you just can't teach. It's amazing to have a group of young men and a guy like and A.J. Watts. He has been our go-to man all year and he didn't let us down tonight. We could have thrown it in a couple of times, but he said that we were going to win this game. And that's what we did."
Woodward had its chances and tied the game several times but sloppy turnovers in the second half proved costly for the War Eagles.
With 1:24 left in the third quarter, Carver was nursing a 36-34 lead and it tried to get two shots off under the basket but both were rejected by Woodward's 7-foot center Walker Kessler. On the ensuing possession, the Kevin Durant-like center showed that he can handle the ball on the offensive side as well.
As Woodward brought the ball down, Kessler snuck to the left corner and then drove, defended, to the basket and despite missing the first shot attempt, a slow underhanded floater, Kessler was able to use his soft hands to guide the ball into the hoop after a few bounces off the rim.
With 2:59 left, after a quick score by Watts to put the Tigers up 42-39, Kessler was found open on the left elbow and, when not guarded, he knocked down a three-pointer to tie the game at 42. From then, the momentum shifted in Carver's favor and the lead steadily expanded.
Carver's consistency on both sides of the floor proved the difference as the Tigers pulled into the lead and put the game away.
"Focus and playing together," Watts said of the team win. "You can't fall down, you can't fall apart in the end. You know it isn't over with until the horn blows. You have to stay composed."
The highlight of the game for Watts was a building-shaking dunk after driving straight down the lane at Kessler and the Woodward defense.
Kessler led Woodward with 26 points. Michael Whitemore added nine points and Demorest scored six points
Girls
Spalding 50, Luella 28
Spalding's speedy defense caused fits for Luella throughout the second half as the defending-champion Jaguars steadily pulled away and turned a competitive game at the half into a mere formality in the final few minutes of play in the Class AAAA semifinals at Fort Valley State.
"We knew that defense wins championships," said Spalding's senior guard Aniaya Jester. "We knew we had to turn it up on defense. We were all-in as one team. We all just play as one. We just play defense, we knew we had to turn them over and turn it up on defense."
Spalding did just that as it held Luella to just six points in the second half while it added 27 to put the game out of reach.
"We had to make some adjustments on offense," said coach Gilbert. "We made those at halftime. They were running a high trap. We had to adjust and come to the middle and make quick passes out of the trap. I have to give credit to my girls. They did a great job."
The Jaguars trailed early but scored the final eight points of the first quarter to overcome the deficit and take an 11-7 lead entering the second frame. Spalding extended the lead into the second quarter before Luella broke the five-minute scoring drought with 5:30 left before half. Luella then mounted a run of its own to pull within one point, 23-22 at the break.
From there, it was all Spalding's game.
"I am blessed with athletic girls who are quick and fast," said coach Tykira Gilbert. "I use that to my advantage on the defensive end teaching the defensive principles that I grew up on. The girls bought into it. I've been preaching defense since I've been there and it finally settled in. That is our M.O., defense.
The Jaguars extended the lead to 35-25 at the end of the third quarter and with 2:09 left in the game, Spalding was enjoying a 48-27 advantage thanks to its stifling defensive effort.
Corriana Evans led Spalding with 17 points. Jester finished with 13 points. Kierstyn Milner added seven points and Kayla Milner scored six points. Keely Brown led Luella with nine points and Paris Miller scored seven.
Carver-Columbus 74, Flowery Branch 70 
Carver-Columbus remained flawless on the season as it advanced past Flowery Branch to earn its berth in the title game against Spalding at 11 a.m. on Friday."I don't know what the recipe is," coach Anson Hundley said of his team's perfect season thus far. "But we haven't been challenged like that all year. We just got to continue to work and get ourselves prepared for a tough Spalding team next week."Carver led 18-16 after the first quarter and by the half, it had expanded the lead to 34-29. After three quarters, Carver enjoyed a 53-44 lead. With 2:30 left in the game, Carver-Columbus extended its lead to 68-56. As the clock ticked down under a minute, Carver allowed Flowery Branch several quick baskets after leading by 12 points but time ran out.
"Ultimately, we just have to continue to do what we do. We have to get teams out of their element and hope they miss some shots," Hundley said. "Flowery Branch, they didn't miss any tonight. We missed a million free throws, we missed layups. We did everything we could possibly do to lose the game. But we found a way. That's just a sign of a team maturing and getting better. And we will have to get better"
Olivia Cochran, a 6-foot-3 senior center, led Carver with 29 points. Kionna Gaines scored 19 points. Ja-Nya Love-Hill scored 12 points and Jailyn Shaw added 10 points.
"We had a tough time last year and the energy this year was just there and we went to work," said Cochran. Flowery Branch could shoot the ball and we just had to make sure we played tight defense tonight. We just had to be mentally tough at the end and we kept pushing and we didn't give up."
Flowery Branch was paced by Caroline Wysocki and Ashley Woodruffe who each scored 20 points. Wysocki, a speedy senior guard, scored 13 of her 20 points in the fourth quarter. Woodruffe scored 10 of her 20 points in the final frame. Ashlee Locke added 10 points for the Falcons.