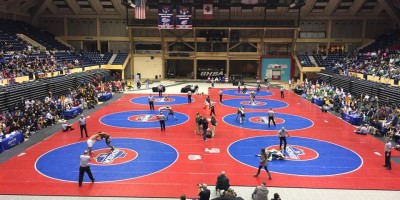 The GHSA Dual Wrestling Championships in Macon crowned seven champions today. Here is a look at what took place.
Camden County defeated Archer 47-13 to take the Class AAAAAAA crown. Before the latest reclassification, Archer won titles in 2013-16 in Class AAAAAA and Camden took the AAAAA titles in 2015-16. Camden moved past West Forsyth, Hillgrove and Collins Hill to earn the championship berth.
In the finals of the losers bracket, North Forsyth edged Mountain View 39-34 to take third place.
Richmond Hill's 37-26 victory over Alexander in Class AAAAAA gave it the program's first-ever duals title. Richmond Hill moved past Chattahoochee, Lee County and Creekview before facing Alexander.
Creekview earned third place with a 39-26 victory over Valdosta in the final game of the losers bracket.
In Class AAAAA, Buford's 50-18 victory over Ola in the championship match gave the Wolves their third duals wrestling title. Buford moved past Miller Grove, Carrollton and Locust Grove to earn the matchup against Ola.
Cass took third place with a 40-24 victory over Locust Grove in the final matchup of the loser bracket.
Jefferson stormed to the Class AAAA title with a 36-19 victory over Gilmer in the championship match. Jefferson moved through Luella, Marist and West Laurens before the title matchup. Since 2001, Jefferson has won a title each year (17). From 2002-08 in Class A, from 2009-2014 in Class AA, 2015-16 in AAA and 2017 in AAAA.
West Laurens, after falling to eventual champion Jefferson yesterday, took third place following a 45-24 victory over Troup County in the losers bracket.
North Hall's 42-33 victory over Bremen in Class AAA brought the program its first-ever duals state title. North Hall moved through Pierce County and Sonoraville to earn the championship berth.
In the losers bracket, Sonoraville bounced back after falling to North Hall yesterday and defeated Jackson County 46-21 to take third place.
In Class AA, Social Circle's 36-22 victory over Toombs County marked the fourth title in a row for the program. Social Circle moved past Armuchee and Fitzgerald to make it to the championship bout.
Fitzgerald took third place following a 39-33 victory over Rockmart in the final match of the losers bracket.
Commerce wrapped up its Class A season with a 68-6 dominant victory over Wesleyan after moving past Strong Rock Christian and Irwin County in convincing fashion. In the losers bracket, Trion bested Mount de Sales 54-25 to take third place.
GHSA Dual Wrestling Championships final results
Class AAAAAAA
1. Camden County
2. Archer
3. North Forsyth
4. Mountain View
Class AAAAAA
1. Richmond Hill
2. Alexander
3. Creekview
4. Valdosta
Class AAAAA
1. Buford
2. Ola
3. Cass
4. Locust Grove
Class AAAA
1. Jefferson
2. Gilmer
3. West Laurens
4. Troup County
Class AAA
1. North Hall
2. Bremen
3. Sonoraville
4. Jackson County
Class AA
1. Social Circle
2. Toombs County
3. Fitzgerald
4. Rockmart
Class A
1. Commerce
2. Wesleyan
3. Trion
4. Mount de Sales