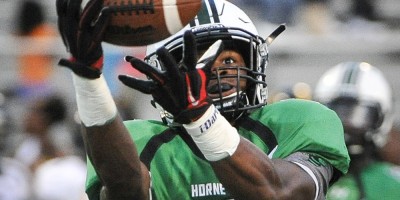 Class AAAAAAA
Roswell 28, Westlake 0
Grayson 41, Mill Creek 20
Class AAAAAA
Tucker 22, Northside-Warner Robins 7
Valdosta 27, Dalton 6
How the game was won: The Wildcats used their stingy defense to hold down an explosive Dalton offense that was without Middle Tennessee State-signee, wide receiver Zeke Cobb.
Top Performers: Josh Belton threw four touchdown passes including a 20-yarder to defensive end Devonnsha Maxwell and two scores to JR Ingram. Belton's 29-yard strike to Jontae Baker in the third quarter made it 14-0 coming after a muffed punt. Dalton's lone score came on a hook-and-ladder in which Kyric McGowan tossed to Ahmaad Tanner who ran in the score from 19 yards away.
Class AAAAA
Rome 28, Stockbridge 21
How the game was won:Rome survived a back-and-forth affair to hand visiting Stockbridge its first loss of the season. The Wolves twice battled back from touchdown deficits before taking their first lead on a one-yard run by Jamious Griffin midway through the third quarter. They eventually broke a 21-21 tie on Griffin's 14-yard touchdown with 6:30 remaining in the game. The Tigers appeared to have a chance for a potential game-tying score when they posted a clutch defensive stop, but they muffed the ensuing punt with 1:32 left and Rome recovered.
Top performers: Griffin rushed for three touchdowns, including one in the second quarter, another in the third, and his game-winner in the fourth. Rome's other touchdown came when it tied the score at 14-14 on a four-yard pass from Knox Kadum to Marquez Kirby. All three of Stockbridge's touchdowns were passes from Kenderick Duncan to Marquez Ezzard–from 70 yards, 34 yards, and 27 yards away. The last two Duncan-to-Ezzard scoring strikes came in fourth-down situations. Duncan completed 15 of 23 passes for 246 yards and three touchdowns, while Ezzard finished with 201 yards on nine receptions.
Buford 28, Kell 16
Class AAAA
Cartersville 38, Mary Persons 17:
How the game was won: Mary Persons took advantage of a slow start for the Cartersville offense and got on the board first with a 47-yard touchdown pass from Caleb Speir to Roger Akins. After a Cartersville fumble, Zach Harvey found the endzone from 1-yard out to give the visiting Bulldogs a 14-0 lead heading into the second quarter. Cartersville's 38-3 scoring advantage in the final three quarters began with an 8-yard touchdown pass from Trevor Lawrence to E.J. Turner 59 seconds into the second frame. Mary Persons answered with an Alexander Rivera 21-yard field goal to maintain a 17-7 lead, but Cartersville closed out the first half with a 54-yard touchdown run by Trey Creamer and a 19-yard touchdown pass from Lawrence to Turner to give the Purple Hurricanes a 21-17 halftime lead. Lawrence threw his third touchdown of the game on a 3-yard toss to Darian Poellnitz with 6:23 left in the third quarter. Cartersville's Jonathan Cruz opened the fourth quarter with a 36-yard field goal and Lawrence closed out the game with a screen pass to Creamer that the senior running back took for a 29-yard touchdown.
Top Performers: Cartersville quarterback Trevor Lawrence threw four touchdown passes. E.J. Turner caught touchdown passes from eight and 19 yards in the second quarter. Trey Creamer rushed for a 54-yard score and caught a 29-yard touchdown pass in the fourth quarter.
Thomson 27, Jefferson 6:
How the game was won: After a scoreless first quarter, visiting Jefferson capped off a 9-play drive with a Hayden Kilgore 22-yard field goal to take a 3-0 lead. Thomson got on the board with a 1-yard Michael Thomas touchdown run and quarterback Mills Ridings scrambled in for a 15-yard touchdown with 49 seconds left in the half to build a 13-3 lead. Thomson outgained Jefferson 189-to-97 in the first half. In the third quarter, Thomas connected with Trey Parker from 32 yards out on a halfback pass touchdown to take a 20-3 lead. Later in the quarter, Kilgore made a 30-yard field goal to cut the deficit to 20-6. Bubba Murray ran in the only points of the fourth quarter on a 2-yard handoff with 10:08 left on the clock.
Top performers: Michael Thomas rushed for a touchdown and threw a 32-yard touchdown pass to Trey Parker to lead the Bulldogs. Mills Ridings and Bubba Murray each added Thomson rushing touchdowns. Jefferson's points came off of a pair of made field goals by Hayden Kilgore.
Class AAA
Greater Atlanta Christian 13, Peach Co. 7
Cedar Grove 55, Crisp County 0
How the game was won: Despite having home-field advantage, Crisp County did not come close to avoiding its first loss of the season at the hands of Cedar Grove. The Saints soared to a 21-0 first-quarter advantage and led 41-0 by halftime. In addition to a shutout, their defense also recorded two safeties in the first quarter. Crisp County recovered its own fumble in the endzone for the first safety and a snap over the quarterback's head led to Cedar Grove's second two-pointer. Saints' signal-caller Jelani Woods helped his team get off to a fast start with scores on the ground and through the air in the opening quarter.
Top performers: Woods accounted for three total touchdowns, running one in from four yards out and tossing a pair of scoring strikes to Jadon Haselwood. The visitors' onslaught also saw Tre' Shaw rush for one score and throw a 35-yard touchdown pass to Korey Hernandez. Grant Walker provided all of the scoring in a lightning-quick second half with the clock running, as he delivered touchdown runs in both the third and fourth quarters.
Class AA
Benedictine 49 Callaway 10
How the game was won: Benedictine hosted Callaway in a battle of unbeaten teams in the Class 2A semifinals and found the endzone first off a 69 yard drive capped off by a John Wesley Kennedy 10-yard touchdown run. Benedictine came back down the field for another Kennedy score, a 20-yard pass from Nick Iannone, and took a 13-0 lead. After a Callaway field goal, the Cadets would score two straight touchdowns before half, including a 67-yard touchdown run by Kennedy. With the lead at 27-3 lead to start the third quarter, Benedictine poured on a 22-7 scoring edge in the second half that included a running clock.
Top Performers: It was the John Wesley Kennedy show in this semifinal matchup. Kennedy finished off the night with four total touchdowns. Behind him, Terrick Smalls Jr. rushed for two touchdowns.
Fitzgerald 42, Hapeville Charter 21
How the game was won: Fitzgerald scored the first 35 points of the game before Hapeville got on the board with under a minute to play in the first half. The Purple Hurricane got six rushing touchdowns, with many drives starting on short fields, and held Hapeville to just 43 yards rushing.
Top performers: Fitzgerald's J.D. King had 21 carries for 164 yards and touchdowns of 15 and 23 yards, both in the first half, and had a reception for 20 yards. His first TD came four plays after Damien Devine took the opening kickoff 50 yards to the Hapeville 45. Quarterback James Graham had 11 carries for 43 yards and three touchdowns, coming from 5, 3 and 1 yards. Graham was 6-of-15 passing for 74 yards. Ethan Gordon scored on a 3-yard run in the first quarter and finished with 12 carries for 58 yards and one reception for 20 yards. For Hapeville, quarterback Hajj-Malik Williams rushed for all three touchdowns from 6, 5 and 1 yards out and found Jermaine Burton on a two-point conversion with seven seconds left. Williams finished 13-of-25 passing for 225 yards and had 16 carries for 60 yards; other Hapeville runners were held to minus-17 yards rushing.
Class A-Public
Macon County 48, ECI 26
How the game was won: Macon County hasn't been to the state finals in 20 years and hosting ECI would make for a hard task to break that drought. The Bulldogs went into the second quarter with a 14-12 lead, after an ECI missed extra point and a failed two-point conversion that otherwise could've tied the game. With the narrow lead, Macon County scored off a K'hari Lane touchdown to make it 21-12 at the break and ignited to run away with the win. To start the second half, the Bulldogs capped a 78-yard drive with a Aukeeveous Mclendon touchdown run. ECI would answer back but failed at two point conversation again, making the score 28-18. Lane connected with Curt McDonald on a 42 yard touchdown pass to add to the Bulldogs' lead. On the ensuing ECI drive, Jared Daniels would help put this game out of reach with a pick-six for the Bulldogs and gave them a 41-18 lead. Macon County secured their spot in the Class A Public State Championship against McIntosh County Academy
Top Performers: Macon County's seven touchdowns came from three players. K'hari Lane finished the night with three total touchdowns, two passing and one rushing. Akeeveous McLendon found the endzone twice on the ground. Jared Daniels would total two also, one off a pick-six and another with a 2-yard rush.
McIntosh County Academy 24, Clinch County 8
How the game was won: Defending Class A-Public state champion Clinch County went scoreless in four trips to the red zone as McIntosh County Academy leaned on its defense to bounce the Panthers. The Buccaneers set the tone early, stuffing Clinch County on the goal line with 57.9 seconds left in the first quarter.
Top Performers: JP Palmer scored three touchdowns including a 56-yard reception to open up the scoring, a 32-yard interception return and a 13-yard touchdown run in the fourth quarter. Valentin Salazar sank a 37-yard field goal. Clinch's only score came on a Charles McClelland 20-yard run in the second quarter.
Class A-Private
Eagles Landing Chr. 42, Tattnall Square 21
Fellowship Christian 31, Prince Avenue Christian 28
How the game was won: Despite failing to score extra points or two-point conversions after four of its touchdowns, Fellowship withstood a furious Prince Avenue rally late in the game. Fellowship held a 31-7 lead after an Andrew Minkert touchdown run with 5:34 left in the third quarter but then allowed 21 straight Prince Avenue points to lead by just three with 5:40 left to play. After a Fellowship punt put PACS on its own 47-yard line with 2:12 to go, the Wolverines fumbled on first down and Fellowship ran out the clock after gaining two first downs.
Top performers: Fellowship linebacker Trey Robinson recovered the late Thomas Huff fumble on Prince Avenue's 44-yard line. Paladins quarterback Jack Hardin rushed for touchdowns of 1 yard and 4 yards and had touchdown passes of 25 yards to Ryan Reid and 11 yards to Merrick Haigler. Hardin hit Reid for a key first-down completion on the final possession. Minkert's third-quarter touchdown was from 5 yards out. For Prince Avenue, Grant Roland completed TD passes of 30 yards to Noah Campbell and 39 yards to Huff, who had the Wolverines' final score on a 13-yard run. Christian Parrish of PACS had a 40-yard punt return for a score.