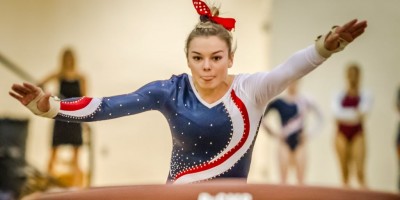 North Oconee and Buford took the team titles at the Gymnastics state championships Friday night at Buford Arena. North Oconee won its first-ever state title in 2019 and after the 2020 season was cut short, picked up another title in 2021 before this year's triumph in the Class A-5A field. The Titans' maintained their dynasty, despite Class of 2023 standout Madison McMullen graduating early to compete at George Washington University with a score of 113.800 to second place Bremen's 103.075.
Buford's victory in the Class 6A-7A field resulted in the Wolves' first state title since their three-peat in 2014-16.
The Wolves were led by Marissa Ashton—who took first place in the Vault and the All-Around  (38.975) title and also picked up a second place finish in the Beam and fourth place in the Floor. Buford dominated the Floor with Bellarae Newby earning a second-place finish and Lily Black tallying a third-place finish. Buford finished state runner-up last year to Newnan, but closed out the season at the top of the rankings with a 112.817 team score and posted a 11.675 in the prelims on Wednesday to set up their championship-clinching (113.900) performance on Friday.
In Class A-5A, Pike County's Madelyn Crow won the All-Around with a historic 39.700. Crow's All-Around victory included perfect 10.000 in the Vault, Beam and the Floor and a 9.700 in the Bars, resulting in a clean sweep of every individual Class A-5A individual title.
East Forsyth High School made its championship debut as a first-year school in Class A-5A and Katelynne Tatum picked up a fourth-place finish in the All-Around (37.500) and landed a 9.700 in the vault. Katie Andrews of Forsyth Central also had
4. Forsyth Central 105.975
1. Marissa Ashton, Buford, 38.975
2. Mikayla Burton, Newnan, 38.225
3. Katie Andrews, Forsyth Central, 37.400
4. Molly English, Newnan, 37.100
1. Marissa Ashton, Buford, 9.700
2. Mikayla Burton, Newnan, 9.450
3. Molly English, Newnan, 9.400
4. Hayden Taylor, Tift County, 9.300
1. Mikayla Burton, Newnan, 9.975
2. Marissa Ashton, Buford, 9.825
3. Kalani Witherspoon, Carrollton, 9.700
4. Hayden Taylor, Tift County, 9.175
1. Kalani Witherspoon, Carrollton, 9.900
2. Bella Rae Newby, Buford, 9.750
3. Lily Black, Buford, 9.700
4. Marissa Ashton, Buford, 9.650
1. Marissa Ashton, Buford, 9.800
2. Katie Andrews, Forsyth Central, 9.600
3T. Mikayla Burton, Newton, 9.500
3T. Kendall New, Carrollton, 9.500
1. Madelyn Crow, Pike County, 39.700
2. Brantley Lucas, North Oconee, 37.875
3. Chloe McDonald, North Oconee, 37.600
4. Katelynne Tatum, East Forsyth, 37.500
1. Madelyn Crow, Pike County, 9.700
2. Gabby Nguyen, North Oconee, 9.250
3. Chloe McDonald, North Oconee, 9.250
4. Katelynne Tatum, East Forsyth, 9.175
1. Madelyn Crow, Pike County, 10.000
2. Emory Shepherd, North Oconee, 9.600
3. Brantley Lucas, North Oconee, 9.400
4. Katelynne Tatum, East Forsyth, 9.250
1. Madelyn Crow, Pike County, 10.000
2. Brantley Lucas, North Oconee, 9.750
3. Chloe McDonald, North Oconee, 9.575
4. Kate Stetter, East Forsyth, 9.525
1. Madelyn Crow, Pike County, 10.000
2. Gabby Nguyen, North Oconee, 9.800
3. Chloe McDonald, North Oconee, 9.750
4. Katelynne Tatum, East Forsyth, 9.700