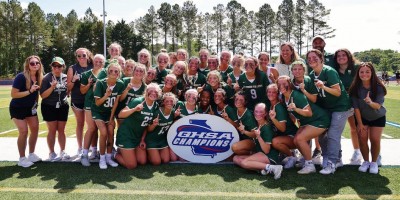 The Blessed Trinity Girls opened up Saturday's four-game state championship lineup at Denmark High School with a convincing 20-2 win over Northview in the Class A-5A finals to win its second-straight title and fifth state crown over the last six seasons. The two Titans previously faced in the season opener on Feb. 8 and Blessed Trinity came away with a 21-8 victory. Head coach Liz McFarland recognized the challenge of beating the same team twice and encouraged her team to come out the gates aggressive. That strategy, in addition to an early shoot around the team squeezed in before its 10 a.m. faceoff with Northview, prepared them to jump out to a quick 6-0 lead that turned into an insurmountable 13-2 lead at the half.
"Northview was our first game of the season," explained head coach Liz McFarland. "Sometimes it is hard to beat the same team twice, but we also know that teams change during the season and that if we just exploded from the get go and did fast breaks and didn't slow down, we felt like we would be in good shape to win again and I think you saw that today. We had a tremendous amount of goals off of fast breaks and we just didn't let up and so I am very proud of our girls. … We did a little shoot around this morning to get the jitters out and so when we arrived at Denmark, we were in good shape."
Senior Sarah Chernik scored three of her team-high four goals in the first half and was one of the nine different Blessed Trinity players that produced goals.
"We have so much depth and really any player can play any different position," explained McFarland. "We also don't have any ball hogs out there and so we can keep it fresh and you never know who is going to be the one to score and that is to our advantage.
Junior Emily Weir was credited for her resilience in goal today and played a key role in Blessed Trinity closing out its impressive 2022 playoff run with a whopping 88-16 advantage in goals.
GIRLS
Class 6A-7A
Milton 13, Creekview 12
Milton junior Emma Mills scored the Eagles' game-winning goal with just 7.2 seconds left to secure the program's 15th all-time state crown and fifth-straight title. The Eagles have won state in 15 of the sports' 17 seasons and this year's championship run was especially sweet to head coach Tim Godby and a roster filled with underclassmen and first-year starters as they held on to defeat an experienced Creekview team.
"We knew Creekview well, I had seen them play six times during the year," said Godby. "To me, preseason they were the top team in the state because they had all their starters returning, I think they had 10 seniors and were very experiences. As for us, we had two starters returning and we lost one to an ACL in a scrimmage and so now we just had one. We were very young and there were ups and downs and readjusting the lineup and our schemes, but we were able to pull it together. As I like to say, we stole a championship this year because we weren't supposed to win it. We started five freshmen during the season and four today."
Milton is improved to 20-3 with the victory and as coach Godby pointed out, all three of those losses were decided by one goal. He credited those defeats with preparing them down the stretch of Saturday's thrilling showdown with the Grizzlies.
"We lost three games by one goal this season and I think that helped us handle our close game today," said Godby. "This has to be the most exciting championship out of all 15 we've had."
Milton opened up a 3-1 lead, but Creekview answered and tied up the match 6-6 at the half. Juniors Maeve Simonds and Caroline Nickel each scored two first-half goals for Milton and Creekview's Maldonado Walters and Van Der Walton each scored a pair. The Eagles were able to take a 10-8 lead in the second half, but Creekview answered with a 4-0 run to go up 12-10. Three unanswered goals were needed down the stretch to lift Milton to its 13-12 victory.
Mills forced the last two turnovers of the games that led to the game-tying goal and then her game-winner came after the Eagles gained possession and took a timeout with 1:05 left. Milton designed a play that broke down, according to Godby. Anna Mellinger had scored Milton's previous two goals and Creekview double-teamed her—freeing up Mills in the middle. After receiving the ball, Mills used a fake and then fired in the deciding goal.
BOYS
Class 6A-7A
Lambert 7, Walton 4
Lambert overcame a slow start with seven unanswered goals to win its second-straight title and sixth all-time championship. The Longhorns program is renowned for its defensive success and its opponent Walton entered the match averaging nearly 15 goals per game. Walton opened up a 3-0 lead after the first quarter and grew the lead to 4-0 late in the half before freshman Brooks Wehman scored with just 2:45 left to make it a 4-1 game.
"Brooks is a freshman, that is what is so crazy," said Lambert head coach Nate Hamilton. "He is super talented and crafty and has been hurt all year and he stepped up big. He broke the seal and that was huge and that is what he did."
In addition to pointing out the importance of Wehman's goal before the half, Hamilton credited his goalie Hunter Klosterman for being able to stifle Walton and allow just one goal in the final three periods.
"Hunter [Klosterman] is an elite goalie," explained Hamilton. "He rebounds from mistakes really well. In the first half, he doubled off the ball one time and left it wide open and gave up a goal, but he didn't fold after that. He didn't get discouraged, everyone lifted him up and then our defense got solid and our offense got going. That was the big thing, we started winning more faceoffs and that's what really got the momentum going."
Lambert sophomore Charlie Goldstein finished with three goals and helped tie it up 4-4 before Danny Kesserling fired in a 15-yard shot into the top right to give the Longhorns their first lead of the game (5-4) with 6:53 left in the fourth quarter. Chris Harper also scored in the victory and Wehman added his second goal on an empty net as Walton tried to mount a late comeback.
"We started winning ground balls and the momentum really started going our way," said Hamilton. "Harrison Richards, another freshman made some great plays on ground balls that began to sway the momentum and we were able to put it in the back of the net. Charlie Goldstein threw in three goals today and on one of them he missed an open net and then got it back and in with an incredible effort with the goalie back in. And Danny Kesserling is really good. He cannot hold him down for long."
Lambert closes out the year 20-2 and with the victory avenged its 8-7 overtime loss to Walton in the 2019 state championship.
"It was a gritty win," said Hamilton. "We toughed it out. They are big, physical, strong and fast and have great shooters. We were able to slow them down, especially in the second half and we just never gave up. I give credit to Walton, because they are a great team."
Class A-5A
Lovett 14, Westminster 7
Lovett outscored Westminster 7-1 in the second half to close out a perfect 23-0 season and captured its first state title since 2009 and fourth all-time crown. The Lions previously defeated Westminster 9-6 during the regular season, but the history between the two rivals extends far beyond that battle.
"That's the funny thing. Myself and coach [John] Parrish were the only ones that lost to Westminster in overtime five times since 2009," said head coach Jim Buczek. "The kids on this year's team really didn't. Last year, we had three COVID outbreaks and two starters broke their legs. The year before, they played just three games before the season got cancelled. So when this senior class was freshmen, they played in the finals. Now they closed the loop on their careers and went out the way they should."
Saturday's contest remained tight until the Lions' broke it open and completed the season sweep. Lovett's William Overly scored four goals in the first half, Mason Ball scored two and John Mori netted one to give the Lions a 7-6 lead. In the second half, Lovett pushed the lead to 11-7 with a Russell Overly goal and a Hunter Gregory hat-trick. The Lions' final two goals came on back-to-back scores by Ball—who finished the game with four.
Coach Buczek celebrated and his four team captains for their efforts and focus.
"He's [Owen Armentrout] been the best goalie in the state regardless of class for the last two years," said Buczek. He locked down his end, Russell [Overly] is the defensive captain and did his job, William [Overly] stepped up big for us and then our fourth captain Garrett Kelly played the entire game with a broken jaw. He couldn't dodge the way he normally could, so he would've had a big game as well. But he was there and the gravity of his presence helped open up things for guys like Hudson Gregory."