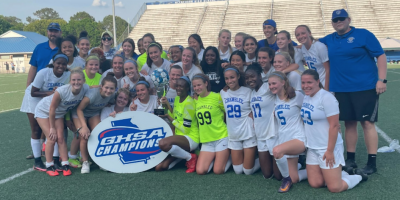 Day 3 of the GHSA Soccer State Championships crowned the Class 5A and 4A girls and boys state champions Thursday at McEachern's Cantrell Stadium and Mercer's Five Star Stadium. The Chamblee girls, who previously defeated Midtown 6-3 in the regular season, overpowered the Knights 8-1 in the Class 5A championship to win the program's first-ever state title and become the first DeKalb public school to win a girls soccer state championship. The Bulldogs opened up a 1-0 lead in the first minute of action after Ansley Harrison stole possession in Midtown territory, avoided a defender and then fired into the low right corner.
Solar Washington assisted a Kara Croone goal shortly after, Croone assisted Harrison's second goal and then Washington added another goal to put Chamblee up 4-0 just eight minutes into the match. Midtown cut the deficit to 4-1 in the second half, but Harrison completed a hat-trick to give the Bulldogs a 5-1 lead. Chamblee's Washington added a second goal to make it 6-1 and Croone's goals at the 19:59 and 12:58 mark completed her hat-trick and pushed the lead to 8-1. Chamblee finishes its historic year with a 22-1-1 record—giving it the best record in county history.
GIRLS
Class 4A
Marist 1, Jefferson 0 OT
Marist and Jefferson went scoreless after 80 minutes of regulation and played out two 10-minute overtime periods before the War Eagles emerged victorious in the battle of attrition. The decisive, game-winning goal came in the first overtime period when freshman Mary Margaret Fligg broke open the stalemate. With the victory, Marist achieved its 11th all-time girls soccer state title and first since 2018. Marist (17-5) did not drop a single game to a Class 4A opponent this season and after Thursday's overtime thriller, closes out its postseason with a flawless 27-0 scoring advantage.
BOYS
Class 5A
Johnson-Gainesville 4, St. Pius 2
Johnson-Gainesville (21-1-1) avenged its only loss of the year with its 6-5 semifinals victory over Woodward Academy last Friday and overcame a 2-1 second half deficit on Thursday to deny St. Pius a 13th all-time state crown and capture its first state title since 2018—and second all-time. The Knights scored on an Angel Sagrero rebounded goal, but St. Pius' 6-foot-5 junior Carter Dixon headed in the equalizer to make it a 1-1 game at the half and the score held after Johnson-Gainesville managed three shots on goal in the final two minutes. The teams traded successful penalty kicks and forced a 2-2 tie with 13:57 left and then Kevin Castillo scored the go-ahead goal with 11:16 left and the Knights added their insurance goal with just 45 seconds left for the final tally.
Southeast Whitfield 2, Northwest Whitfield 1
Defending state champion Southeast Whitfield previously defeated its Region 7 rival Northwest Whitfield 3-2 in overtime during the regular season and successfully completed the season sweep in Thursday's championship rematch to win the aptly named "Battle of Soccertown" and secured its third all-time state crown. The Raiders took a 1-0 halftime lead following a Diego Castillo goal just before the break. Northwest tied it up with a Matthew Molina goal early in the second half and then a red card left Southeast Whitfield a man down for the remainder of the match. Southeast head coach Hector Holguin inserted junior forward Diego Ramirez as his first sub of the match and minutes later he intercepted a pass from an awaiting Bruin and outpaced their last line of defense before firing in the game-winning goal in heroic fashion.