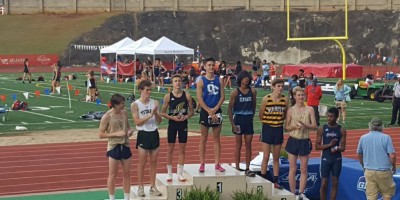 The GHSA Track and Field State Championships continued Friday at three locations across the state – Hugh Mills Stadium in Albany, Valhalla Stadium at Berry College in Rome and Grisham Stadium at Carrollton High School.
Three classes continued the competition at each location — AAAAAAA, AA and A-Private at Berry, AAAAAA, AAAAA and Wheelchair-Adapted in Carrollton and AAAA, AAA and A-Public in Albany. The preliminary events will determine who qualifies for the finals on Saturday.
In Albany, Matthew Harris of St. Pius X won the AAAA long jump with a 23-foot, 6.5-inch effort. Spalding's Jacoby Puckett (23-01.00) came in second and Chapel Hill's Freddie Allen III (22-08.25) finished third. Greater Atlanta Christian's Roy Dixon (23-08.50) won the AAA competition ahead of Towers' Shun Taylor (22-06.00) and Elijah Hobson (22-02.50).
Commerce athlete Shannon Segars (22-02.50) won the A-Public long jump with Hancock Central's Qeontavious Ivey (21-07.00) taking second and Schley County's Jackson Fulks (21-06.00) finishing third.
In Rome, Westlake's Aston Beavers captured the AAAAAAA discus championship with a 168 feet, four inch effort. West Forsyth's Kyle Brown came in second (166-05) and Parkview's Cody Brown finished third (166-01). Toombs County athlete Caleb Hartley (165-06) won the AA title ahead of Elbert County's Bryan Bradford (152-03) and Banks County's Jackson Ramey (149-09).
In the A-Private discus field competition, Riverside Military's Lamar Gordon (166-07) took first place ahead of Athens Academy's LenNeth Whitehead (160-03) and Landmark Christian's Braxton Brown (150-02).
In Carrollton, Northview's Jonathan Baker won the AAAAAA triple jump at 47 feet, 11 inches, edging Chattahoochee's Kevin Yang (47-06.75). Glynn Academy athlete Elijuan Singleton (46-11.50) finished third. For the girls, Forest Park's Janaya Jones (39-04.00) took the title ahead of Dunwoody's Ariel Lawrence (39-03.00) and New Manchester's Chloe Jarrette (38-07.50).
Carrollton's Payton Phillips won the AAAAA girls pole vault with a height of 13 feet, 2.25 inches. Starr's Mill's Julia Colson (11-06.00) took second and Riverwood's Kaleila Abrille (11-00.00) finished third.
We will have updates through Saturday's competition before breaking down all the results from every event after the finals. Our post will be the only place in the state to see the top results from each event in one convenient location.