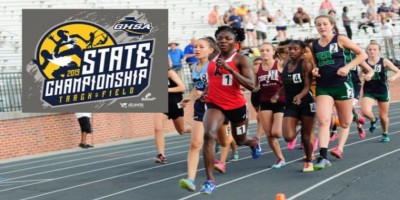 The GHSA Track and Field State Championships began on Thursday at three locations across the state – Hugh Mills Stadium in Albany, Valhalla Stadium at Berry College in Rome and Grisham Stadium at Carrollton High School.
Three classes began competition at each location — AAAAAAA, AA and A-Private at Berry, AAAAAA, AAAAA and Wheelchair-Adapted in Carrollton and AAAA, AAA and A-Public in Albany. The preliminary events will determine who qualifies for the finals on Saturday.
At Berry College, the AAAAAAA boys and girls completed the discus state championships where Wheeler's Jamilla Otieno (135 feet) won the girls title and Westlake's Aston Beavers (168 feet, 4 inches) won for the boys. The AAAAAAA boys also completed the 3200-meter run and Marietta's Kamari Miller led the pack with a time of 9 minutes, 33.35 seconds, ahead of Archer's Myles Collins, who turned in a time of 9:35.25. Roswell's Jack Rhodes came in third (9:35.74). In the girls 3200-meter run, another Marietta runner took the top spot with a 10:59.27 time. South Forsyth's Madelynne Cadeau came in second at 11:00.10 ahead of Marietta's June Mwaniki, who finished third (11:29.85).
At Albany, Westminster placed two runners at the top of the Class AAA 3200-meter run with Will Wallace taking the top spot with a 9:48.75 time ahead of teammate Zachary Roe, who finished with a time of 9:51.77 time. Pace Academy runner Edward Blaha came in third (10:02.55).
In the Class AAA girls 1600-meter run, Westminster placed yet another runner in the top spot as Naima Turbes led with a time of 5:16.87. Lovett runner Haley Hooper placed second with a 5:27.37 time ahead of Coahulla Creek runner Kaylee Bandy (5:29.34).
In the high jump state championships, Luella's Jada Blariton won the AAAA title (5-06.00). Jefferson's Jojo Smith won at the AAA level (5-02.00) and Gordon Lee's Kaylee Brown won the A-Public title (5-04.00).
At Carrollton, Johns Creek's Madelyn Horne led the way in the AAAAAA girls discus throw with a 151-10 effort. Dacula's Elsie Igberaese came in second with a 145-07 performance. Dunwoody's Janae Profit came in third (144-02).
For the AAAAAA boys discus, Houston County's Wesley Steiner won with a 176-05 effort. New Manchester's Ike Nwosu took second (172-06). Alpharetta's Jamal Ellis was third (167-06).
In the Class AAAAA boys high jump, Griffin's Amanuel McDowell led with a 6-08 jump ahead of teammate Quez Miller (6-06). Ware County's Charles Jones came in third (6-06).
We will have updates after Friday's competition before breaking down all of the results from every event on Saturday. Our post will be the only place in the state to see the top results from each event in one convenient location.