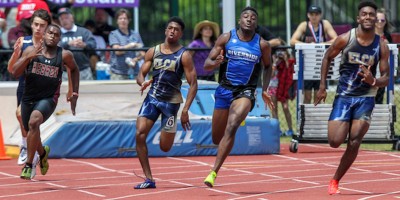 The team standings are beginning to come into focus following the second day of this year's GHSA Track and Field State Championships. Tomorrow will crown the overall team champions and after the first two days of action, there are programs that are already racking up the points. In addition to the depth some of the state's top track programs have showcased thus far, there have also been plenty of outstanding, and even record-breaking, individual performances witnessed in the early action.
Down in Class A Private boys, Landmark Christian's Joshua Smith set a meet record in the triple jump with a 48-9.5. The runner-up finisher was Providence Christian's Elijah Williams, who would have broken the record with his 48-9, if not for Smith's narrow victory. Smith's teammate Dylan Span also reached the podium with his 44-6 triple jump and gave Landmark Christian more points in the overall team standings.
Jefferson's Malaki Starks is typically known for his prowess on the gridiron and he is the No. 1 rated athlete in the nation for the Class of 2022. On Friday, he showcased his athleticism by earning a first place finish in the long jump with a 23-7. His teammate Jordan Perry, who is also a promising football prospect for the Dragons came in second-place with his 22-11. Jefferson, however, has been outperformed overall so far within the classification by powerhouses Marist and North Oconee, who have succeeded on the boys and girls side.
So far, all of the field events have been completed and events like the 4×800 meter relay, the 1600 meter and 3200 meter races have been tallied. Check below for all the results heading into the third and final day of championship weekend.
Class 7A
Boys Team Results: COMING SATURDAY
Boys Individual Results: (100-meter dash) (200) (400) (800) (1600) (3200) 1. Sully Shelton, Harrison, 8:50.85; 2. Kamari Miller, Marietta, 8:56.86; 3. Ethan Ashley, Denmark, 9:10.06; 4. Miguel Schlicht, Norcross, 9:14.58; 5. Jared Fortenberry, Marietta, 9:14.98; (110-meter hurdles) (300-meter hurdles) (400-meter relay) (4×800 meter relay) 1. Denmark, 7:44.21; 2. Harrison, 7:47.20; 3. Lambert, 7:55.38; (1600-meter relay) (High jump) 1. Isaac Osifo, West Forsyth, 6-10; 2. Jens Rueckert, McEachern, 6-10; 3. Maurice Thomas, Discovery, 6-6; 4. Noel Asiedu, Alpharetta, 6-6; (Pole vault) 1. Tyler Norr, West Forsyth, 15-0; 2. Jackson Kutsche, North Hall, 15-0; 3. Harrison Kopp, Dunwoody, 15-0; 4. Alon Rogow, Dunwoody, 14-0; (Long jump) 1. Frank Osorio Jr., Archer, 22-9; 2. Adarrius Harshaw, Cherokee, 22-3.75; 3. Ronnie Hamrick, Parkview, 22-2; 4. Isaiah Sanders, Marietta, 22-0; (Triple jump) 1. Kyle Fisher, Peachtree Ridge, 46-10; 2. Mark Morozov, Alpharetta, 46-8; 3. Boubacar Ndome, Marietta, 45-11.25; 4. Michael Azuka, McEachern, 45-9; (Shot put) 1. Garrett Brophy, Grayson, 58-2.25; 2. Aaron Fenimore, East Coweta, 56-4; 3. Cade Anders, Tift County, 55-9; 4. Marice Brown, Heard County, 55-7; (Discus) 1. Max Herman, Marietta, 169-2; 2. Ethan Sinon, McEachern, 162-9; 3. Jevan Parara, Alpharetta, 154-6; 4. Cody Brown, Parkview, 152-8;
Girls Team Results: COMING SATURDAY
Girls Individual Results: (100-meter dash) (200) (400) (800) (1600) 1. Riley Perlawkowski, Harrison, 5:01.60; 2. Lexi Pavese, Cherokee, 5:06.90; 3. Sarah Burwell, Walton, 5:08.02; 4. Ashley Thompson, Gainesville, 5:08.50; 5. Lily Cincola, Cherokee, 5:10.08; (3200) (110-meter hurdles) (300-meter hurdles) (400-meter relay) (4×800 meter relay) 1. Harrison, 9:22.42; 2. Marietta, 9:34.87; 3. Hillgrove, 9:36.88;  (1600-meter relay) (High jump) 1. Tomisin Adenupe, Walton, 5-6; 2. Kaylen Madrey, Newnan, 5-6; 3. Sierra Harrison, North Gwinnett, 5-2; 3. Eliza Bidwell, Mountain View, 5-2; (Pole vault) 1. Riley Jones, South Forsyth, 12-0; 2. Rachel Valentine, Walton, 12-0; 3. Silvana Lopez-Ramirez, West Forsyth, 11-0; 4. Octavia Allan, Norcross, 10-6; (Long jump) 1. Dallis Goodnight, Mill Creek, 18-5.50; 2. Skylar Harrelson, Cherokee, 18-4.50; 3. Ryann Richards, Hillgrove, 18-0.75; 4. Jordyn Ash, Newton, 17-10.75; (Triple jump) 1. Kaylan McConnehead, Lowndes, 39-10.75; 2. Jayda Lowe, McEachern, 38-6.50; 3. Jayla Brown, McEachern, 37-9.75; 4. Cerenity Daise, Pebblebrook, 37-8.50 (Shot put) 1. Janae Profit, Dunwoody, 47-11; 2. Mykhayla Carroll, Archer, 39-5; 3. Trinity Stephens, McEachern, 39-3; 4. Lexie Durban, North Forsyth, 38-6; (Discus) 1. Janae Profit, Dunwoody, 151-2; 2. Kameryn Hannon, Grayson, 125-5; 3. Morgan Gore, Lambert, 117-8; 4. Samantha Smith, Grayson, 117-1;
Class 6A
Boys Team Results: COMING SATURDAY
Boys Individual Results: (100-meter dash) (200) (400) (800) (1600) 1. Ethan Curnow, North Atlanta, 4:18.80; 2. Bryson Gates, Creekview, 4:19.12; 3. Jonathan Greene, Evans, 4:20.39; 4. Ben Butcher, Dacula, 4:20.54; 5. Ethan Kurilko, Lakeside-Evans, 4:20.61; (3200) 1. Ben Butcher, Dacula, 9:20.08; 2. Patrick Motes, Rome, 9:20.63; 3. Bryson Gates, Creekview, 9:21.54; 4. Jonathan Greene, Evans, 9:22.15; 5. Ethan Curnow, North Atlanta, 9:22.48; (110-meter hurdles) (300-meter hurdles) (400-meter relay) (4×800 meter relay) 1. Alexander, 7:58.36; 2. Carrollton, 8:06.22; 3. Shiloh, 8:07.73; 4. Riverwood, 8:09.08; (1600-meter relay) (High jump) 1. Zach Marinko, Pope, 6-6; 2. Brandon Benton, Alexander, 6-6; 3. Riyon Rankin, Brunswick, 6-6; 4. Ashriel Dixon, East Paulding, 6-4; (Pole vault) 1. Grant Briscoe, Carrollton, 16-2; 2. Nick West, Riverwood, 14-6; 3. Kareem Nazim, Carrollton, 14-6; 4. Connor Johnson, Rome, 14-0; (Long jump) 1. Amare Hall, Carrollton, 23-3; 2. Jerome Robinson, Sprayberry, 22-9.50; 3. Joshua Harper, Heritage-Conyers, 22-5.50; 4. Rashun Fountain, Heritage-Conyers, 22-1.50; (Triple jump) 1. Cameron Edwards, South Effingham, 45-8; 2. KaeVaughn Martin, Northside-WR, 44-10.25; 3. Zach Marinko, Pope, 44-8.75; 4. Terrance Lewis, Glynn Academy, 44-0.50; (Shot put) 1. Adams Watkins, Dacula, 58-9.50; 2. Jaccarius Peak, Valdosta, 51-7; 3. Julian Dailey, Douglas County, 51-5.50; 4. Cameron Wilson, Paulding County, 50-9.50; (Discus) 1. Adam Watkins, Dacula 169-6; 2. Piers Cameron, Pope, 158-10; 3. Montavius Holts, Carrollton, 152-2; 4. Justin Gilbert, Allatoona, 149-8;
Girls Team Results: COMING SATURDAY
Girls Individual Results: (100-meter dash) (200) (400) (800) (1600) 1. Sophie Boice, Pope, 5:00.64; 2. Simone Rojas, Evans, 5:05.34; 3. Elle Mezzio, Riverwood, 5:05.75; 4. Lorei Golden, Pope, 5:09.72; 5. Maken Gates, Creekview, 5:10.94; (3200) 1. Sophie Boice, Pope, 10:53.06; 2. Makena Gates, Creekview, 10:59.72; 3. Simone Rojas, Evans, 11:13.63; 4. Alexa Hoppenfield, Riverwood, 11:15.30; 5. Lorei Golden, Pope, 11:17.11; (110-meter hurdles) (300-meter hurdles) (400-meter relay) (4×800 meter relay) 1. Pope, 9:28.16; 2. Alexander, 9:37.92; 3. Riverwood, 9:44.57; 4. Westlake, 9:45.12;  (1600-meter relay) (High jump) 1. Jania Joseph, Statesboro, 5-8; 2. Danah Nembhard, Dacula, 5-6; 3. Paris Ivery, Grovetown, 5-4; 4. Akeelah Bryan, Brunswick, 5-2; (Pole vault) 1. Payton Phillips, Carrollton, 13-5.5; 2. Olivia Bollenbacher, Cambridge, 11-6; 3. Caroline Snell, Buford, 11-0; 4. Callie Snell, Buford, 10-6; (Long jump) 1. Adaejah Hodge, Alexander, 19-7; 2. Amaya Cooper, Westlake, 18-6; 3. Madyson Wilson, Westlake, 17-11.5; 4. Kennedy Hood, Morrow, 17-8.5; (Triple jump) 1. Kayla Pinkard, Carrollton, 41-6; 2. Jah;Lia Evans, Rome, 38-9.50; 3. Nalina Smith, Grovetown, 37-8; 4. Cameron Hodges, Heritage-Conyers, 37-4.50; (Shot put) 1. Cyan Green, South Cobb, 42-6.50; 2. Skylar Soli, Douglas County, 42-1; 3. O'Niece Roberts, Allatoona, 41-4.50; 4. Avery Fisher, Richmond Hill, 39-2; (Discus) 1. Jada Marsh, Carrollton, 146-9; 2. Skylar Soli, Douglas County, 128-6; 3. Molly Brice, Paulding County, 123-1; 4. Cyann Green, South Cobb, 119-9;
Class 5A
Boys Team Results: COMING SATURDAY
Boys Individual Results: (100-meter dash) (200) (400) (800) (1600) 1. Eoin McNally, Decatur, 4:18.17; 2. Adam Wade, Blessed Trinity, 4:19.08; 3. Benjamin Rothering, Blessed Trinity, 4:20.18; 4. Garrett Jones, Starr's Mill, 4:23.20; 5. Christian Gonzalez, Decatur, 4:24.58; (3200) 1. Benjamin Rothering, Blessed Trinity, 9:24.64; 2. Adam Wade, Blessed Trinity, 9:27.01; 3. Cameron Watson, Coffee, 9:27.43; 4. Kaleb Ellis, Harris County, 9:27.44; 5. Christian Gonzalez, Decatur, 9:28.37; (110-meter hurdles) (300-meter hurdles) (400-meter relay) (4×800 meter relay) 1. Decatur, 8:03.18; 2. Starr's Mill, 8:04.37; 3. Chamblee, 8:06.63; Blessed Trinity, 8:07.05;  (1600-meter relay) (High jump) 1. Freddie Hawkins, Woodland-Stockbridge, 6-4; 2. Dylan Faulkner, Calhoun, 6-2; 2. Anthony Parker Jr., Ola, 6-2; 4. Aidan Holliman, Greenbrier, 6-2; (Pole vault) 1. Koby Osgood, Loganville, 14-6; 2. Dylan Faulkner, Calhoun, 14-6; 3. Jordan Frank, North Springs, 14-0; 4. Quinn Neal, Whitewater, 14-0; (Long jump) 1. Justin Hodges, Clarke Central, 23-1.75; 2. Jordan McCants, Blessed Trinity, 22-5; 3. Erin Blount, Jones County, 22-2; 4. Marc Stampley, Starr's Mill, 22-0.75 (Triple jump) 1. Dainsus Miller, Creekside, 46-10; 2. Emmanuel Campbell, Jonesboro, 45-1.50; 3. Marc Stampley, Starr's Mill, 44-6.50; 4. Jordan McCants, Blessed Trinity, 44-3; (Shot put) 1. Henry Kofowo, Stone Mountain, 53-5; 2. Jacoby Johnson, Villa Rica, 52-11.50; 3. Robert Joseph, Woodward Academy, 52-10.50; 4. Quentin Peterson, Union Grove, 52-3; (Discus) 1. Akinwale Josh Dare, Creekside, 165-0; 2. Seth Allen, New Manchester, 164-11; 3. Camden Williams, Wayne County, 161-4; 4. Vic Burley, Warner Robins, 156-4
Girls Team Results: COMING SATURDAY
Girls Individual Results: (100-meter dash) (200) (400) (800) (1600) 1. Hannah Miniutti, Blessed Trinity, 4:53.67; 2. Hannah Schemmel, St. Pius, 4:56.42; 3. Mary Brady, St. Pius, 4:58.77; 4. Jamie Marlowe, Grady, 5:02.62; 5. Grace Von Biberstein, St. Pius, 5:04.19; (3200) 1. Hannah Schemmel, St. Pius, 10:25.72; 2. Hannah Miniutti, Blessed Trinity, 10:26.16; 3. Grace Von Biberstein, St. Pius, 11:09.74; 4. Kelly Ann Sutterfield, Blessed Trinity, 11:22.11; 5. Nicole Chastain, Blessed Trinity, 11:23.43; (110-meter hurdles) (300-meter hurdles) (400-meter relay) (4×800 meter relay) 1. Pope, 9:28.16; 2. Alexander, 9:37.92; 3. Riverwood, 9:44.57; 4. Westlake, 9:45.12; (1600-meter relay) (High jump) 1. Queens Adams, Jonesboro, 5-4; 2. Nadiayah Byard, Griffin, 5-2; 3. Sydney Molinaro, Woodland-Cartersville, 5-2; 3. Maya Mason, Apalachee, 5-2; (Pole vault) 1. Layla Keadle, North Springs, 11-6; 2. Charlotte Hodge, St. Pius, 11-0; 3. Malahne Walker, Chapel Hill, 11-0; 3. Molley Devinney, Woodward, 11-0 (Long jump) 1. Lashanti Williams, Clarke Central, 18-10.25; 2. Mary Rozier, Eagle's Landing, 17-9.50; 3. Eryn Boone, Grady, 17-6.25; 4. Janiya Riley, North Springs, 17-5.50; (Triple jump) 1. Savannah Simms, Woodward Academy, 39-2.50; 2. Zalil Gantt, Clarke Central, 38-3.75; 3. Peyton, Funderburk, Woodward Academy, 37-6.50; 4. Shynique McGee, Tri-Cities, 37-6; (Shot put) 1. Bre'yana Hill, Jackson-Atlanta, 42-2; 2. Kassidy Amerson-Fox, Chapel Hill, 41-5; 3. Jae'l Dunn, Stockbridge, 39-11; 4. Ayana Pugh, Jonesboro, 39-6.50; (Discus) 1. Laura Molina, Wayne County, 127-11; 2. Kassidy Amerson-Fox, Chapel Hill, 127-10; 3. Neely Rogan, Apalachee, 127-8; 4. Jae'l Dunn, Stockbridge, 123-8;
Class 4A
Boys Team Results: COMING SATURDAY
Boys Individual Results: (100-meter dash) (200) (400) (800) (1600) 1. Colin O'Rielley, Marist, 4:14.46; 2. Luke Gaddis, Chestatee, 4:15.56; 3. Seth White, Pickens, 4:19.26; 4. Jaylen Mallett, Marist, 4:24.19; 5. Davis Potts, North Oconee, 4:26.37; (3200) 1. Colin O'Rielly, Marist, 9:09.82; 2. Luke Gaddis, Chestatee, 9:12.78; 3. Davis Potts, North Oconee, 9:31.63; 4. Sage Walker, Druid Hills, 9:34.87; 5. Gavin Grater, Chestatee, 9:40.11; (110-meter hurdles) (300-meter hurdles) (400-meter relay) (4×800 meter relay) 1. Marist, 8:15.26; 2. Stephenson, 8:27.63; 3. Chestatee, 8:29.65; (1600-meter relay) (High jump) 1. Anthony Miles, Jordan, 6-4; 2. Silas Griffin, Northwest Whitfield, 6-4; 3. Domonik Henderson, Monroe, 6-4; 4. Chance Cross, North Oconee, 6-2; (Pole vault) 1. Jordan Flick, North Oconee, 14-6; 2. Drew Chambers, North Oconee, 13-6; 3. Griffin Carson, Jefferson, 12-0; 4. Michael Goode, Marist, 12-0; 4. John Harris, North Oconee, 12-0; (Long jump) 1. Malaki Starks, Jefferson, 23-7; 2. Jordan Perry, Jefferson, 22-11; 3. Sergio White, Dougherty, 22-11; 4. Travis Terrell Jr., Mays, 20-11.50; (Triple jump) 1. Domonik Henderson, Monroe, 46-0.25; 2. Davonte Jackson, Luella, 44-11.50; 3. Isaiah Screen, Stephenson, 43-8; 4. Trevon Campbell, Bainbridge, 43-7.50; (Shot put) 1. Logan Montgomery, Ridgeland, 58-1.50; 2. Kelton Smith, Carver-Columbus, 53-8; 3. Andrew Paolozzi, Jefferson, 52-2; 4. Isaac Moody, Westover, 46-10.25; (Discus) 1. Logan Montgomery, Ridgeland, 169-0; 2. Courtland Caldwell, Central-Carroll, 161-10; 3. Alexander Shepard, Druid Hills, 159-0; 4. James Jackson, Carver-Columbus, 156-4;
Girls Team Results: COMING SATURDAY
Girls Individual Results: (100-meter dash) (200) (400) (800) (1600) 1. Johna Grisik, Marist, 4:59.88; 2. Katherine Law, Jefferson, 5:06.20; 3. Ruby Little, Marist, 5:07.30; 4. Kate Selover, Marist, 5:08.28; 5. Harley Martz, Druid Hills, 5:10.49; (3200) (110-meter hurdles) (300-meter hurdles) (400-meter relay) (4×800 meter relay) 1. Jefferson, 9:48.87; 2. Marist, 9:59.73; 3. North Oconee, 10:05.95;  (1600-meter relay) (High jump) (Pole vault) 1. Rhiannon Held, North Oconee, 11-9; 2. Lauren Henderson, Marist, 9-10; 3. Hannah Thigpen, Flowery Branch, 9-10; 4. Ella Kulniszewski, Jefferson, 9-10; (Long jump) 1. Imani Moore, Fayette County, 19-3; 2. Jada Pittman, Jefferson, 18-4.50; 3. D'Metrionna Spencer, Thomas County Central, 17-7.50; 4. Madison Ruff, Baldwin, 17-5.50; (Triple jump) 1. Imani Moore, Fayette County, 38-0.50; 2. Jada Davis, Cedar Shoals, 37-0; 3. Danaya Wray, Cedar Shoals, 36-0.50; 4. Ashanti Surrey, West Laurens, 35-8.50; (Shot put) (Discus) 1. Kalayah Clark, Thomas County Central, 114-1; 2. Selah Holcombe, Jefferson, 109-3; 3. Kayli Miller, Central-Carroll, 106-7; Makayla Register, West Laurens, 104-5;
Class 3A
Boys Team Results: COMING SATURDAY
Boys Individual Results: (100-meter dash) (200) (400) (800) (1600) 1. Matthew Fernado, Westminster, 4:14.83; 2. Andrew Jones, North Hall, 4:17.87; 3. Avery Jaynes, Southeast Bulloch, 4:21.16; 4. Eamonn O'Bryant, White County, 4:23.45; 5. Justin Wachtel, Mary Persons, 4:26.59; (3200) 1. Justin Wachtel, Mary Persons, 9:06.49; 2. Andrew Jones, North Hall, 9:08.70; 3. Avery Jaynes, Southeast Bulloch, 9:26.57; 4. Lane Hollis, Coahulla Creek, 9:39.04; 5. Sam Hulsey, Dawson County, 9:47.73; (110-meter hurdles) (300-meter hurdles) (400-meter relay) (4×800 meter relay) 1. Westminster, 7:55.84; 2. .Dawson County, 7:58.51; 3. Oconee County, 8:09.80; (1600-meter relay) (High jump) 1. Jaylen Green, Appling County, 6-6; 2. Maleek Chandel, Pierce County, 6-4; 3. Zae Plummer, Pierce County, 6-4; 4. Jeremiah Telander, North Hall, 6-2; (Pole vault) 1. AJ Johnson, Hart County, 15-11.25; 2. Chandler Smith, Hart County, 14-6; 3. Simon Seid, North Hall, 14-6; 4. JT Vess, Sonoraville, 13-6; 4. John Lovett, Pike County, 13-6; (Long jump) 1. Dennis Foster, Jackson, 23-0; 2. JC Curry, Hart County, 22-3.50; 3. William Jeffreys, Morgan County, 22-3; 4. Maleek Chandel, Pierce County, 22-1; (Triple jump) 1. Maleek Chandel, Pierce County, 45-7; 2. Kenneth Foxworth, Liberty County, 44-0; 3. Lanear McCrary, Rockmart, 43-7; 4. Mehji Floyd, Rockmart, 43-0; (Shot put) 1. Phillips Moore, Westminster, 51-0.50; 2. Ejike Adele, Westminster, 47-11.75; 3. Jacere Cooper, Morgan County, 47-11.25; 4. Angel Cabrera, Coahulla Creek, 47-5.25; (Discus) 1. Phillips Moore, Westminster, 150-5; 2. Timothy Bailey, Richmond Academy, 148-10; 3. Grant Lisk, Rockmart, 147-4; 4. Jarrett Latty, North Hall, 145-10;
Girls Team Results: COMING SATURDAY
Girls Individual Results: (100-meter dash) (200) (400) (800) (1600) 1. Palmer Walstad, Westminster, 5:04.36; 2. Morgan Collins, Greater Atlanta Christian, 5:09.69; 3. Cate Stevens, Westminster, 5:13.13; 4. Abi Moore, North Hall, 4:17.57; 5. Caylee Wagner, North Hall, 5:20.69; (3200) (110-meter hurdles) (300-meter hurdles) (400-meter relay) (4×800 meter relay) 1. Westminster, 9:50.61; 2. Oconee County, 9:55.92; 3. Savannah Arts, 10:05.89;  (1600-meter relay) (High jump) 1. Zy Thompson, Pike County, 5-6; 2. Jania Hodges, Sandy Creek, 5-6; 3. Kelsey Chambers, Westminster, 5-2; 4. Maci Shelnut, White County, 5-2; (Pole vault) 1. Nyla Thompson, Greater Atlanta Christian, 11-6; 2. Amelia Johnson, Hart County, 11-0; 3. Sabrina Farley-Allen, Westminster, 9-0; 4. Ella Blair, White County, 9-0; (Long jump) 1. De'Aisha Stephens, Georgia Military ,16-11.50; 2. Marley Bell, Montgomery County, 16-10.50; 3. Erien Jones, Greene County, 16-6; 4. Carly Carruth, Lincoln County, 16-5.50; (Triple jump) 1. Kelsey Chambers, Westminster, 38-4; 2. Ryan Lewis, Sandy Creek, 37-6.50; 3. Taylor Hampton, Pike County, 37-4; 4. Chelsea Davis, Sandy Creek, 37-1; (Shot put) 1. Leia Williams, Liberty County, 39-6.75; 2. Samara Walker, Stephens County, 39-0.50; 3. Alana Thomas, Greater Atlanta Christian, 37-6; 4. Lula Hailey, Oconee County, 37-4.50; (Discus) 1. Madolynn Loyd, Gordon Lee, 105-7; 2. Arilyn Lee, Gordon Lee, 101-9; 3. Lenijah Cullars, Claxton, 101-4; 4. Rene Rix, Schley County, 100-1;
Class 2A
Boys Team Results: COMING SATURDAY
Boys Individual Results: (100-meter dash) (200) (400) (800) (1600) 1. Simon Schabort, Model, 4:19.05; 2. Edward Blaha, Pace Academy, 4:20.15; 3. Buck Ledford, Banks County, 4:25.20; 4. George Blaha, Pace Academy, 4:28.40; 5. Patrick Pitts, Lovett, 4:29.80; (3200) 1. Edward Blaha, Pace Academy, 9:24.17; 2. Buck Ledford, Banks County, 9:32.61; 3. George Blaha, Pace Academy, 9:40.93; 4. Robert Mallis, Pace Academy, 9:53.54; 5. Luke Churchwell, Bleckley County, 9:55.63; (110-meter hurdles) (300-meter hurdles) (400-meter relay) (4×800 meter relay) 1. Lovett, 8:02.85; 2. Pace Academy, 8:04.22; 3. Banks County, 8:27.56; (1600-meter relay) (High jump) 1. Daeshaun Logan, Towers, 6-8; 2. Cash Allen, Chattooga, 6-4; 3. Jordan Curry, Worth County, 6-2; 3. Takobe Burris, Fitzgerald, 6-2; (Pole vault) 1. Thomas Vaughn, Elbert County, 14-0; 2. Daniel Shabort, Model, 13-0; 3. Aidan Frias, Rabun County, 12-6; 3 Ian Byrd, Dade County, 12-6; (Long jump) 1. Malyk Walker, Washington County, 23-7.25; 2. Elijah Hobson, Towers, 23-2; 3. Gerald Kilgore, Putnam County, 22-7.75; 4. Gavin Barlow, Heard County, 22-0;  (Triple jump) 1. Juan Brown, Swainsboro, 44-2.80; 2. Jayden Kemp, Washington County, 43-7; 3. Kenyon Nelson, Putnam County, 43-5; 4. Nick Hester, Chattooga, 43-4.30; (Shot put) 1. Tony Rountree, Josey, 50-4; 2. Ja'kwon Bishop, Fitzgerald, 46-2.50; 3. Noah Underwood, Union County, 45-8; 4. Kaeden Freeman, Model, 45-6; (Discus) 1. Jake Thompson, Bremen, 155-4; 2. Devon Heroch, Chattooga, 137-7; 3. Michael Swiger, Model, 129-8; 4. KB Bonds, Oglethorpe County, 129-1;
Girls Team Results: COMING SATURDAY
Girls Individual Results: (100-meter dash) (200) (400) (800) (1600) 1. Laura Arenth, Pace Academy, 5:14.05; 2. Katie Wadsworth, Oglethorpe County, 5:20.14; 3. Lizzie Wadsworth, Oglethorpe County, 5:21.30; 4. Caroline Hood, Pace Academy, 5:22.72; 5. Sydney Lamberson, Lovett, 5:23.32; (3200) (110-meter hurdles) (300-meter hurdles) (400-meter relay) (4×800 meter relay) 1. Oglethorpe County, 9:34.14; 2. Pace Academy, 9:39.20; 3. Bleckley County, 10:08.43;  (1600-meter relay) (High jump) 1. Ikeria Hamilton, East Laurens, 5-4; 2. Brooke Fung Chung, Pace Academy 5-0; 3. Makayla Moran, Lovett, 5-0; 4. Makayla Mobley, Toombs County, 5-0; (Pole vault) 1. Brooklyn Kierbow, Bremen, 11-0; 2. Ellie Getchell, Model, 11-0; 3. Mallory Peavey, Fitzgerald, 9-6; 4. Madison Brown, Jeff Davis, 9-0); (Long jump) 1. Zekylah Boyd, Heard County, 17-6; 2. Niakoe Burkes, Callaway, 17-3.50; 3. Jamelia Simmons, Towers, 17-1; 4. Altierra Gooch, Dodge County, 16-11.50; (Triple jump) 1. Ikeria Hamilton, East Laurens, 38-4.50; 2. Myesha Hall, Vidalia, 36-1; 3. Jamelia Simmons, Towers, 35-9.50; 4. Shakiera Woods, KIPP Atlanta, 35-8.50; (Shot put) 1. Sinclaire Fryer, Laney, 41-4; 2. Daiyanna Cooper, Temple, 40-8; 3. Yasmine Chambers, South Atlanta, 38-5.75; 4. Kyndall McRae, Laney, 36-10 (Discus) 1. Shelby Speed, Banks County, 128-6; 2. Jozelyne Williams, Westside-Augusta, 115-0; 3. Mikenna Salem, Toombs County, 111-10; 4. Caroline Hodges, Chattooga, 110-9;
Class A Private
Boys Team Results: COMING SATURDAY
Boys Individual Results: (100-meter dash) (200) (400) (800) (1600) 1. Zack Truitt, Landmark Christian, 4:19.01; 2. Mac Howie, Wesleyan, 4:21.60; 3. William Welden, Holy Innocents', 4:24.08; 4. Evan Price, Tallulah Falls, 4:26.47; 5. Sam Colton, Paideia, 4:26.66; (3200) 1. Joe Sapone, Holy Innocents' 9:24.16; 2. Mac Howie, Wesleyan, 9:26.19; 3. Sam Colton, Paideia, 9:31.96; 4. Noah Kilgore, Strong Rock, 9:36.53; 5. Peyton Golden, Whitefield Academy, 9:37.69; (110-meter hurdles) (300-meter hurdles) (400-meter relay) (4×800 meter relay) 1. Holy Innocents', 8:05.68; 2. Wesleyan, 8:09.73; 3. Paideia, 8:14.33; (1600-meter relay) (High jump) 1. Jack Miscall, Stratford Academy, 6-8; 2. Deion Colzie, Athens Academy, 6-8; 3. Keondre Glover, Stratford Academy, 6-4; 3. Kenneth Odom, Savannah Country Day, 6-4; (Pole vault) 1. Bowen Kramer, First Presbyterian, 13-6; 2. Grey Bourlet, Tallulah Falls, 13-0; 3. Brogan Korta, Calvary Day, 13-0; 4. Brenden Vanderpool, Whitefield Academy, 12-6; (Long jump) 1. Elijah Williams, Providence Christian, 22-7.50; 2. Simeon Respress, Tallulah Falls, 22-6; 3. Joshua Smith, Landmark Christian, 22-4; 4. Myles Redding, Whitefield Academy, 21-10.5; (Triple jump) 1. Joshua Smith, Landmark Christian, 48-9.5; 2. Elijah Williams, Providence Christian, 48.9; 3. Dyaln Span, Landmark Christian, 44-6; 4. Drew Bomar, Holy Innocents' 43-1.50; (Shot put) 1. DJ Jester, ELCA, 47-3.25; 2. Johnerio Holt, Athens Academy, 47-1; 3. Davis Watson, Darlington, 46-10; 4. Johness Davis, Athens Christian, 46-8.50; (Discus) 1. DJ Chester, ELCA, 146-6; 2. Johnerio Holt, Athens Academy, 141-6; 3. Will Cunningham, First Presbyterian, 133-11; 4. David Lalaian, George Walton, 131-5;
Girls Team Results: COMING SATURDAY
Girls Individual Results: (100-meter dash) (200) (400) (800) (1600) 1. Cara Joyce, Atlanta International, 5:04.70; 2. Ellie Brewer, Hebron Christian, 5:10.16; 3. Luna McCauley, Paideia, 5:15.88; 4. Jordan Walter, Paideia, 5:16.39; 5. Sarah Harrison, Athens Academy, 5:17.81; (3200) (110-meter hurdles) (300-meter hurdles) (400-meter relay) (4×800 meter relay) 1. Athens Academy, 9:36.81; 2. Hebron Christian, 9:49.86; 3. Paideia, 9:56.28  (1600-meter relay) (High jump) 1. Maggie Byrd, Savannah Christian, 5-4; 2. Catherine Atkinson, George Walton, 5-0; 2. Claudia Pope, Stratford Academy, 5-0; 4. Knyla Knight, Strong Rock, 5-0; (Pole vault) 1. Rachael Ruff, Hebron Christian, 10-6; 2. Bryce Hackworth, Trinity Christian, 10-6; 3. Oliva Clark, King's Ridge, 10-6; 4. Libby Jackson, Hebron Christian, 10-0; (Long jump) 1. Savannah Simmons, Mt. Pisgah, 17-4.50; 2. Ellison Chadwick, Providence Christian, 16-9; 3. Naomi Stith, Mt. Paran, 16-8.50; 4. Joy Johnson, Strong Rock, 16-8.25; (Triple jump) 1. Maddy Childress, Mt. Pisgah, 37-1; 2. Nea Sanders, Wesleyan, 36-10; 3. Sade Ojanuga, Wesleyan; 4. Jasmine Hamiel, 36-2; (Shot put) 1. Imani Washington, Wesleyan, 41-6.50; 2. Catherine Moore, St. Vincent's, 36-9; 3. Sydney Artis, Mt. de Sales, 36-4.50; 4. Sydney Flood, Providence Christian, 35-10.50; (Discus) 1. Claire Harrison, First Presbyterian, 131-1; 2. Imani Washington, Wesleyan, 125-3; 3. Catherine Moore, St. Vincent's, 113-2; 4. Kensly Wooten, Christian Heritage, 106-7;
Class A Public
Boys Team Results: COMING SATURDAY
Boys Individual Results: (100-meter dash) (200) (400) (800) (1600) 1. Brandon Martin, Commerce, 4:35.60; 2. Leo Lopez, Greene County, 4:42.34; 3. Desmond Mabry, Chattahoochee County, 4:43.24; 4. JJ Morris, Commerce, 4:46.25; 5. Jayden Causey, Drew Charter, 4:46.45; (3200) 1. Brandon Martin, Commerce, 9:38.50; 2. Leo Lopez, Greene County, 10:01.44; 3. Mason Harris, Wilcox County, 10:20.28; 4. Nathan Hallar, ACE Charter; 10:23.96; 5. Aaron Pinckard, Schley County, 10:53.30 (110-meter hurdles) (300-meter hurdles) (400-meter relay) (4×800 meter relay) 1. Commerce, 8:37.76; 2. Greene County, 8:39.99; 3. Schley County, 8:49.94; (1600-meter relay) (High jump) 1. Xavier Brantley, Montgomery County, 6-2; 2. Joshua McKeever, Claxton, 6-0; 3. Dev'Vin Ivery, Hancock Central, 5-10; 4. Michai Reid, Drew Charter, 5-10; 4. Isaiah Meggett, Drew Charter, 5-10; (Pole vault) 1. Lambdin Hardy, Commerce, 14-1; 2. Colin Hall, Commerce, 12-6; 3. Conner Whitman, Gordon Lee, 12-0; 4. Levi Johnson, Schley County, 11-0; (Long jump) 1. Qeontavious Ivey, Hancock Central, 22-0; 2. Teddy Swanson, Marion County, 21-8.25; 3. Jamarquez Tyson, Washington-Wilkes, 21-0; 4. Casson Clarke, Hawkinsville, 20-10; (Triple jump) 1. Fernandez Burke, Metter, 44-1.50; 2. Joshua McKeever, Claxton, 43-6; 3. Xavier Brantley, Montgomery County, 43-3.50; 4. Justin Meyers, Washington-Wilkes, 42-6.75; (Shot put) 1. Ken'Wan Felton, Macon County, 50-11.50; 2. Kameron Ward, Irwin County, 44-7.25; 3. Darren Burton, Jenkins, 44-0; 4. Landon Young, Portal, 43.975; (Discus) 1. Zach Brown, Turner County, 140-1; 2. Davion Rhodes, Pelham, 126-11; 3. Colby Sanford, Georgia Military, 122-11; 4. Troy Averett, Hawkinsville, 122-8;
Girls Team Results: COMING SATURDAY
Girls Individual Results: (100-meter dash) (200) (400) (800) (1600) 1. Shelby Green, Armuchee, 5:32.88; 2. Marissa Kimple, Armuchee, 5:33.25; 3. Jada Warren, Georgia Military, 5:39.74; 4. Paden Bell, Commerce, 5:44.37; 5. Maya Wynn, Furlow Charter, 5:45.62; (3200) (110-meter hurdles) (300-meter hurdles) (400-meter relay) (4×800 meter relay) 1. Armuchee, 11:10.25; 2. Gordon Lee, 11:38.23; 3. Chattahoochee County, 12:02.66; (1600-meter relay) (High jump) 1. Kaylee Brown, Gordon Lee, 5-6; 2. Marley Bell, Montgomery County, 5-4; 3. Addison Sturdivant, Gordon Lee, 4-10; Emeral James, Montgomery County, 4-10; (Pole vault) 1. Kaylee Brown, Gordon Lee, 11-0; 2. Lauren Massey, Commerce, 9-6; 3. Perry Devane, Schley County, 8-6; 4. Ansley Dendy, Gordon Lee, 8-6; (Long jump) 1. De'Aisha Stephens, Georgia Military, 16-11.50; 2. Marley Bell, Montgomery County, 16-10.50; 3. Erien Jones, Greene County, 16-6; 4. Carly Carruth, Lincoln County; (Triple jump) 1. Marley Bell, Montgomery County, 37-10.25; 2. Makyla Bell, Montgomery County, 35-1.50; 3. Anya Lindsey, Greene County; 35-0; 4. Tera White, Warren County, 33-10.50; (Shot put) 1. Arilyn Lee, Gordon Lee, 36-11.25; 2. Liberty Justice, Schley County, 24-4; 3. Kaylin Wooten, Washington-Wilkes, 32-9.75; 4. Ajayla Holmes, Emanuel County Institute, 31-4; (Discus) 1. Madolynn Loyd, Gordon Lee, 105-7; 2. Arilyn Lee, Gordon Lee, 101-9; 3. Lenijah Cullars, Claxton, 101-4; 4. Rene Rix, Schley County, 100-1;