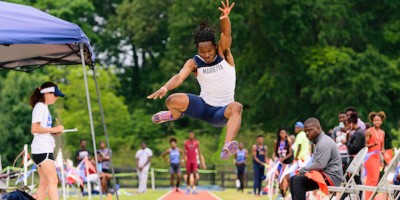 The GHSA Track and Field State Championships began on Thursday with the first of its three days of action and took place at three separate locations (McEachern, Hugh Mills, Carrollton). Preliminary rounds set the stage for Saturday's finals and champions were also crowned in several events—including the triple jump, pole vault, high jump, shot put, long jump and discus.
In Class A Private, Mt. Pisgah's Savannah Simmons won the long jump with a 17-4.50 and Claire Harrison of First Presbyterian Day placed first in the discus with a 131-1. Ikeria Hamilton (East Laurens) won the Class 2A high jump with a 5-4 finish and Laney's Sinclaire Fryer placed first in the shot put with a 41-4, besting second-place Temple's 40-8 throw. Also at McEachern, Kaylan McConnehead (Lowndes) won the triple jump after posting a 39-10.75 mark and South Forsyth's Riley Jones tied with Walton's Rachel Valentine with a 12-0 in the pole vault.
Class 4A was hosted by Hugh Mills Stadium in Albany and Fayette County's Imani Moore earned a top finish in the triple jump with a 38-0.50 and also took first place in the Long Jump (19-3). The Class 4A girls pole vault state crown went to North Oconee's Rhiannon Held after her 11-9 mark.
Carrollton hosted Class 6A's championship field events and Statesboro's Jania Joseph bested the competition with a 5-8 high jump. In the girls long jump, Alexander's Adaejah Hodge earned first with a 19-7, but Westlake gained ground in the overall team rankings with Amaya Cooper and Madyson Wilson earning the Lions 14 points with second and third place finishes behind Hodge.
In Class A Public, Gordon Lee sent Madolynn Loyd and Arilyn Lee to the podium for the discus. Loyd won state and earned the Trojans 10 points with a 105-7 throw and Lee's 101-9 throw resulted in eight points and a runner-up performance.