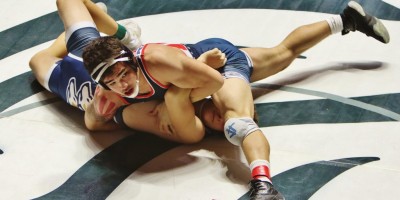 Two emerging programs – Mount Pisgah in Class 1A and Fannin County in Class 2A – staked claim to state championships in the second day of the GHSA Traditional Wrestling State Championships at the Macon Centreplex.
Fannin County entered championship Wednesday in second place and trailing Lovett 146.5 to 136. But the Rebels rallied with a state championship from Blake Summers (106), a second-place finish from Corbin Davenport (152) and third place finishes from Kianan Henson (120) and McCay Turner (160) to capture the program's first title.
Before the team duals earlier this season, Mount Pisgah had never won a wrestling state championship. Now – after a 256-point performance in the Class 1A traditional wrestling state championships – Pisgah is a champion again. The Patriots had four of five wrestlers in title bouts win state championships – Josh Noble (113 pounds), Tyler Nelson (132), Joey Bertrand (152) and David Bertrand (170).
See the team and individual standings below or follow the LINK for full results from today's matches.
Final Team Standings
Class 2A
1. Fannin County, 186 2. Lovett, 172.5 3. Oglethorpe County, 154.5 4. Banks County, 148 4. Elbert County, 148
Class A
1. Mt. Pisgah Christian, 256 2. Trion, 205 3. Commerce, 202.5 4. Social Circle, 187 5. Wesleyan, 149.5
Final Individual Standings
Class 2A
106 pounds: 1. Blake Summers, Fannin County 2. Alex Hyman, Lovett 3. Jacob Voyles, Banks County
113 pounds: 1. Bryan Valladares, Oglethorpe County 2. Travis Pellrey, Coosa 3. Angel Cruz, Banks County
120 pounds: 1. Braden Sauls, Bremen 2. Tyshawn Hughes, Elbert County 3. Kainan Henson, Fannin County
126 pounds: 1. Jamal Rucker, Elbert County 2. Josh Robinson, Lovett 3. Sam Howe, Pace Academy
132 pounds: 1. Parker Coy, Banks County 2. Evan Clark, Lovett 3. Jarrett Young, Fitzgerald
138 pounds: 1. Shane Watson, Oglethorpe County 2. Al Coy, Lovett 3. Noah Allmon, Model
145 pounds: 1. Hunter Manning, Vidalia 2. Dawson Heath, Berrien County 3. Kellon Walley, Banks County
152 pounds: 1. Miles Watts, Rabun County 2. Corbin Davenport, Fannin County 3. Clay Frost, Oglethorpe County
160 pounds: 1. Matthew Waddell, Pepperell 2. Rowan Burdick, Chattooga 3. McCay Turner, Fannin County
170 pounds: 1. Ty Morris, Bremen 2. Laquize Gilbert, Callaway 3. Drake Miller, Pepperell
182 pounds: 1. Cody Williams, Dade County 2. Dawson Campbell, Vidalia 3. Jake Roberts, Pepperell
195 pounds: 1. Thomas Godbee, Vidalia 2. Clay Hyatt, Haralson County 3. Landon Williams, Dade County
220 pounds: 1. Ty Veatch, Chattooga 2. Josh Stapleton, Banks County 3. Wells Kamerschen, Lovett
285 pounds: 1. Jaylin Burns, Vidalia 2. Landynn Powers, Dodge County 3. Richard Hyatt, Haralson County
Class A
106 pounds: 1. Kolby Dempsey, Armuchee 2. Allen Calderon, ELCA 3. Catherine-Grace Bertrand, Mt. Pisgah Christian
113 pounds: 1. Josh Noble, Mt. Pisgah Christian 2. Daniel Nash, Commerce 3. Brayden Adams, Calvary Day
120 pounds: 1. Austin Westbrook, Walker 2. Seth Huskins, Trion 3. Dawson Legg, Commerce
126 pounds: 1. Art Martinez, Holy Innocents' 2. Marley Washington, Mt. Pisgah Christian 3. Chance Poarch, McIntosh County Academy
132 pounds: 1. Tyler Nelson, Mt. Pisgah Christian 2. Bryson Flint, Commerce 3. Bryce James, Trion
138 pounds: 1. Nate Watson, North Cobb Christian 2. Gunnar Willingham, Irwin County 3. Kacen Taylor, Social Circle
145 pounds: 1. Jake Swink, Holy Innocents' 2. Perry Jake Stone, George Walton Academy 3. Alan Cordero, Darlington
152 pounds: 1. Joey Bertrand, Mt. Pisgah Christian 2. Grant Hamilton, Commerce 3. Will Hames, Social Circle
160 pounds: 1. Logan Eller, Trion 2. Colton Hardeman, ELCA 3. Jake Piccirilli, Mt. Pisgah Christian
170 pounds: 1. David Bertrand, Mt. Pisgah Christian 2. Rolland Williams, Irwin County 3. Payton McKemie, Wesleyan
182 pounds: 1. Erik Dodder, Mt. Vernon 2. Samuel Schmitt, Wesleyan 3. Blaydn Bowman, Trion
195 pounds: 1. Zach Sharp, Trion 2. Sammy Brown, Commerce 3. Hudson Caldwell, Georgia Military College
220 pounds: 1. Eliah Burns, Commerce 2. Brantley Willbanks, Trion 3. Cole Spence, Mt. Pisgah Christian
285 pounds: 1. Jakob Frates, Commerce 2. Tanner Bivins, Wesleyan 3. Zach Brown, Turner County