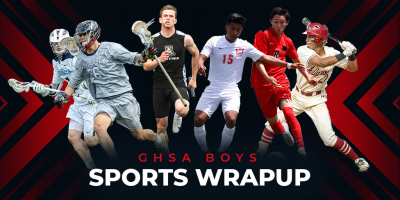 The 2020-21 GHSA high school athletics season, in retrospect, went off without many season-canceling hitches. Sure, there were cancellations and postponements here and there. But, overall, the past athletics seasons were welcomed on the boys and girls side of the GHSA's athletics programs.
It was simply good to get back to normal. So now, let us take a look back and see what programs dominated over the past year.
The first state championships for the 2020-21 season began with fast pitch softball. The following weekend was even more busy with the boys and girls cross country state championships, as well as the volleyball state championships.
Cross Country: Marietta's Class 7A championship gave the Blue Devils their third state title since 2014 and Cambridge won Class 6A to capture the program's second all-time state title and first since 2017. St. Pius (Class 5A) and Wesleyan (Class A Private) each won state titles for the 12th time and Westminster (Class 3A) added its fourth-straight and 28th all-time state crown. Chestatee's Class 4A victory resulted in the War Eagles' historic first state title and Commerce won Class A Public after achieving its first-ever championship last season. Marietta's Kamani Miller was named Gatorade Georgia Boys Cross Country Athlete of the Year after breaking the tape in the state meet with a time of 15.29.72—winning by almost 38 seconds. Miller won eight of the nine meets he participated in this season and broke the course record on four racecourses. His personal-best of 14:37.19 earned a 5th-place finish at the RunningLane National Cross Country Championships.
Football: Pierce County, Callaway and Prince Avenue Christian hoisted their first-ever state titles this season and five-star quarterback Brock Vandagriff earned Gatorade Georgia Football Player of the Year after leading Prince Avenue to the Class A Private state crown. Grayson completed a perfect 14-0 season to win Class 7A and finished No. 2 Nationally in the MaxPreps poll. Buford defended its state title in a new classification (Class 6A) to win its 13th all-time state title and Warner Robins took home the Class 5A state title to win its first championship since 2004. Marist went undefeated in Class 4A to return to the podium for the first time since 2003 and Irwin County won its second-straight Class A Public state title.
Swimming and Diving: North Gwinnett (Class 7A) and Marist (Class 4A-5A) won their second-straight state championships, Johns Creek (Class 6A) won its second state title in the last three seasons and Westminster (Class A-3A) captured the program's fourth-straight championship.
Wrestling, Duals and Traditional: Camden County swept the dual and traditional tournaments for the seventh-straight year in Class 7A and Buford achieved its fourth sweep since 2014 in Class 6A. Woodland-Cartersville completed its third-straight sweep in Class 5A and powerhouse Jefferson won both Class 4A tournaments to tally the program's 41st and 42nd all-time state titles. North Hall's victory in the duals was vacated after an ineligibility infraction and Rockmart ended up winning the traditional state championship in Class 3A. Oglethorpe County's victory in the duals resulted in the program's first championship. The Patriots were topped by Fannin County in the Class 2A Traditional tournament—resulting in Fannin County's first-ever wrestling championship. Mt. Pisgah swept Class A for the first wrestling championships earned by the program.
Basketball: Cross Creek (Class 3A), Mt. Pisgah (Class A Private) and Towns County (Class A Public) won basketball state titles for the first time this year. In Class 7A, Milton won its first state title since 2012 and defending Class 7A state champion Wheeler won Class 6A to bring home the program's eighth all-time state crown. Eagle's Landing took Class 5A for its first championship since 2013 and Baldwin won Class 4A to snap a championship drought that dated back to the 1981 season. Defending Class 3A state champion Pace Academy won Class 2A to add its fourth state title in the past six seasons.
Riflery: Colin Haskins' 296-point performance earned him the individual state title and helped lift Georgia Military College to its first-ever team title.
Bass Fishing: The inaugural Bass Fishing State Championship was held at Lake Lanier following five state qualifiers that set the field. Evans High School's duo of Jayden Faulkner and Davis Madden clinched the championship with 20-03 pounds.
Tennis: North Gwinnett (Class 7A) and Seminole County (Class A Public) won first-ever state titles this season and the rest of the state saw familiar programs returning to the top. Johns Creek collected its third-straight title in Class 6A and Woodward Academy clinched its first state title since 2012 in Class 5A. Stratford Academy's run to the Class A Private championship resulted in the program's fifth state title since 2015 and Marist won Class 4A for its 20th all-time state title—joining Class 3A champion Westminster (22) and Class 2A champion Lovett (21) as programs with 20 or more state titles.
Track & Field: Blessed Trinity's win in Class 5A gave the Titans their first boys Track and Field state title. Pace Academy captured the Class 2A crown to win the program's first state title since 1972. Alpharetta returned to the Class 7A podium after winning its first state title in 2019 and Stephenson captured Class 4A for its first championship since 2002. Westminster and Commerce won their fifth all-time championships, Landmark Christian captured its 10th and Carrollton won Class 6A for its 28th all-time state title.
Lacrosse: Lambert and Blessed Trinity both won state titles for the first time since 2018. Lambert's triumph gave the Longhorns their fifth all-time championship and the Titans added their second all-time championship after reaching the podium for the first time in 2018. In class 6A-7A Lambert closed out its season on a 21-game winning streak after its 12-9 loss to Class A-5A Blessed Trinity—which closed out a perfect 24-0 season.
Golf: Westminster's Class 3A victory resulted in the Wildcats 10th state title since 2007 and Johns Creek's victory in Class 6A gave the Gladiators their fifth-straight championship. Milton took Class 7A for its first championship since 2012 and St. Pius defended its state title in Class 5A. North Oconee won Class 4A for its first championship since 2014, Lovett won Class 2A for its first state title since 2015 and Prince Avenue Christian (Class A Private) and Lake Oconee (Class A Public) won their first-ever titles.
Baseball: A dramatic championship week closed out the 2020-21 school year and three programs earned first-ever championships (Starr's Mill, Mt. Paran, Metter). Parkview swept its way to the Class 7A title for the Panthers' ninth all-time championship and Houston County added its third title since 2016 with its win over Lassiter in the Class 6A finals. Marist cruised to the Class 4A title for the War Eagles' 14th all-time championship and North Hall won Class 3A for its first championship since 2017. In Class 2A, Jeff Davis won its second-straight championship and third since the 2017 season.