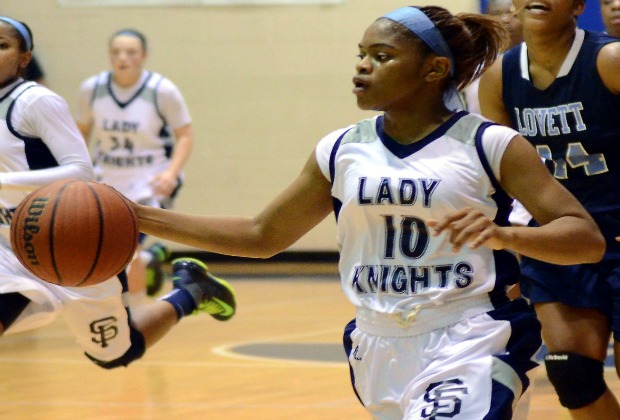 Photo by Aisha Gaddis
In Class AAAAAA, Norcross suffered a 48-43 loss last week and dropped two spots to No. 9. Westlake beat Hughes 52-41 and moved up to No. 7 and sent Hughes out of the top 10. Brunswick took advantage of Norcross and Hughes' losses and moved up to No. 8 in the poll after its 56-49 win over Coffee and 102-27 victory over Windsor Forest. Douglas County comes in at No. 10 and replaces Hughes, which the Tigers beat 56-49 on Feb. 1, in the top 10.
In Class AAAAA, Greenbrier debuts at No. 10 and Sequoyah exits the poll after a 60-46 loss to No. 8 Osborne. Carrollton and Mary Persons each dropped three places in Class AAAA after suffering losses last week. The Trojans fell 31-28 to Fayette County and fell to No. 9 and Mary Persons fell to No. 10 with its 73-72 to West Laurens.
Beach was the only team out of the top four in Class AAA that did not lose last week and debuts in the top 5 this week. Dodge County lost to No. 1 Washington County and Class AAAAA Northside-Warner Robins 65-47 and dropped one place to No. 6. Morgan County fell to No. 7 after a 48-28 loss to Franklin County, but North Oconee bounced back from a 30-28 loss to Elbert County with a 42-28 win over Franklin County and jumped ahead of the Franklin County in this week's poll. Southwest-Macon dropped out of the poll with a 56-54 loss to Pike County and were replaced by No. 8 Central-Carroll.
In Class AA, Greater Atlanta Christian moves to No. 2 with its 53-43 win over Wesleyan. The Wolves dropped one spot to No. 3 in the poll. Pepperell exits the poll after a 61-46 loss to Calhoun and Vidalia reentered the top 10.
In Class A, Darlington jumped four spots to No. 6 with its 66-42 win over Gordon Lee. The Trojans fell to No. 10 after the loss to Darlington. Claxton improved to No. 7 with its 52-51 win over Calvary Day last week.
Class AAAAAA
1. McEachern
2. Parkview
3. Archer
4. Mountain View
5. Hillgrove
6. North Forsyth
7. Westlake
8. Brunswick
9. Norcross
10. Hughes
Class AAAAA
1. Southwest-DeKalb
2. Salem
3. Tucker
4. Forest Park
5. Drew
6. Stephenson
7. Hiram
8. Osborne
9. Effingham County
10. Greenbrier
Class AAAA
1. Redan
2. Cross Creek
3. Columbia
4. Columbus
5. Fayette County
6. South Effingham
7. Monroe-Albany
8. Chestatee
9. Carrollton
10. Mary Persons
Class AAA
1. Washington County
2. Buford
3. St. Pius X
4. Tattnall County
5. Beach
6. Dodge County
7. Morgan County
8. Central-Carroll
9. North Oconee
10. Franklin County
Class AA
1. Kendrick
2. Greater Atlanta Christian
3. Wesleyan
4. Laney
5. Pelham
6. Armuchee
7. Bleckley County
8. Putnam County
9. Calhoun
10. Vidalia
Class A
1. Holy Innocents'
2. Southwest Atlanta Christian
3. St. Francis
4. George Walton Academy
5. Randolph-Clay
6. Darlington
7. Claxton
8. Calvary Day
9. Paideia
10. Gordon Lee