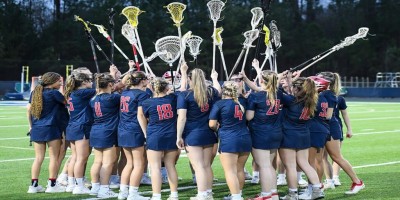 Photo Courtesy of Kenny Grimes Photography
The game of the week is a big region battle between the defending state champion Milton Eagles and Lambert Longhorns on Tuesday Night, with Lambert set to host the Lady Eagles.
Milton currently sits atop the region with a 4-0 record and 10-0 overall record. Lambert is third in the region with a 4-1 record and 9-3 overall record.
What has allowed Milton to be good every year? Coach Tim Godby talked about what has led to the program's success and why he can get the most out of his players. It goes beyond just his coaching, but players who want to and are willing to put the work in during the offseason.
"We have some great athletes that play the sport. It requires the highest level of athleticism. We play on a full-sized field and the more speed and agility you have the more ground they can cover and perform better," said Godby. "We have cross-training multiple days a week during the fall and we have such a competitive program that the girls know that they need to be working on their skills and their game in the offseason. Most of everybody plays travel lacrosse during the summer. A lot of our girls want to play in college and we have been able to help a lot of girls to get to some of the top programs in the country in college."
Lambert suffered a three-game losing streak early in the season with losses against Walton, North Gwinnett, and Johns Creek, failing to reach double-digits in two of the three games. Since the losing streak, Lambert has rattled off five-consecutive victories. In the winning streak, the Lady Longhorns are outscoring opponents by five points per game and have scored in double digits in each game.
Milton continues to be the pinnacle of girls lacrosse across the state, earning a #1 national ranking on MaxPreps and remaining #1 across various polls in the state. Milton has top-ten wins this season against Roswell, Alpharetta, Blessed Trinity, and Cambridge.
A matchup to watch in this game will be Lambert's attack against Milton's defense. The Lady Longhorns' attack has been on fire lately, and the Lady Eagles have held opponents to six points or less in six of ten games this season including a shutout against Peachtree Ridge this season.
"We returned all but two starters on our defensive end," said Godby. "Maddy Iler is committed to Rhode Island and Addy Driver."
Driver is committed to Campbell.
Milton's attack is also something to keep an eye on. Two of four of its starters are committed to D1 universities and the Lady Eagles have eclipsed the 19-point mark three times this season.
"On the attack side we are returning three starters, led by Emily Simkin, a senior committed to James Madison," said Godby. "Senior Emma Heenan is committed to Arizona State. We are starting a freshman on the attack Kylie Waters and she adds another dynamic for us with her ability to get past people."
Milton recently picked up two out-of-state wins this past week against IMG Academy (FL) 14-6 and the other against Hagerty (FL) 15-5, ending their ten-game winning streak. Milton has won the last five championships and is seeking its 16th overall this season. Milton has three more out-of-state games coming up in the Northeast against teams in Maryland and Virginia, some of the better teams in the country. The teams this year include Connelly School of the Holy Child, Stone Ridge School of the Sacred Heart, and Paul Vi.
"We started playing out of state my second year here. We felt our game was starting to improve, so we started to go to the Northeast, where the majority of the better teams are," said Godby. "We have been going up to the Northeast every year and play a few teams from Maryland and North Virginia."
Milton is a program that is player lead, and senior leadership has been instrumental in the program's historical success in the state of Georgia.
"Our program is run by the players, and things have been established since we first started here. We are here and we are business," said Godby. "We want to focus on winning and that has trickled down to players who have taken it over year to year. They do things to get everybody ready, mainly our seniors. We have always had great senior leadership. They know when it is time to go."
Since 2016-2017, Milton is 2-0 vs. Lambert winning 19-6 in 2017 and 19-5 in 2018. Lambert will certainly have its work cut out, but they have a great attack and a good goalie in Katie Michaels, who is committed to UVA-Wise. Their attack and defense will be vital in helping the Lady Longhorns pull off the upset at home, and keep pace in region play. Milton looks to continue its dominant start to the season and build momentum going into the next three games on the road.