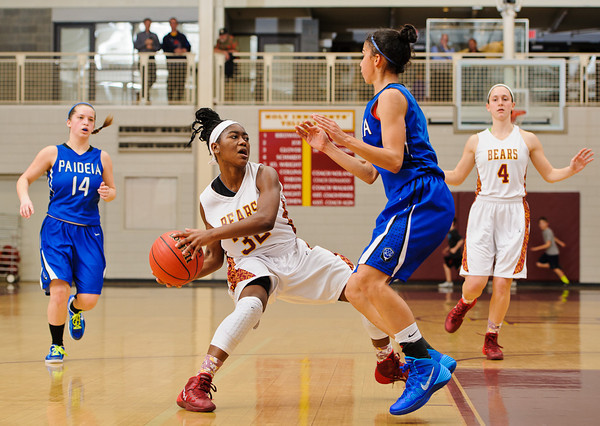 Photo by Ty Freeman
Class AAAAAA
McEachern sails into the semifinals averaging 93.3 points per game in the playoffs with a 36-point average margin of victory. Junior point guard Te'a Cooper is the nucleus of the team. The UNC-commitment netted 28 points, eight assists, five rebounds and three steals in the quarterfinals. Caliya Robinson is the Indians' go- to presence down low and the 6-foot-3 junior is averaging 17 points, 13 rebounds and 13 blocks her last two outings. South Forsyth is paced by sophomore point guard Sarah Myers, a Maryland commitment who is averaging 24 points per game this postseason while knocking down 24-of-25 of her attempts from the foul line. Lowndes missed out on the playoffs last season, but first-year coach Brittany Ferguson has led the Vikings to consecutive overtime wins over Hillgrove and Marietta. Tashia Brown ran the show against Marietta with 13 of her 18 points coming in the final quarter and overtime. Archer, in only its fifth season, is in the final four for the first time. Sisters Madison and Autumn Newby and UGA-signee Amber Skidgel lead an Archer team built around its lockdown defense.
Class AAAAA
ucker and Drew meet in the semifinals where the winner will have a chance to win its first-ever state championship in girls basketball. In the early game, defending Class AAAAA-champ Southwest DeKalb would have the opportunity to play for a fifth state title in seven seasons if it can beat Forest Park. A victory in this battle of teams both nicknamed the Panthers would give Forest Park a shot at its first state title since 1970. Tucker and Drew could be determined in the paint. Senior Erykah Davenport has led Tucker in rebounding and scoring each round of the playoffs and the 6-foot-2 center scored a game-high 17 points in the quarterfinals. Drew boasts sophomore Lakiaya Sims, who scored 32 points and grabbed 16 rebounds in the quarterfinal. Slowing Southwest DeKalb juniors Davion Wingate and Tynice Martin will be the key for Forest Park. The duo averages north of 15 points per game apiece and accounts for almost half of Southwest DeKalb's scoring. Forest Park averages 15 steals per game and wins with its defense.
Class AAAA
Woodland-Henry, Columbus and South Effingham are two wins away from their first state titles, while Redan can return to the podium for a second time. Seniors Destini McClary and Jada Byrd are the leading scorers for undefeated (31-0) Redan and sophomore Taylor Tucker leads the Raiders in rebounding. Redan's transition attack sparked a 19-6 run that erased a 12-6 deficit to Fayette County in the quarterfinals. Sophomore Shandrea Leverett, who tallied 10 points, 23 rebounds and nine blocks in the quarterfinals, leads South Effingham. Leverett is complemented by a strong backcourt with seniors Tianna Germain and Machala Raymonville. The late game fea- tures teams that have thrived in the second half. Columbus senior Jacqueria Gunter scored 15 of her 18 points after halftime as Columbus rallied from a 13-point deficit to beat two-time defending state champ Columbia 61-52 in the quarterfinals. Vanessa Blagmon is Woodland's point guard, and the freshman sensation has led the Wolfpack in scoring each round of the postseason. Blagmon scored eight of her 20 points in the final five minutes of Woodland's 68-66 quarterfinals win over Cross Creek.
Class AAA
St. Pius X knows the saying "Heavy is the head that wears the crown." The defending state champion lost two of its first four games this year and three by the end of December. But the Golden Lions haven't lost since and have looked dominant in the playoffs behind star guards Jasmine Carter, a UGA commitment, and Asia Durr. St. Pius X will be opposed by upstart Beach in the semifinals, a team that beat previously-undefeated Washington County in the quarterfinals. Irie Spann, who hit a 3-pointer in the closing seconds to beat WaCo, leads a group of six Beach seniors. In the other semifinal, Buford will be trying to get back to the podium for the first time since 2011, the last of three straight championships for the Wolves. Pike County, meanwhile, came back from 17 down in the third quarter to overcome Johnson-Savannah in the quarterfinals. The Pirates won a region championship this season for the first time in 35 years. Buford has won each playoff game by 13 points or more. The Wolves are led by 6-foot-5 center Bree Horrocks, a Purdue commitment.
Class AA
Putnam County will face Kendrick in the first semifinal contest. The Eagles come into the game winners of their last 13 games and tare led by sophomore guard Ebony Hargrove who scored 20 points in the quarterfinals against Dublin. Senior guard Sha'Kedra Ellison is one of the captains on the team and has played a huge role in their success. The Eagles are going up against a Kendrick team that is currently undefeated. The Cherokees are led by senior guard Kahlia Lawrence, who averages 27 points per game. The evening game at Columbus State will feature Laney and Wesleyan. Laney comes into the game with one blemish on its record –a loss to Beach back in December. Senior center Wynetta Wright and senior guard Destiny Brewton are the two reasons the Wildcats have been rocking and rolling this season. However, Wesleyan has been on a tear during the playoffs, averaging 76 points per game. Freshman guard Mikayla Coombs, senior guard Landyn Duley and junior guard Nikki McDonald are three Wolves who can score at will.
Class A-Private
St. Francis and Southwest Atlanta Christian will square off in the afternoon semifinal game. The Knights have compiled a 25-2 record and have not lost a game since Jan. 17. The Knights are led by senior guard Candice Williams, who averages 13 points per game. Oddly enough, the Knights' last loss came against their semifinal opponent. However, Southwest Atlanta Christian lost to St. Francis in the Region 6-A champion- ship game earlier this month. The Warriors will seek revenge under the leadership of senior forward Amy Griffin and senior guard Marquita Daniels. Darlington and Holy Innocents' will battle in the evening contest at Kennesaw State. When Darlington lost to St. Francis in the Region 6-A Tournament, it lit a fire under the Tigers as they dominated Brookstone and Calvary Day in the playoffs. The Tigers are led by senior guard Maggie Beth Atha who averages 20 points per game. Holy Innocents', on the other hand, has been hot since the season started, compiling a 28-0 record. A couple players to watch for are freshman guard Khayla Pointer and sophomore guard Sydney Long.
Class A-Public
Mitchell County (1970) and Randolph-Clay (1996, 2000) have each won state titles while Claxton and Mitchell County are searching for their first. Randolph-Clay faces Claxton in the early semifinal game at Savannah State. For Randolph-Clay it will be its second consecutive trip to the Final Four and sixth trip in 11 years. The Red Devils are led by senior guard Brandie Buie who scored 30 and 27 points in the last two playoff games. Claxton will play in its first semifinal game in school history. Sophomore forward Keri Brown leads the Tigers as she scored 21 points in the quarterfinal game against ECI. Greenville will take on Mitchell County to see who will be playing in Macon. Greenville got to this point by getting past Charlton County and upsetting Wilkinson County. Senior guard Keosha Dozier and junior guard Mekeeshia Tenney will spearhead the Patriots' attack. However, they are facing a hot Mitchell County team that is coming off an upset win against Turner County in the quarterfinals. The player to watch for the Eagles is senior forward A'miracle Jones, who averages 16 points per game.