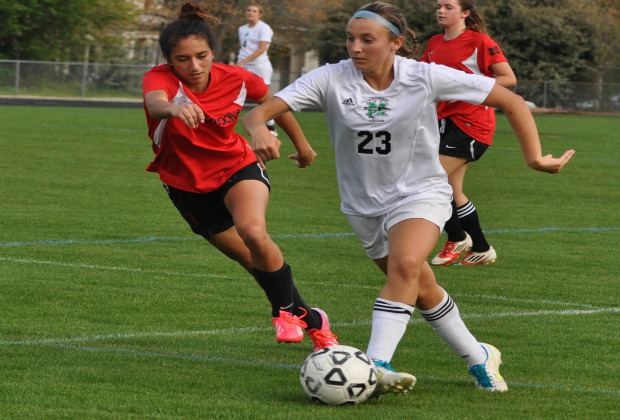 Photo by Charissa Gray
The Greater Atlanta Christian girls have won five in a row and they are 2-0 against Region 6-AA competition in the last two weeks after beating Westminster 3-0 on Tuesday. Halle Huff scored twice and Reagan Glisson added one goal while keeper Melissa Gray recorded the shutout against the Wildcats. Danielle Marcano, Abbie Abrahart and Tori Wisted delivered the assists.
Region-rival Lovett hammered Atlanta International School 7-0 last Wednesday, beat Paideia 2-1 last Saturday and blanked Pace Academy 1-0 on Tuesday. Paideia, ranked sixth in Class A, took the field three times last week. The Panthers lost to Fellowship Christian 3-2 last Tuesday and beat Pace Academy 3-1 last Friday before succumbing to Lovett.
Duluth enjoyed a productive week that has it debuting in the current Class AAAAAA rankings at No. 9. The Wildcats edged South Forsyth 1-0 last Tuesday and got the best of North Gwinnett 3-1 last Friday. In Friday's Region 7 showdown, Duluth trailed 1-0 on a North Gwinnett goal by Katie Strand before rallying. The Wildcats scored on a Klaudia Cancino corner kick just prior to halftime and they got second-half goals from Nadia Dixon and Madison Richardson.
"Our whole theme this year is 'Prepare for battle,'" Duluth head coach Lauren Dodson told the Gwinnett Daily Post. "I told the girls that our No. 1 advantage is to surprise our opponents and to get in there and attack and I think it's working out for us."
Almost everything has been working out this season for Harrison and Grayson, the top two teams in the Class AAAAAA rankings. Harrison has not allowed a single goal in its last six contests while outscoring opponents by 52 goals during the stretch. The Hoyas cruised past North Cobb 8-0 last Friday and beat Pebblebrook 10-0 on Tuesday. Grayson is outscoring opponents 13-0 in two games since its first-ever win over Parkview on March 14. The Rams took care of Dacula 8-0 last Tuesday and rolled over Central Gwinnett 5-0 last Friday.